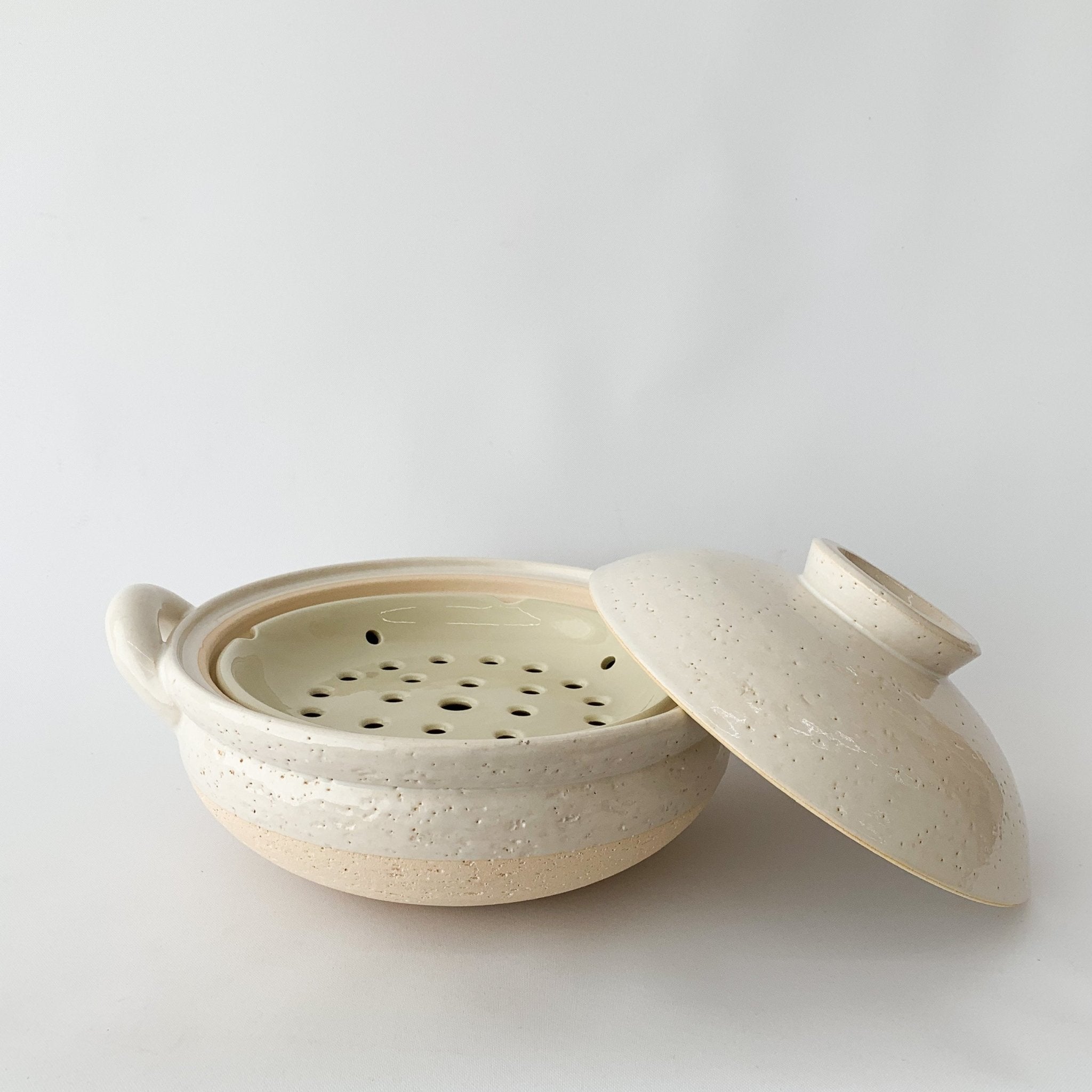 Steamer Donabe - Large White
Description:
Donabe, the Japanese word for 'clay pot', describes the traditional Japanese earthenware pot that can be used directly over an open flame. Use this steamer donabe to enjoy healthy non-oil cooking with its removable secondary inner-lid that allows you to steam vegetables and proteins quickly while maintaining flavor and the vital nutrients of your ingredients. Excess fat will drip down the holes to the boil water underneath so that you can eat-lean. Remove the inner-lid when you want to enjoy cooking with the whole pot and prepare 'hot pot meals', shabu shabu, and convert the steamer easily for stewing or braising. The large size of the steamer pot is ideal for cooking family meals and we recommend bringing the whole pot to the table so that it can also double as a beautiful serving vessel.
Variation:
Each donabe is made by hand with care and takes about 2 weeks to produce. Due to its hand-made nature and organic material, each pot will have some variation, which adds to the beautiful uniqueness of each piece. As you use the pot, you will see the bottom of the pot darken, and the color inside the pot slowly stain and grow character. This is part of the beautiful and natural aging process.
History: 
This donabe is made by Nagatani-en, a leading producer of authentic Iga-yaki pottery since 1832. Iga-yaki is said to have originated in Iga, Mie-Prefecture in the late 7th Century.
Measurement:
12.2'' D x 8'', holds 3 qt
Ideal for 3-5 servings (or 2 - with leftovers!)
Materials: 
Earthenware (clay pot)
Made from a porous prehistoric clay sourced from Japan's largest and oldest lake, Lake Biwa. The clay contains thousands of microscopic prehistoric fossils that are then baked into the clay when the pot is fired inside the kiln, creating tiny microscopic pores inside the clay pot, which act as pockets that captures and retains heat better than other cooking vessels.
Care Instructions:
Hand-wash only. Seasoning Required. Gas stove required. Does not work on electric or induction stove. Oven-safe (up to 500℉/ 250℃). Not microwave safe. Donabe pots are hand-wash only, and should be dried thoroughly right after use with an absorbant cloth. Some donabes, like this kamado rice cooker, requires you to follow a simple seasoning process where you cook a rice porridge to seal the pores that come in direct contact with the food before using the pot for other dishes.
Returns must be made within 2 weeks in original, unused condition with all packaging for either 1. Store credit for the full amount or 2. Refund - minus a 20% restocking fee.
Tortoise does not cover the cost of return shipping or the cost of re-shipping an exchange
, and the cost of shipping for returns and exchanges is the responsibility of the customer. 
Share