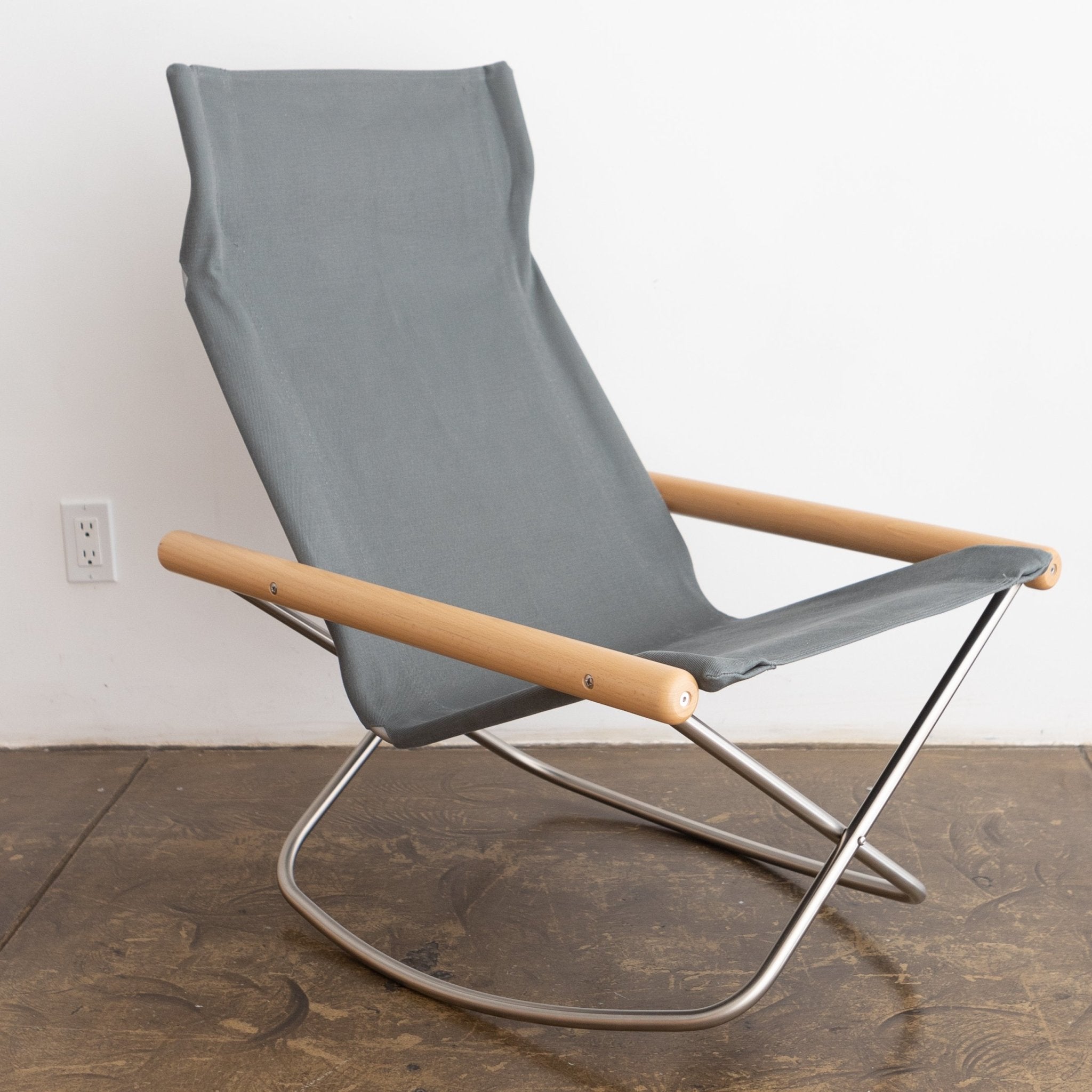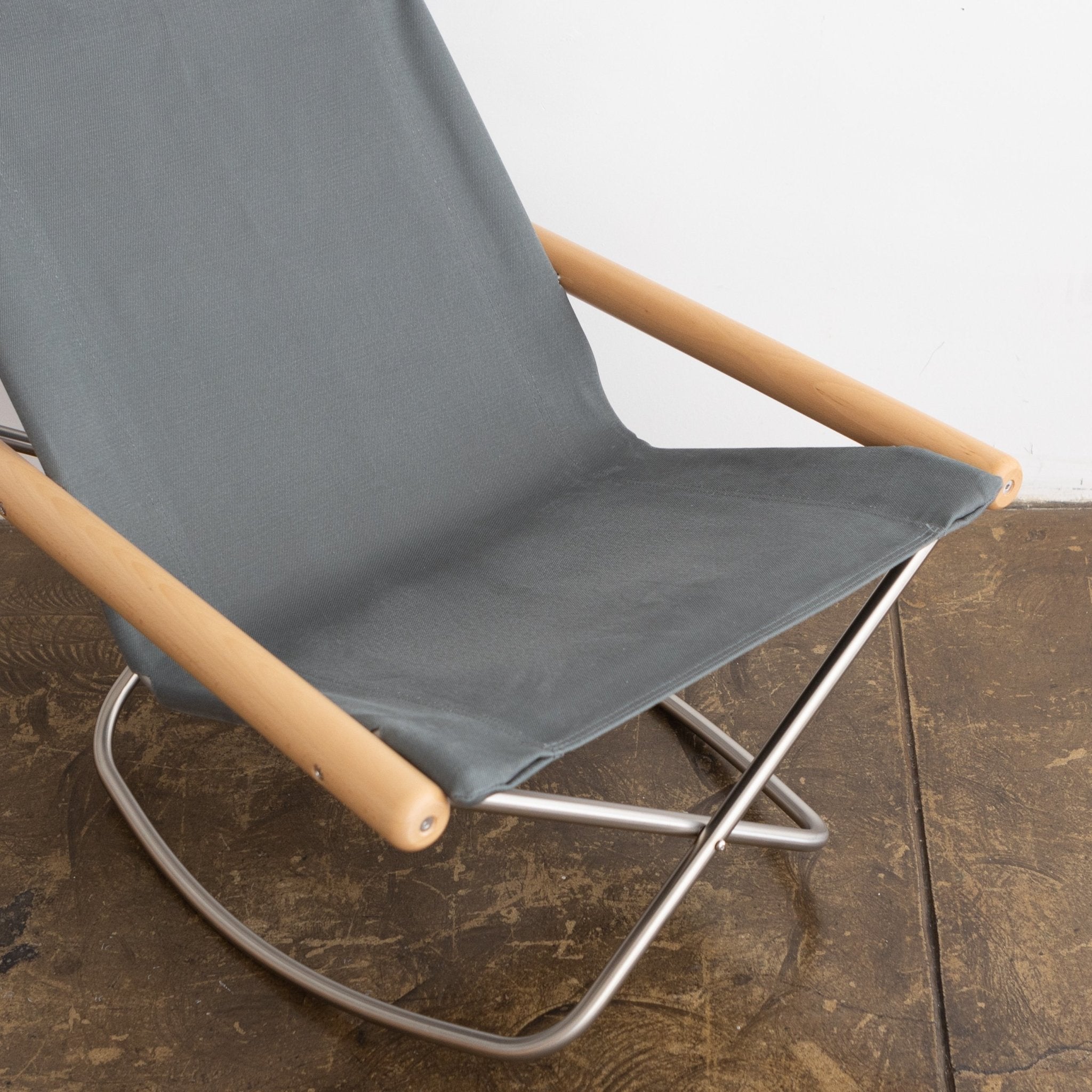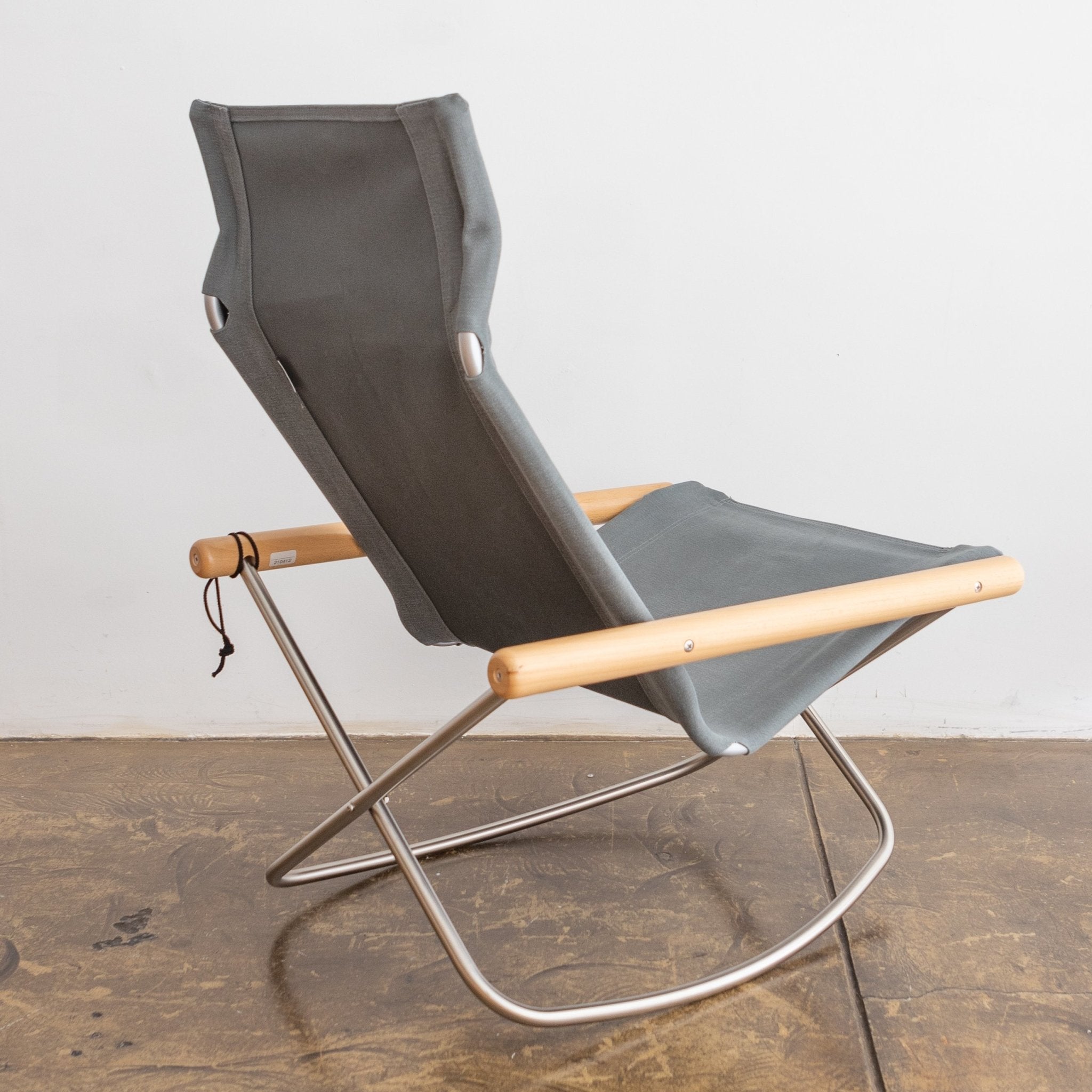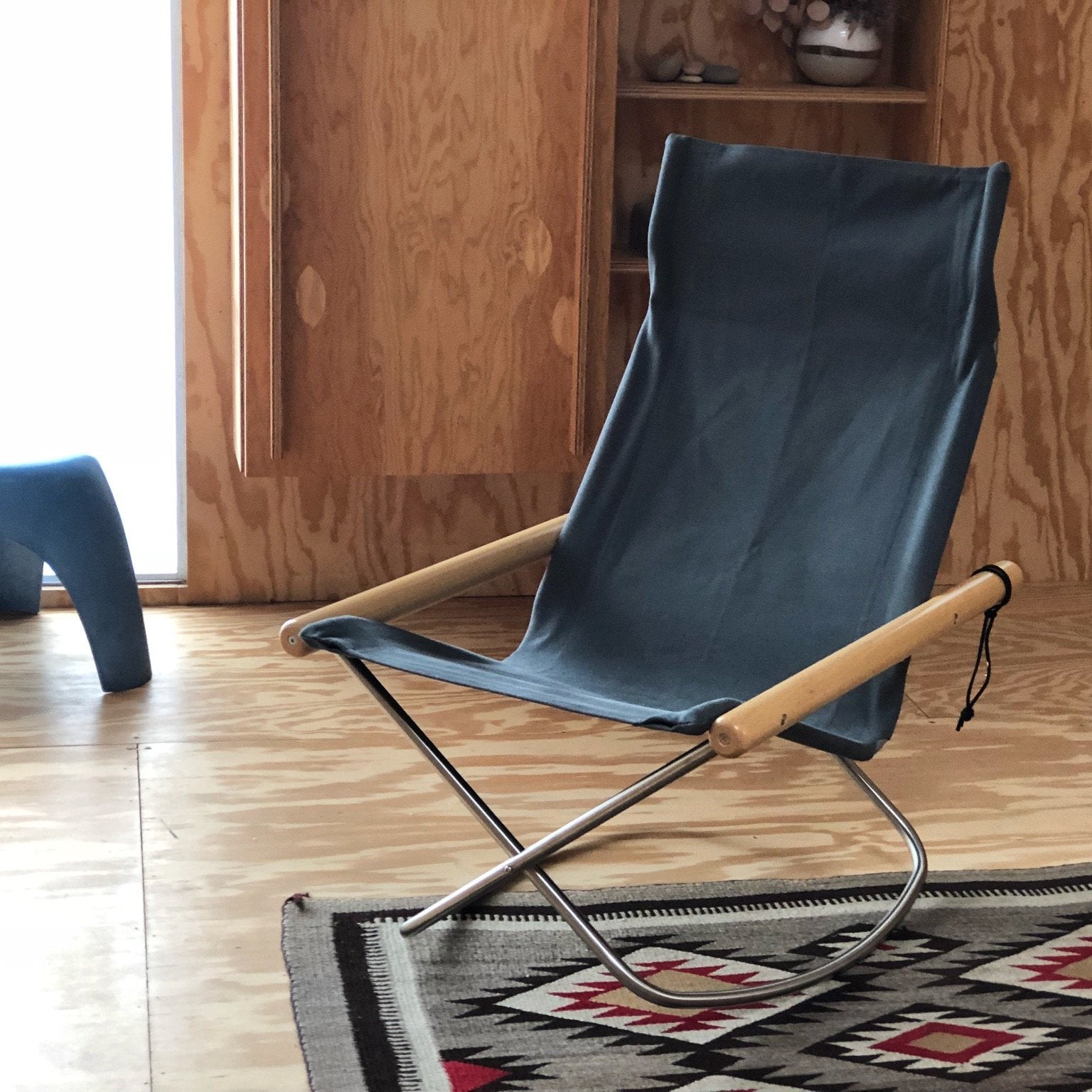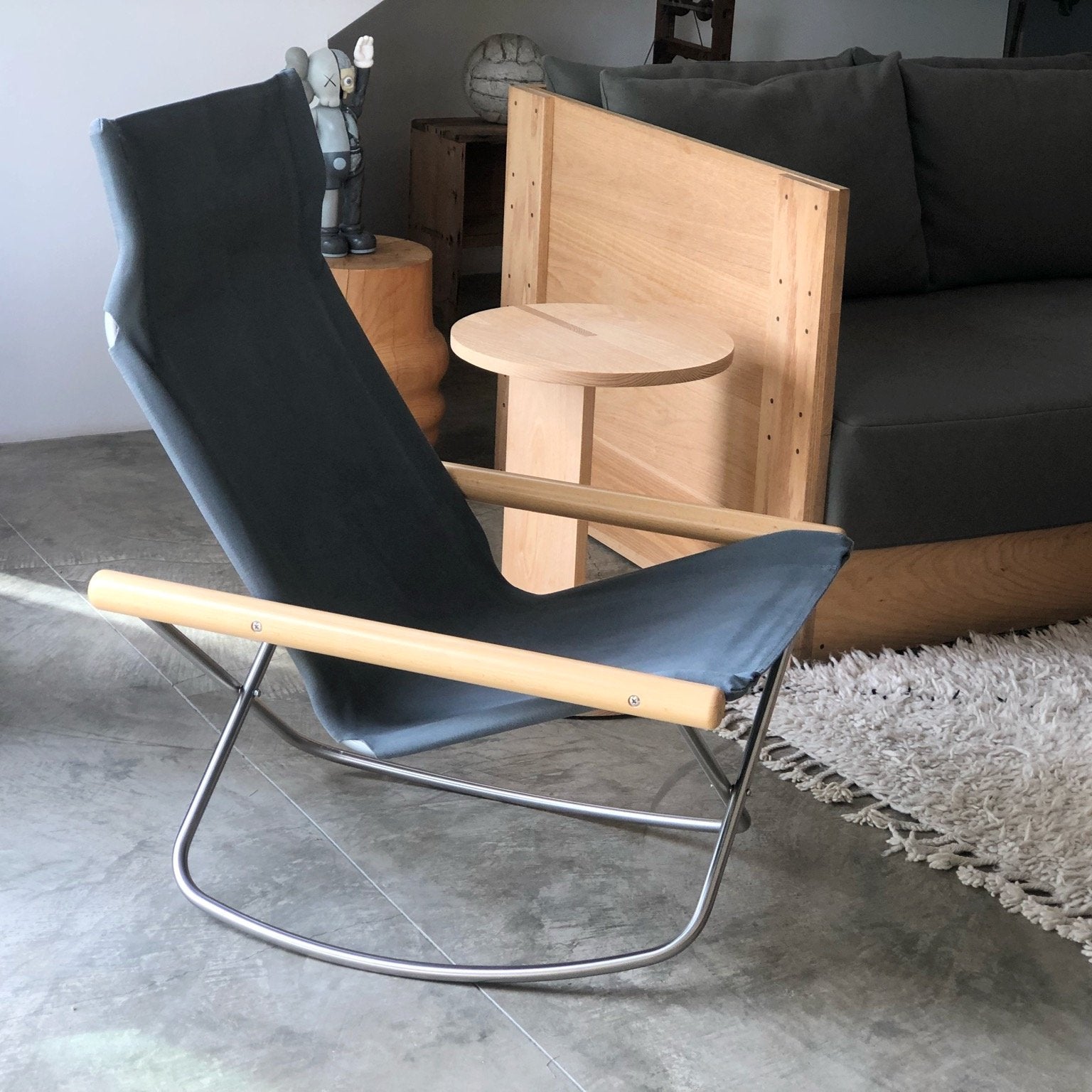 Nychair X Rocking Chair - Gray
Description:
Designed by Takeshi Nii in the year 1970, and pronounced like the designer's last name, this minimalist chair is portable, comfortable and a statement piece for any interior.  The ergonomically chosen seat height, backrest angle and solid beechwood handles creates a feeling of maximum relaxation when in use, and the chair's lightweight frame (just 14lbs) makes it easy to fold and carry into other rooms. Measuring just 6 inches across when folded, the Nychair can be stored easily and will stand upright on its own, between narrow spaces or even against the wall to be totally out of the way.  Pair with the Nychair X Ottoman for the complete Nychair experience!

Measurements:
24"L X 30"W X 36"H; Seat Height 12.5"
History: 
Japanese designer, Takeshi Nii, designed the Nychair in the year 1970. Rooted in Japanese-style but inspired by Danish influences, this iconic chair boasts a simple, beautiful and functional design that makes it suitable for any room in the house.  

Materials:
Beechwood, steel and 100% cotton cloth.  The Nychair's removable seat cover is made from top-grade Kurashiki sailcloth that can easily support up to 210 lbs. Kurashiki sailcloth is an outstanding piece of long lasting fabric made from natural materials, which does not create any static electricity.  The cover is not weather proof or made for the outdoors, so color made fade in sun.  
Variation: 
The wood handles will show natural variation and patina over time. 
Care Instructions:
Assembly is required.  Do not assemble with a power drill or it will permanently damage chair.  The canvas cover is 
removable for professional dry cleaning.  Made for indoor use only, the seat cover and arm rests are not weather-resistant.  Avoid leaving in direct sunlight as it may cause sun bleaching.  
Share