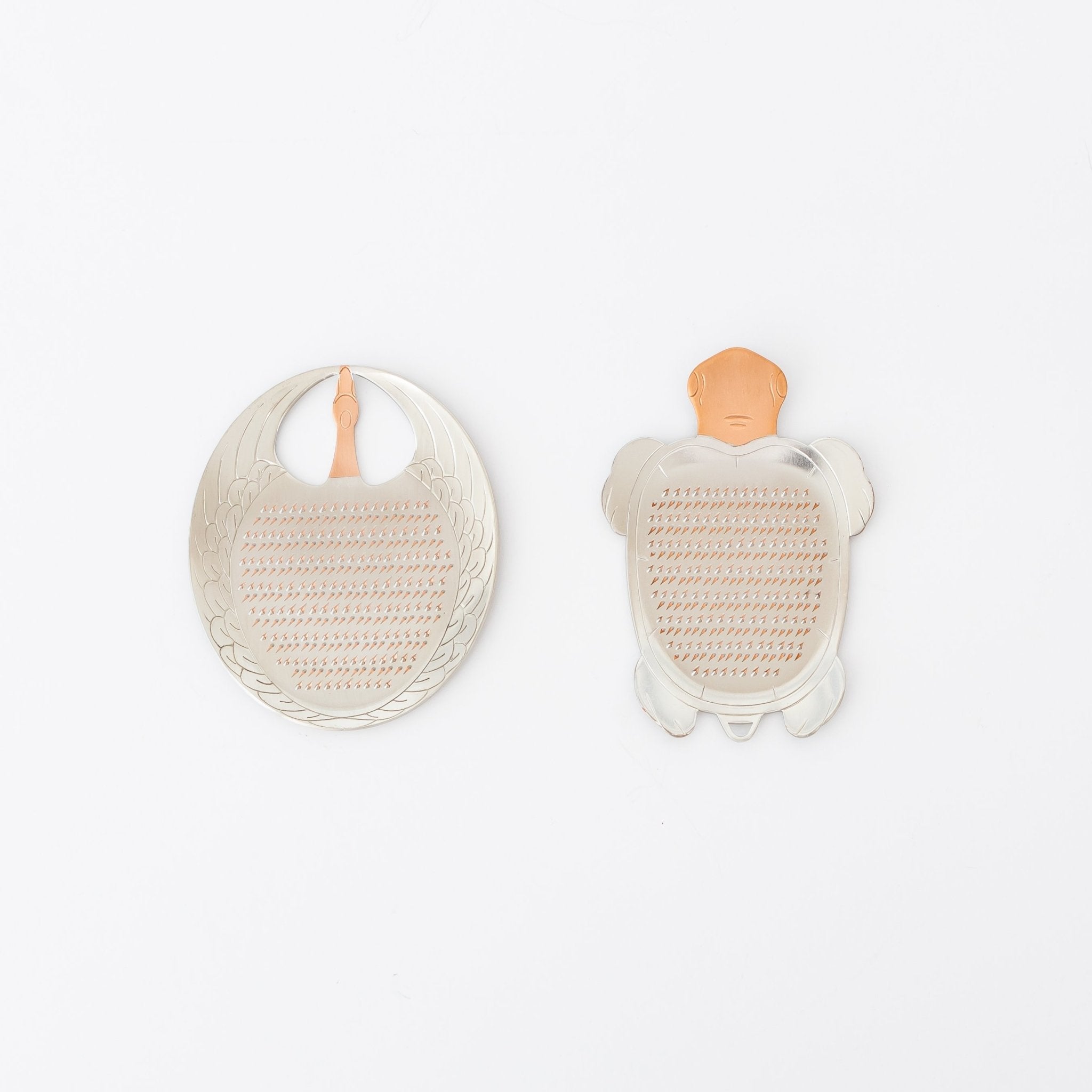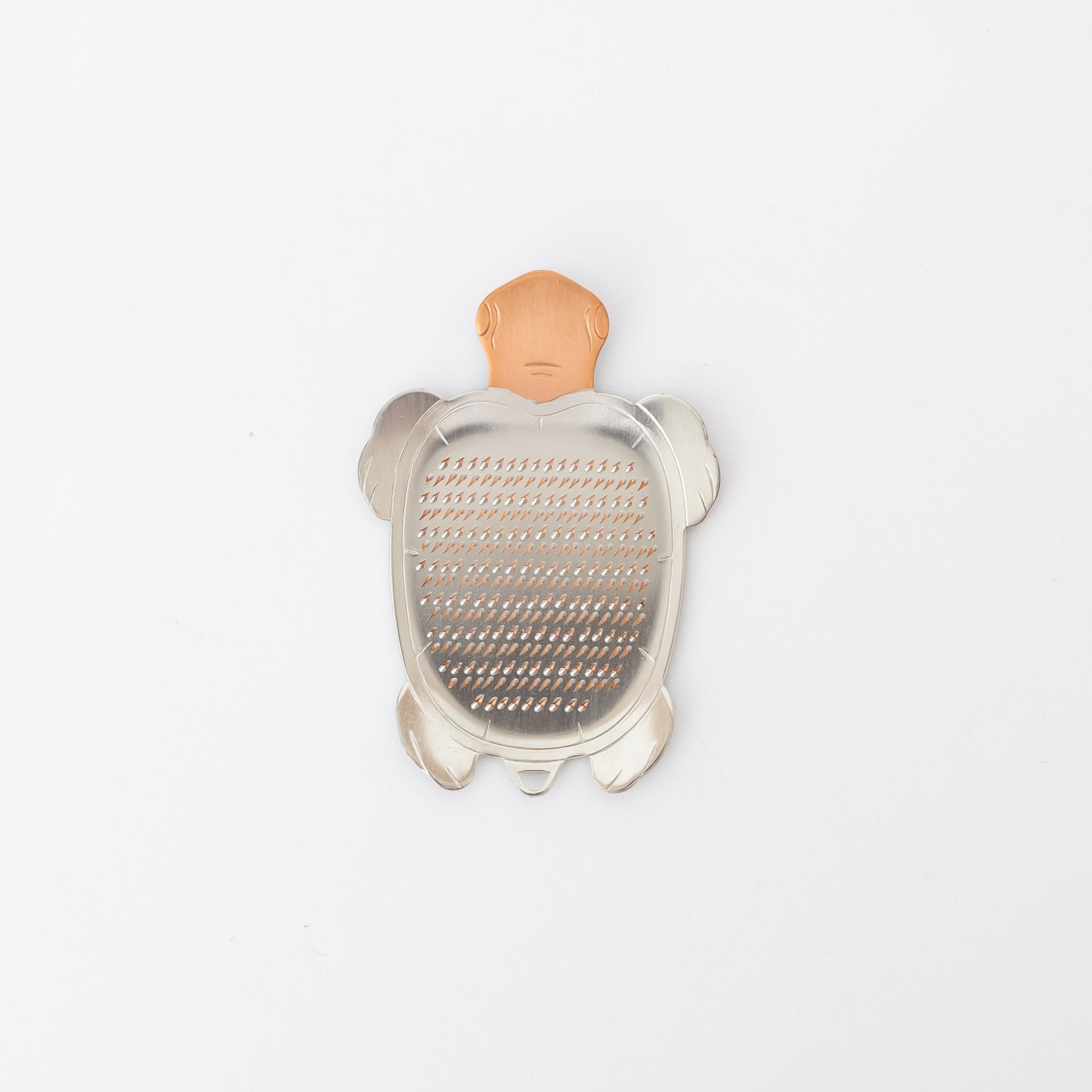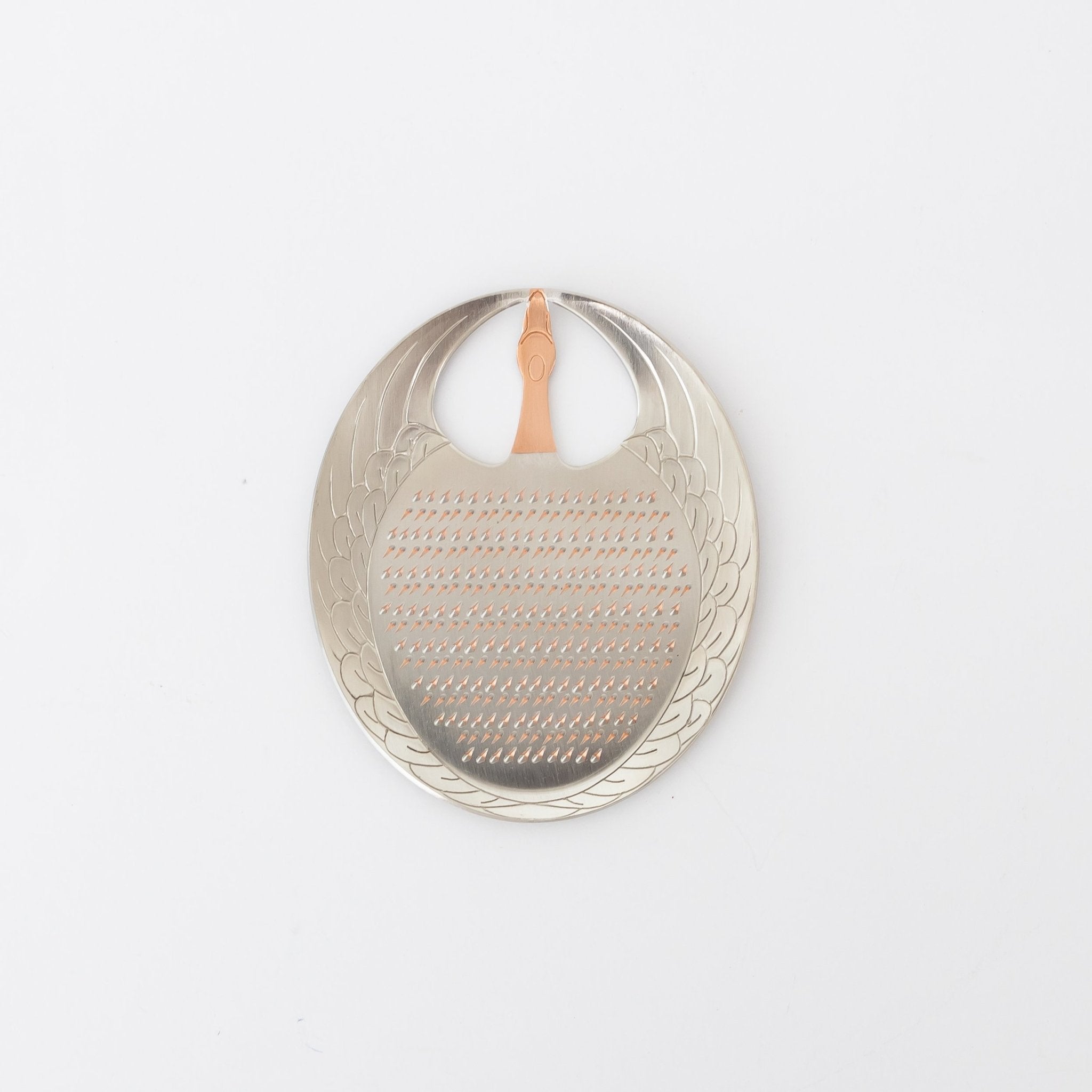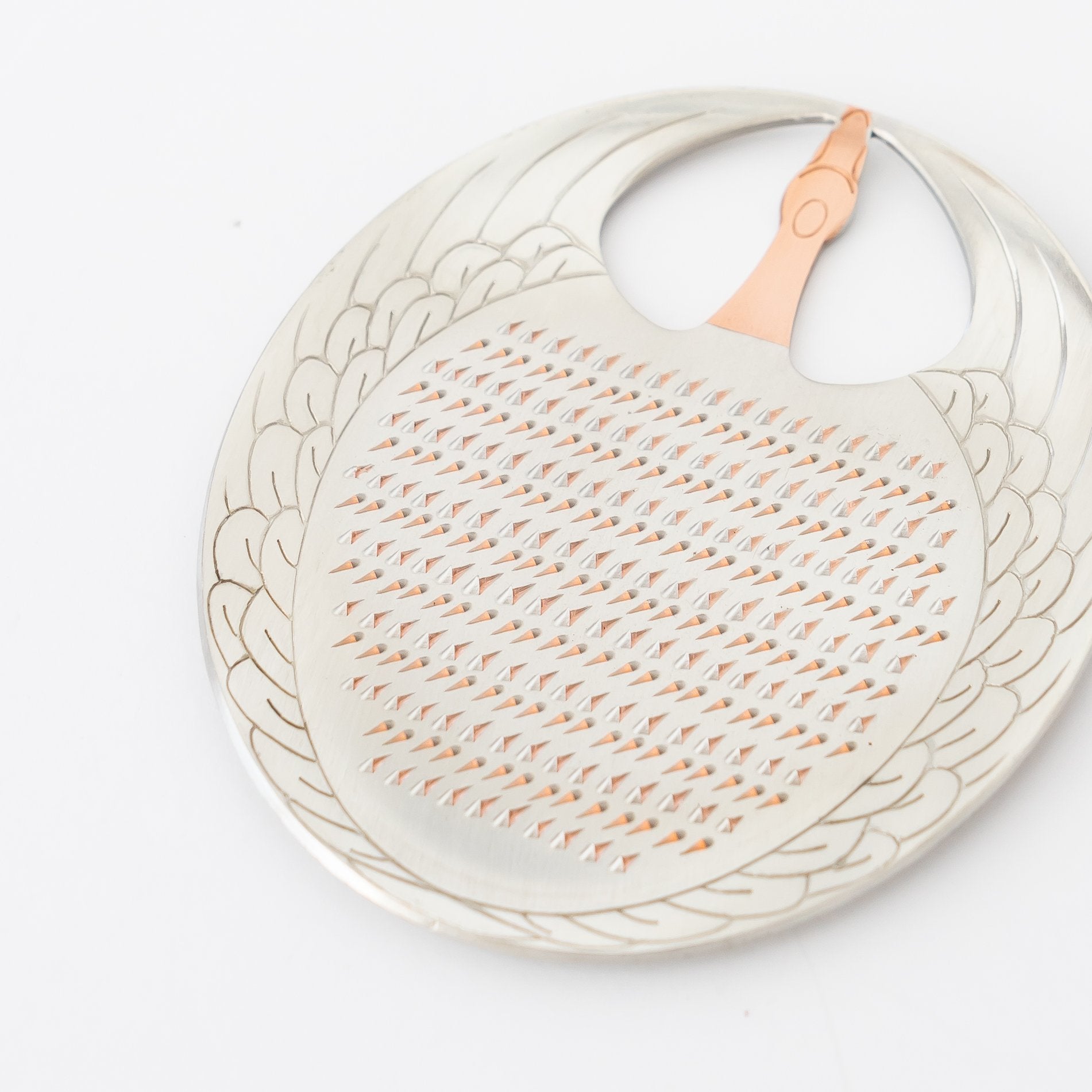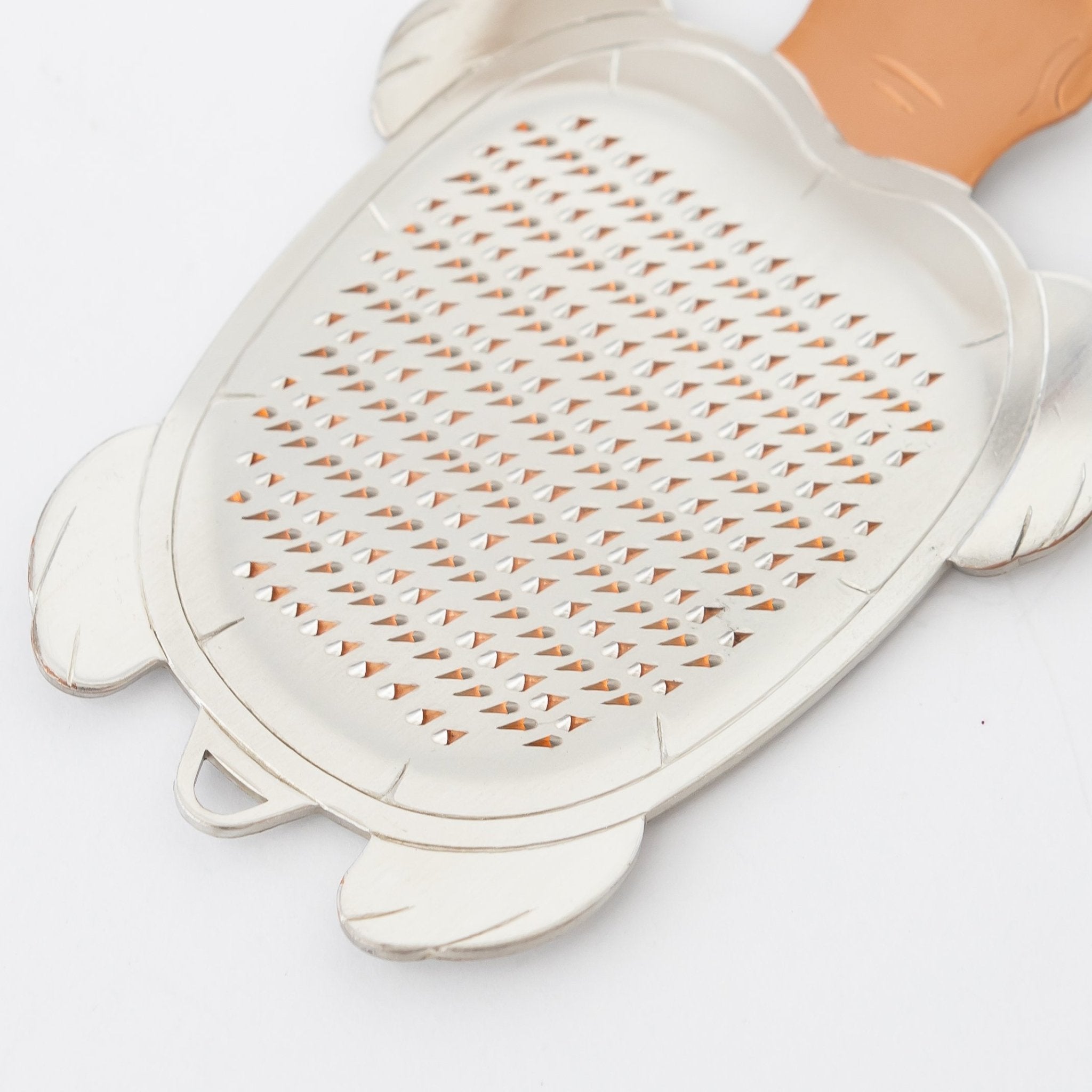 Description:
Made by Ooya Seisakusho, these palm-sized tin-plated copper graters take the form of a crane and our store's emblem, the tortoise, symbols of happiness and a long life in Japanese culture. Using a tool called a
tagane
and an iron hammer, each of the teeth of the grater is chiseled and pointed upwards by craftsmen who use a technique dating back to the Edo period. Requiring little pressure to use, these professional-grade graters finely slice bulb and root vegetables such as onions, garlic and ginger as well as citrus, preserving their aroma and flavor.
Measurements:
3.75" x 3.1" (Crane)
4" x 2.75" (Tortoise)
History: 
Originating in the Edo period, the art of making copper graters has been passed down for generations. Established in 1928, Ooya Seisakusho specializes in the manufacturing of these copper graters. Keeping with tradition, one of Ooya's current products has the same form and features as a grater featured in the
Wakan Sansai Zue
, an Edo-period encyclopedia published in 1712.
Materials:
Copper and tin
Variation: 
Because these graters are handmade, the shape and length of each tooth will vary.
Care Instructions:
Not dishwasher safe. Hand-wash and dry well after each use. If food is stuck in the grater's teeth, try a toothbrush for effective removal. Do not use bleach, a harsh cleanser or steel wool. Keep away from heat.
Returns must be made within 2 weeks in original, unused condition with all packaging for either 1. Store credit for the full amount or 2. Refund - minus a 20% restocking fee.
Tortoise does not cover the cost of return shipping or the cost of re-shipping an exchange
, and the cost of shipping for returns and exchanges is the responsibility of the customer. 
Share