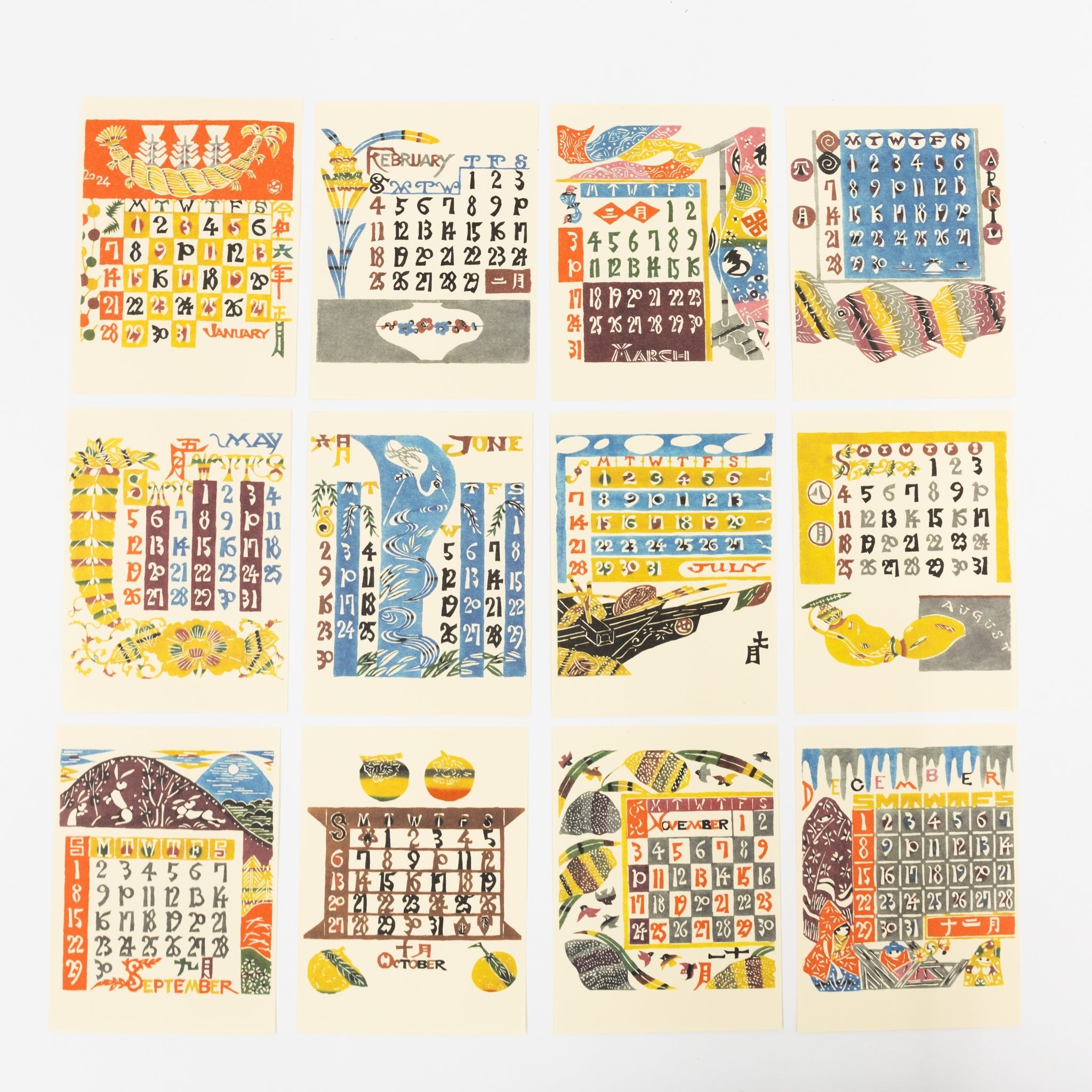 Sells out every year! Our MUST HAVE and most highly anticipated gift item for the holiday season.
Description:
Japanese desk calendar and reproduction of the classic works of renowned stencil artist Keisuke Serizawa. A wonderful gift for the paper connoisseur or fans of Japanese mingei (folk art), these popular calendars are a limited item that sells out quickly every year.  With each passing month, see the vivid expression of the seasons on each page as you rotate the calendar's pages inside its plastic stand.  Give yourself, friends and family this special symbol of the new year to celebrate 2024!
Variation:
This calendar is for 2024 (January to December)
Some of the months and days of the week are written in Japanese.
History: 
The first stencil-dyed, Serizawa calendar was created by Keisuke Serizawa in 1946.  During the Occupation of Japan, it was popular among the wives of U.S. officers to send these calendars back home as Christmas gifts for family and friends.  Serizawa single-handedly popularized the traditional craft of stencil-dyeing in Japan and around the world with his unique patterns, so much so that the emperor of Japan designated him as a Living National Treasure in 1956. Serizawa continued to produce new calendars for the next 39 years until he passed away in 1985.  Today his family continues to produce calendars annually using his existing patterns so that every year, new generations of fans can continue to enjoy his work.
Measurement:
4'' x 5.5''
Materials: 
Cardstock (calendar), plastic (stand)
Care Instructions:
NA
Serizawa Calendars are Final Sale as they are a seasonal item.
Share