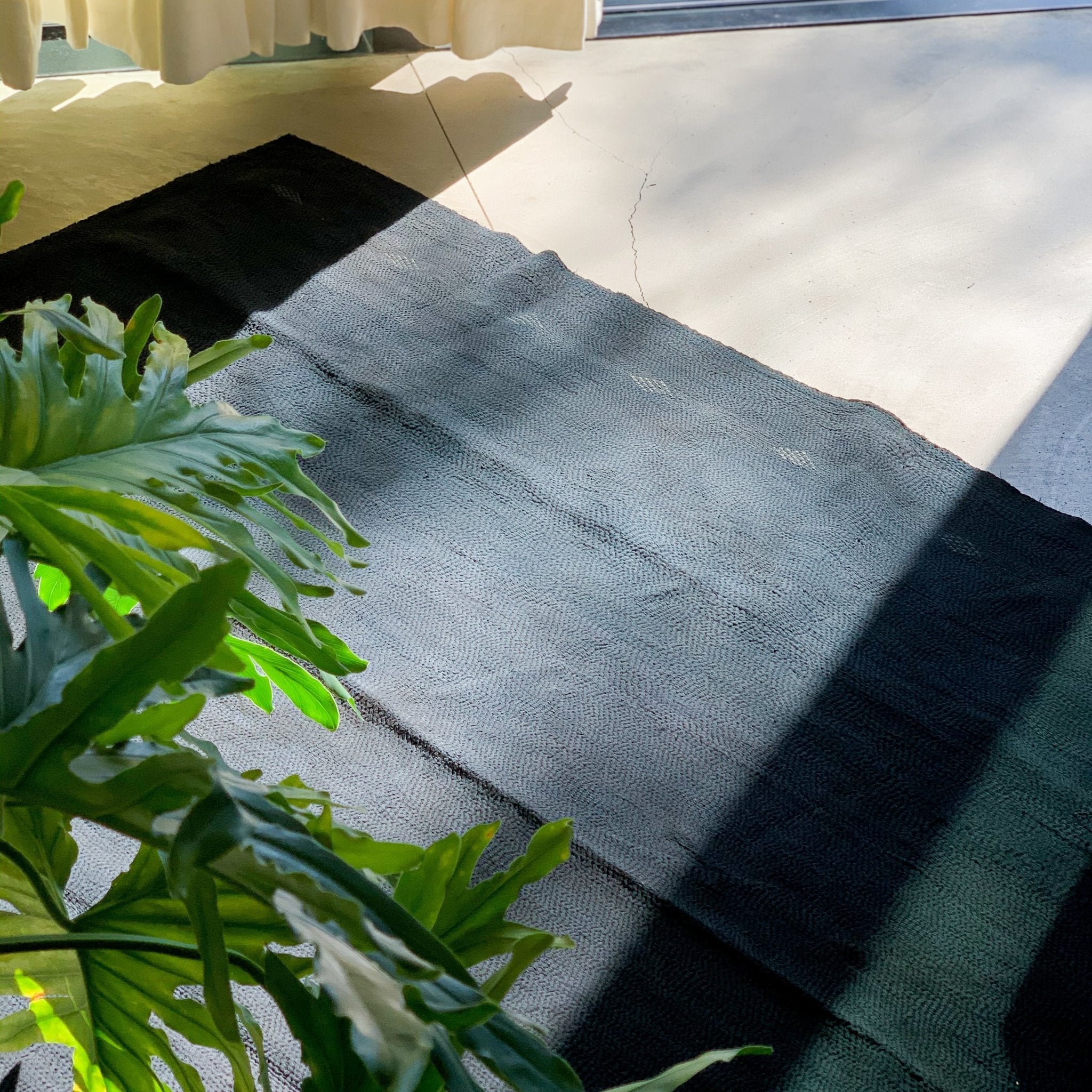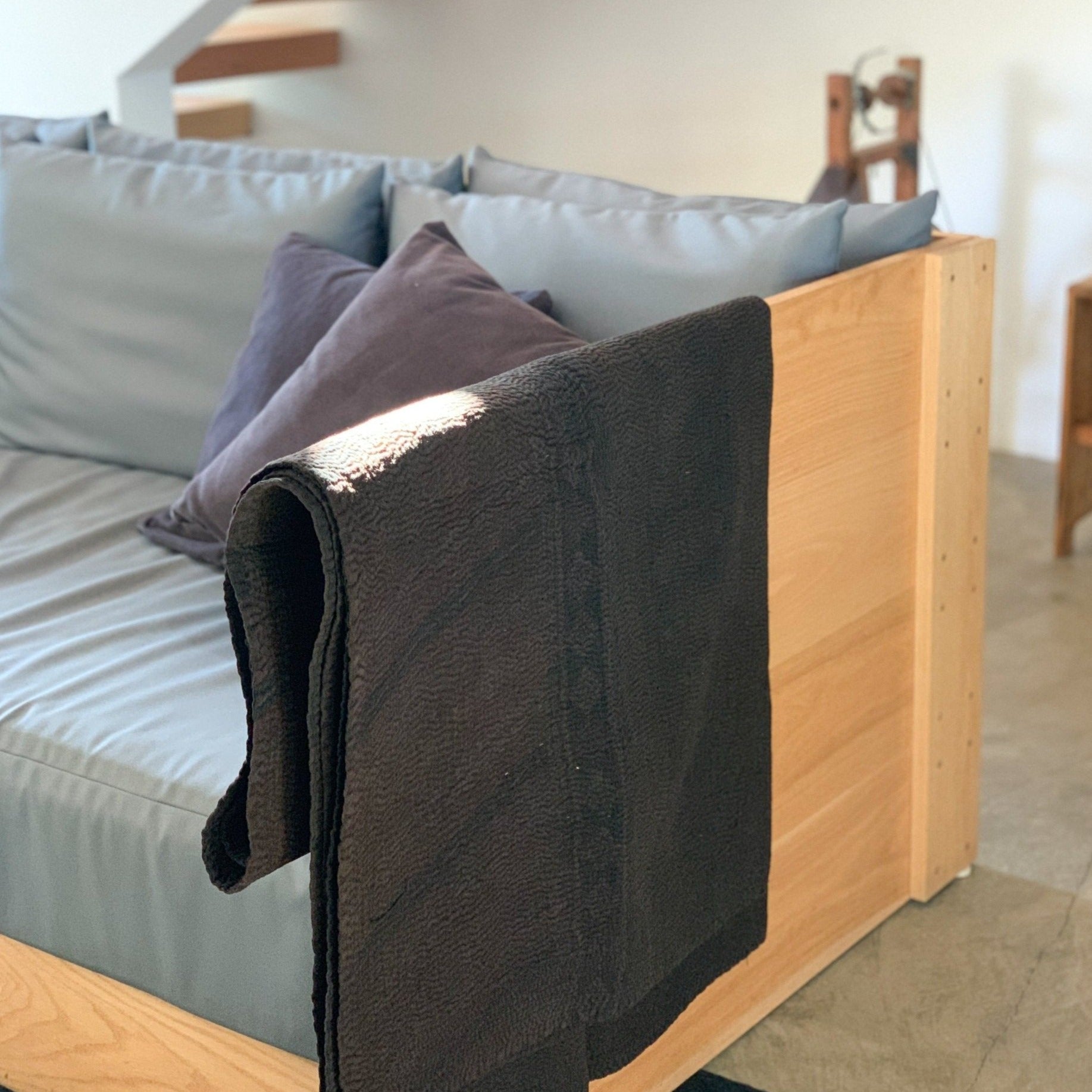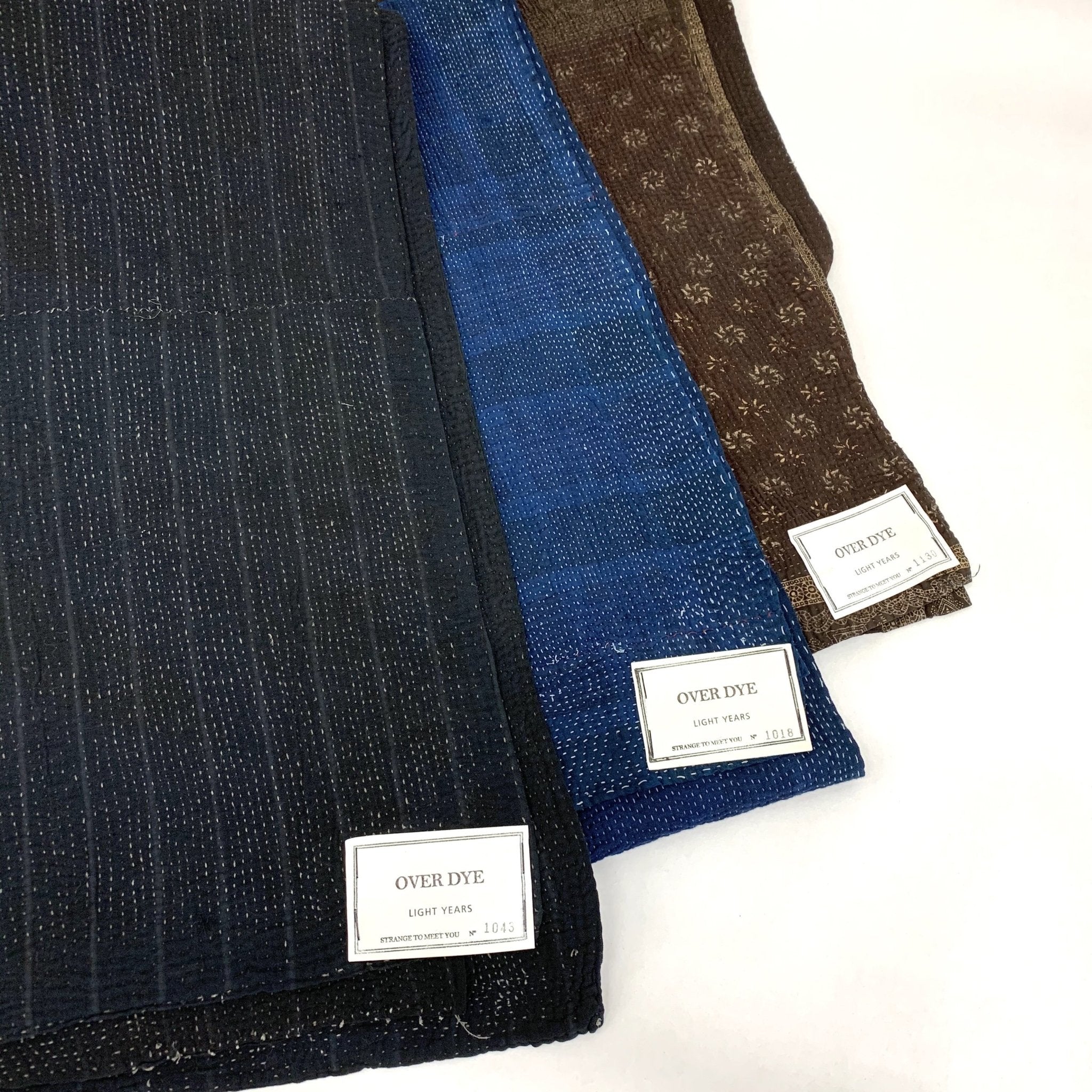 Black Over Dye Blankets: Mud + Sharimbai + Indigo
Description:
Vintage kantha blankets from Eastern India overdyed in Japan's southern most island of Amami.  The rich black color of the blanket comes from extensive natural over-dye treatment that is a combination of mud, indigo and sharimbai - a traditional red wood dye that can turn fabrics a rich dark brown. Sourced from India, then brought to Japan, the process of preserving these valuable textiles instills new life into its fibers, creating a beautiful piece for your home and life.

Measurements:
Black Over Dye Blanket #1 - 86'' L x 56'' H
Black Over Dye Blanket #2 - 81'' L x 57'' H
Black Over Dye Blanket #3 - 80'' L x 64'' H
Black Over Dye Blanket #4 - 79'' L x 55'' H
Black Over Dye Blanket #5 - 68.5'' L x 50'' H

History: 
The history of kantha blankets dates back centuries in India, where Indian women would stitch together old saris and fabric to create large blankets and cushions. Kantha is the sanskrit word for 'Rags', as old cloth was believed to provide protection from harm. These kanthas blankets produced by Light Years are made from 2 to 5 layers of saris stacked on top of each other, all hand- stitched to create a soft and slight cushion. The original craft of making and constructing kantha blankets started in in West Bengal, Eastern India. 
Materials:
Layers of vintage cotton saris from India over-dyed in mud, indigo and sharimbai.
Variation: 
Each over-dyed blanket is one of a kind. There may be unevenness in the natural dye, and the back and front of the blankets show different patterns. Variations show the character of the blanket and are a sign of beauty.
Care Instructions:
There may be some color transfer when placed on light color surfaces. 
Wash cold or warm water with no soap or detergent. You can either hand-wash or use the gentle cycle on your machine. Do no use a machine dryer. Hang dry only. The color will fade little by little over time because of the natural dye used. These care instructions are similar to that of caring for vintage denim
Final Sale because it is vintage
Share