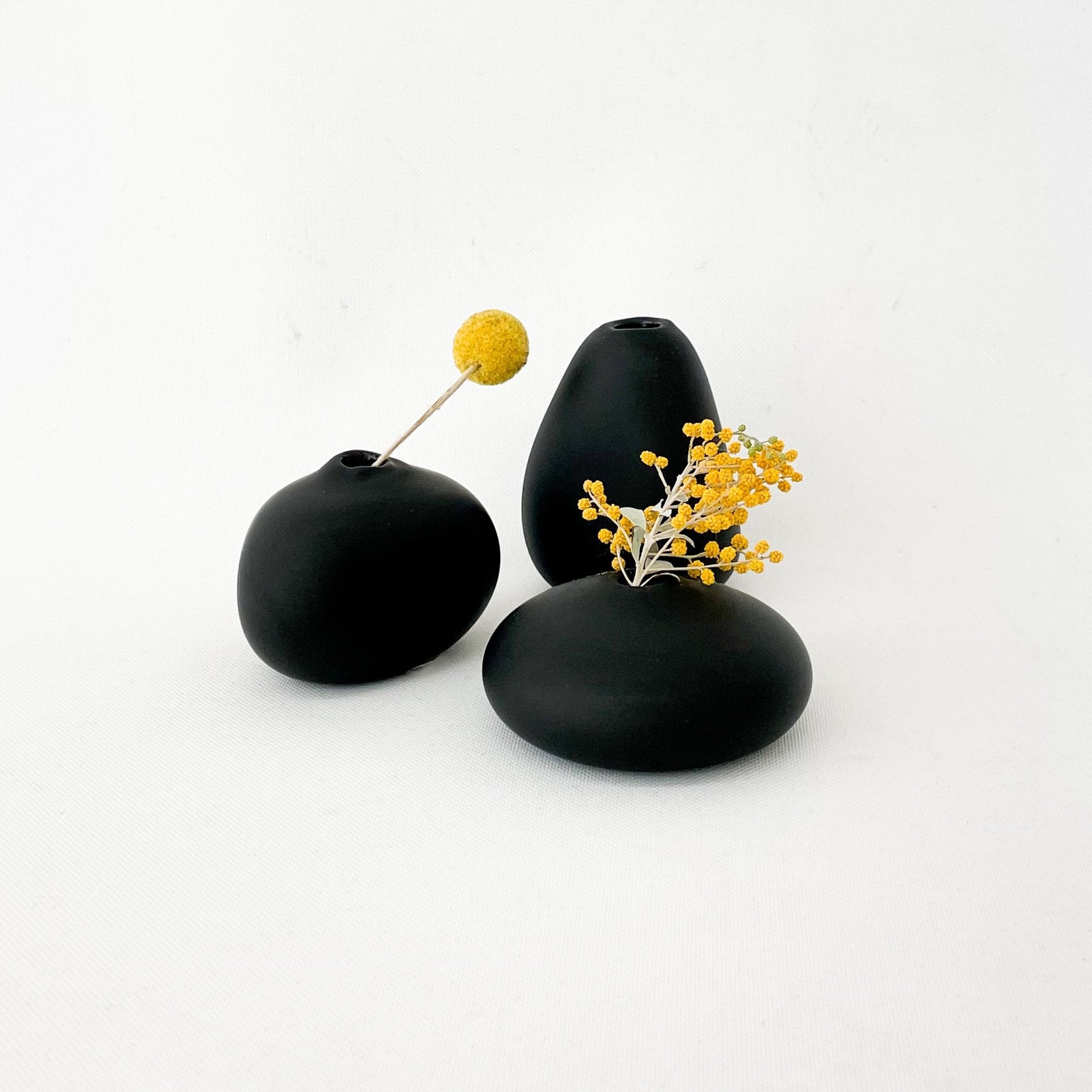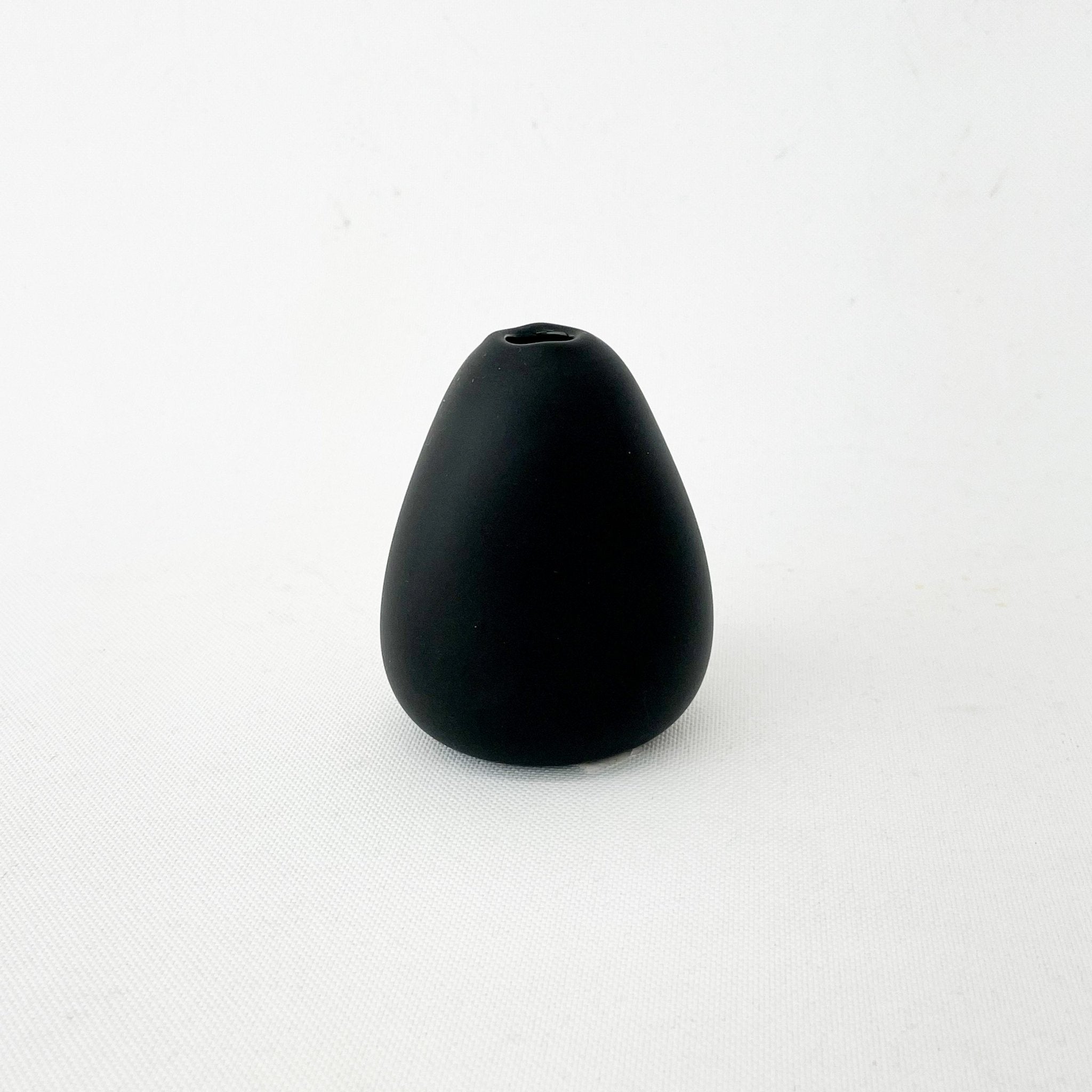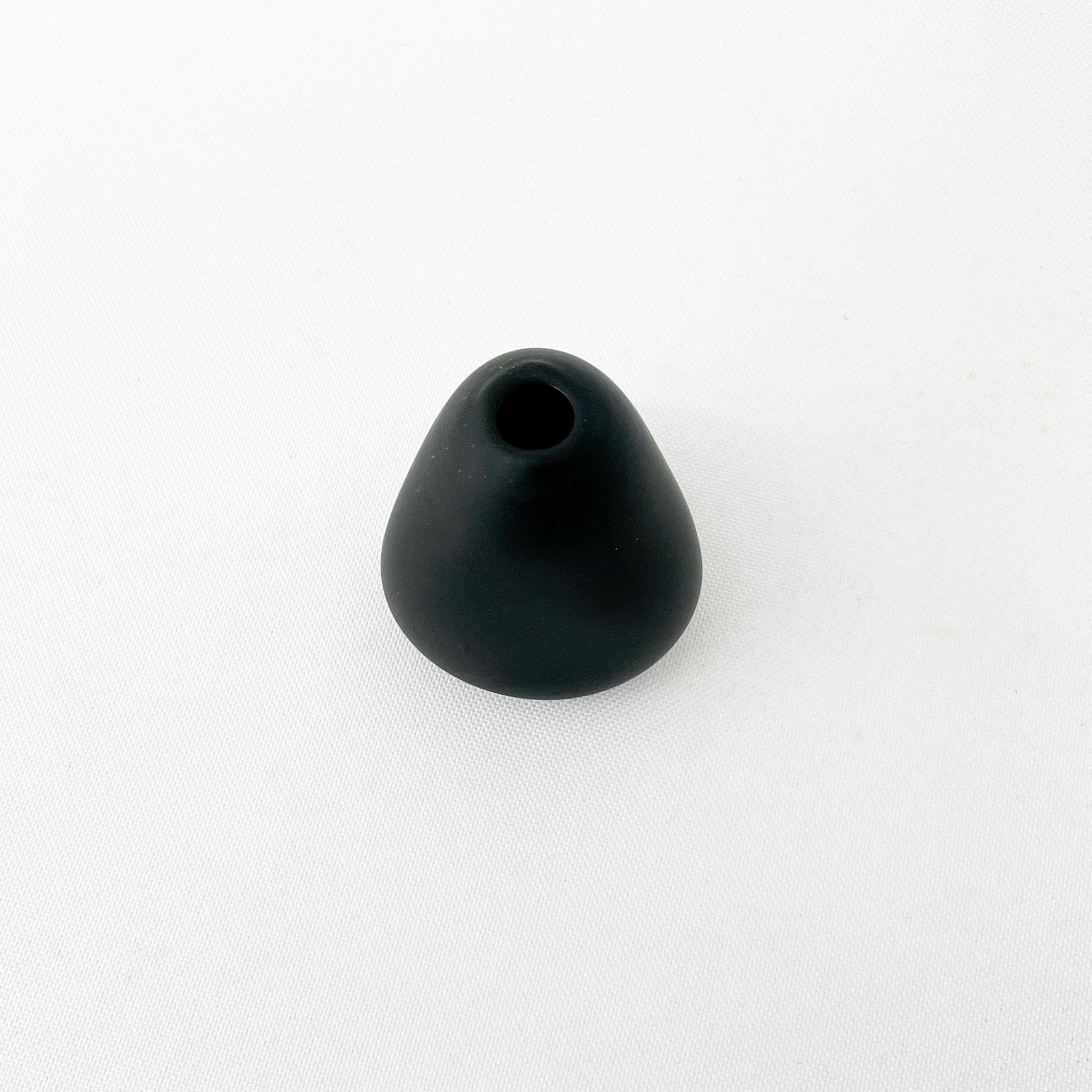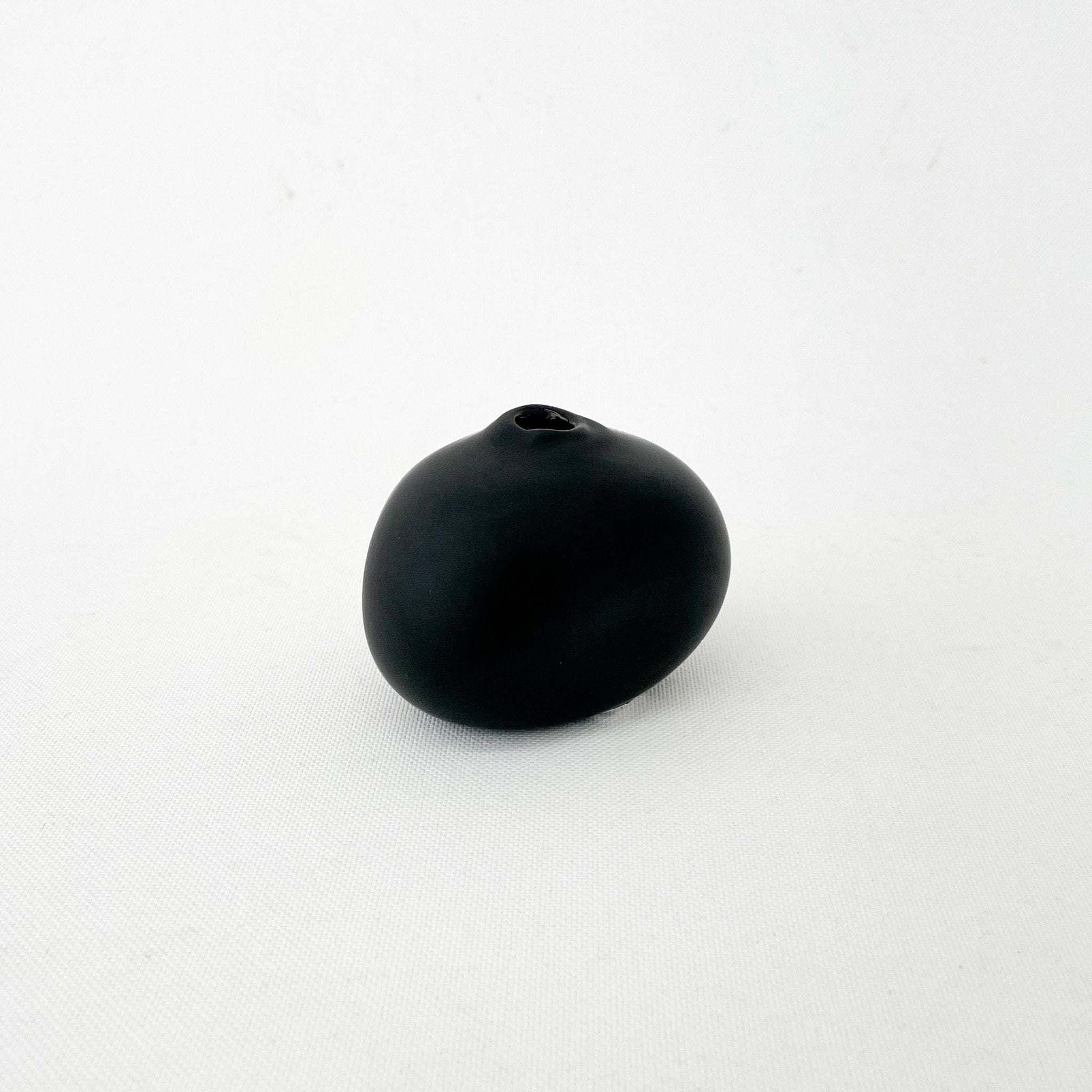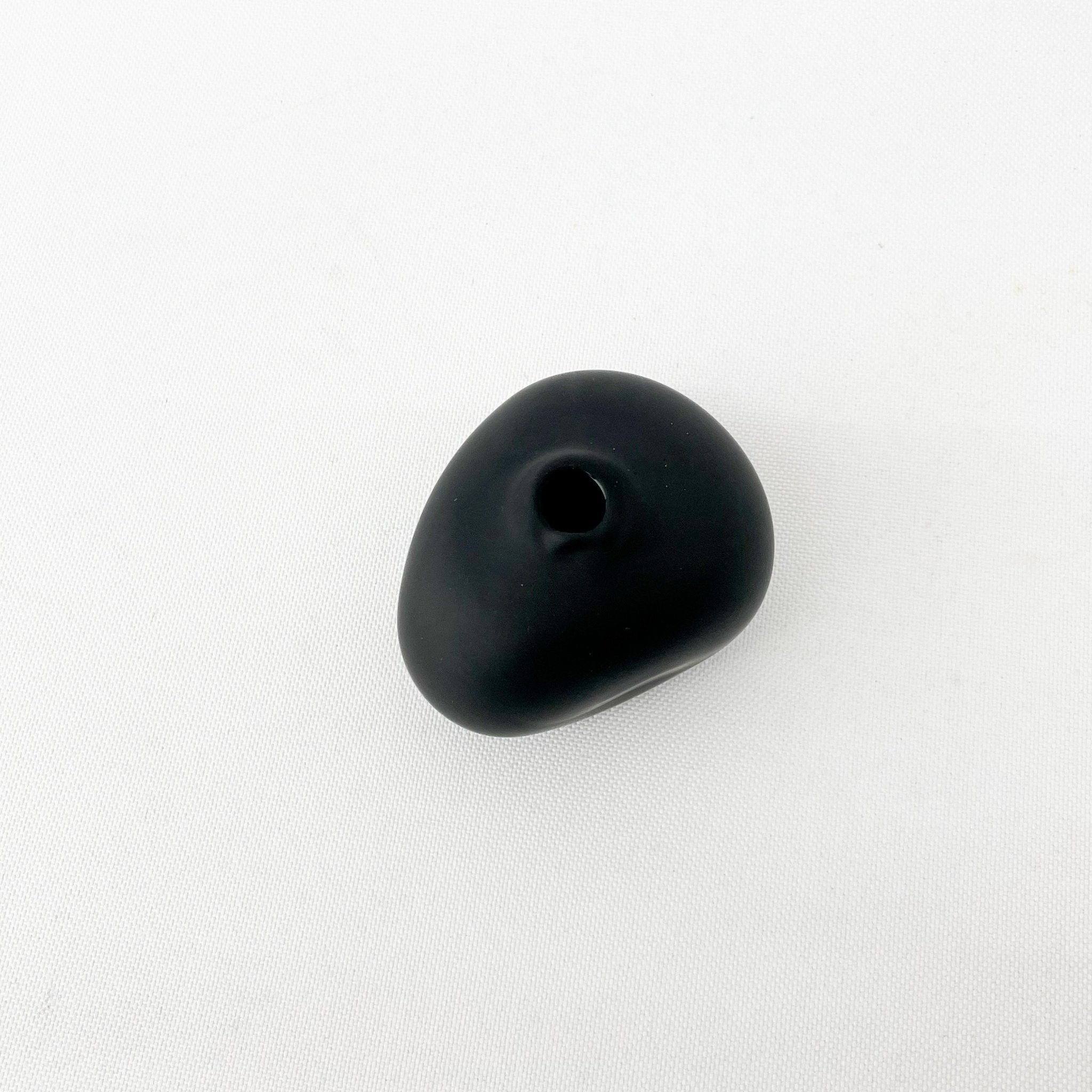 Sugahara Matte Black Bud Vases
Description:
Elegant matte black bud vases handmade in 3 organic shapes.  Each bud vase is entirely mouth-blown by skilled Japanese glassblowers, and will vary slightly in shape.  Place a single stem flower inside, display a dry leaf. or simply have the glass bud vase stand alone and enjoy its sculptural, natural stone-like shape.  These vases are made of pure black glass that has been created by mixing together many different colored glasses - it is not coated to achieve it's lustrous, shiny, opaque appearance. 
Variation:
Each vase is mouth-blown and unique so there will always be variation in the shape. Available in Tall Triangle, Riverstone, and Flat Round. 
History:
Based in Chiba, Japan - Sugahara Glassworks Inc. was started by Kazuma Sugahara almost a century ago in 1932. At its start, Sugahara Glassworks was run by only a single glassblower.  Now they produce over 4000 beautifully designed glass pieces with 40 glassblowers for global distribution.  Sugahara glassworks are truly world-renowned, largely in part to the company's practice of having their glassblowers also act as their lead designers behind their collections - a rarity in the glass-works world.  Sugahara values the vast knowledge of their glassblowers, and they rely on this experience and knowledge to create glass products that draw out the true essence, beauty and versatility of glass for all of us to enjoy.
Measurement:
Tall Triangle - 3" height x 2.25" width
Riverstone - 2.25" height x 3" width
Flat Round - 1.15" height, 3" width
Exact measurements will vary from piece to piece. 

Materials:
Glass
Care Instructions:
Dust occasionally.  Hand-wash only.
Return Policy / Shipping Policy:
Returns must be made within 2 weeks in original, unused condition with all packaging for either 1. Store credit for the full amount or 2. Refund - minus a 20% restocking fee.  Tortoise does not cover the cost of return shipping or the cost of re-shipping an exchange, and the cost of shipping for returns and exchanges is the responsibility of the customer.  
Share