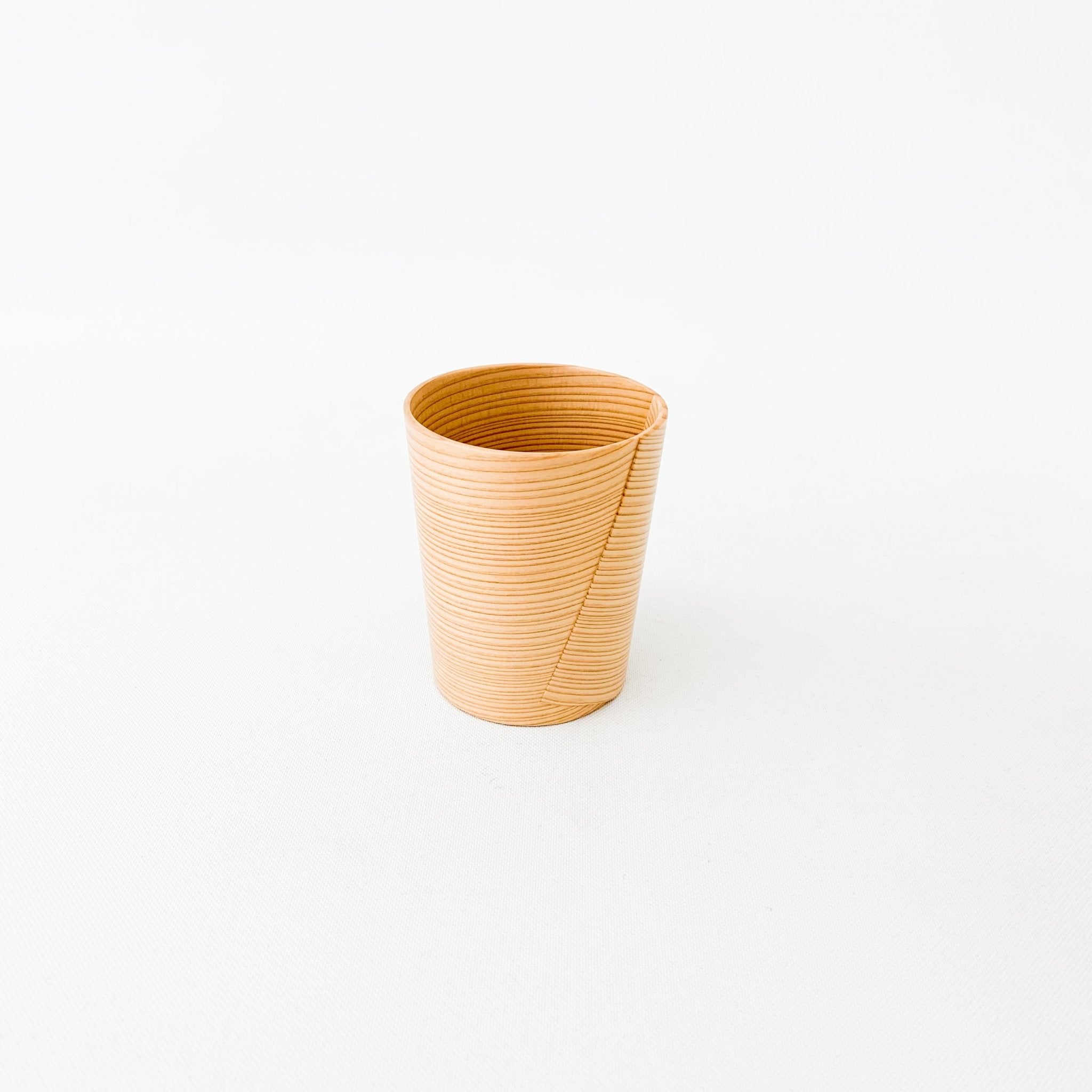 Description:
Lightweight, beautiful and aromatic – the Kurikyu beer cup is a combination of Japanese traditional craft and contemporary design.  Winner of the prestigious Japanese Good Design Award, each cup is handcrafted from a single slice of thin Japanese cedar wood, boiled then bent and fixed into place by hand.  Versatile for its ability to work for hot beverages as well as cold, the wood's insulative property will keep your hot drinks warm, and cold beer cool for longer periods of time.  
Variation:
There may be variation in the grain of the wood. The cup you receive may not be the exact cup displayed here.
History: 
Kurikyu was established in Odate in 1874. It is currently run by the 6th generation of the Kurimori family. Shunji Kurimori, who mastered the craft at the age of 18 and has won several awards for his craftsmanship. Hoping to spread the art his family and hometown specialized in, he has participated in exhibitions in Australia, England, China and the United States.

Measurement:
3.3" x 4.0"
Materials: 
Japanese Cedar

Care Instructions:
Hand-wash gently with a soft sponge and gentle detergent and dry immediately.  Do not wash wit boiling water or scrub with abrasive brushes, sponges or harsh chemical products. Over time, the cup will change color (often becoming a golden color) as you use it and this is natural and part of the aging process.  Long exposure to direct sunlight will change the color faster, or distort the color and shape, so please avoid.  Avoid soaking in water for long periods of time.  Not dishwasher or microwave safe.

Returns must be made within 2 weeks in original, unused condition with all packaging for either 1. Store credit for the full amount or 2. Refund - minus a 20% restocking fee.
Tortoise does not cover the cost of return shipping or the cost of re-shipping an exchange
, and the cost of shipping for returns and exchanges is the responsibility of the customer. 
Share