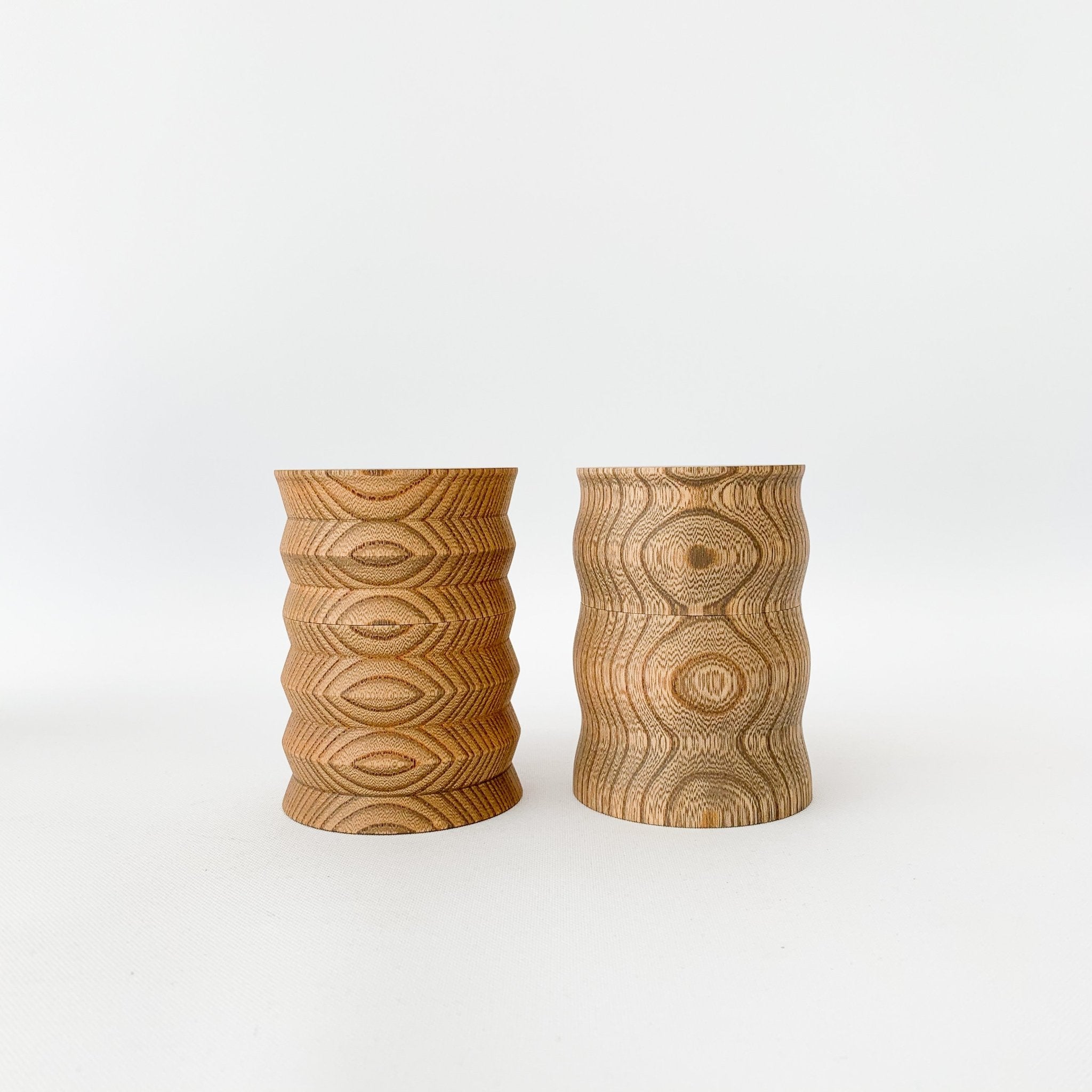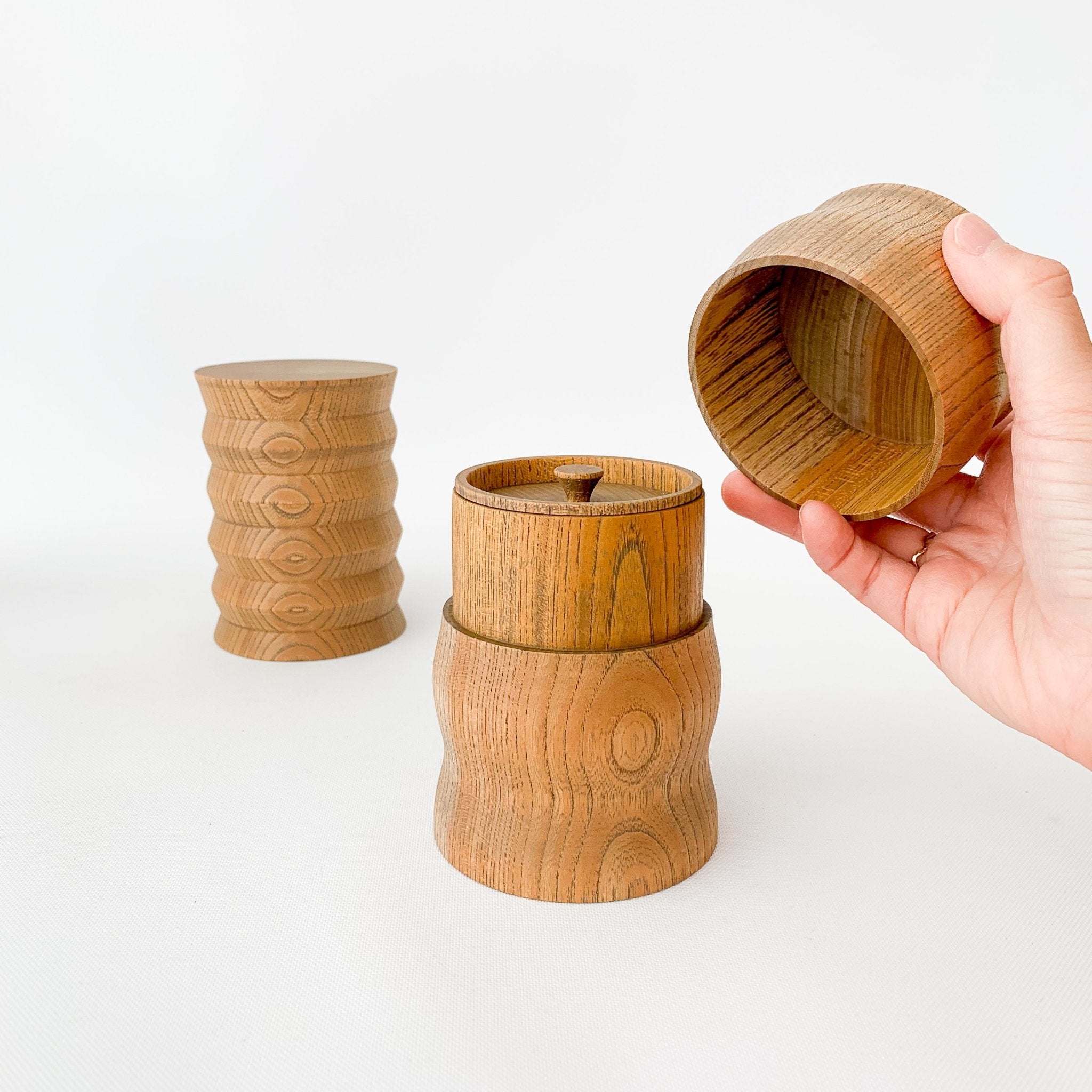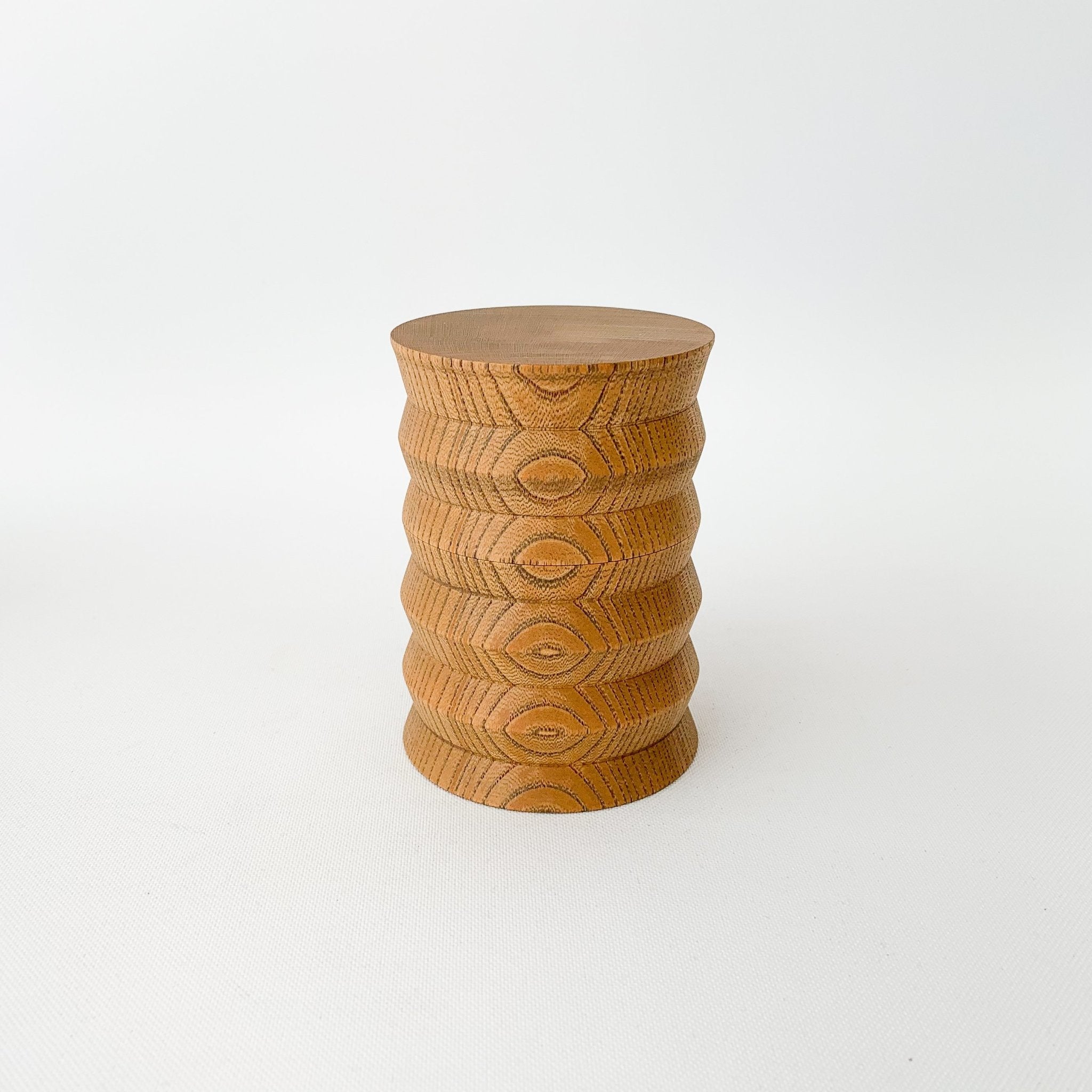 Gato Kisen Tea Containers
Description:
A modern tea canister made with the skilled wood-turning techniques of Yamanaka, Ishikawa Prefecture. Named after the practice of linking wood grains known as "kisen," the lid and body are split into two parts from a single block of wood to ensure that the wood grains aligns perfectly. This is a natural work of art that invites you to enjoy your tea with quiet and peaceful appreciation.
Variation:
Wood is a natural material so there is always natural variation in the grain, color and texture. All of these characteristics are a sign of the wood's inherent beauty.
History: 
Gato Mikio is a family owned woodworking house with over 100 years of history. Founded by woodworker, Komakichi Gato, in 1908 in Yamanaka-city, Gato Mikio is part of the rich and renowned woodworking and lacquerware tradition of this region. With products that are all meticulously carved by hand using traditional techniques that are centuries old, their 'Kashokubuki" wood carving techniques form decorative patterns that can only be achieved by the specialized craftsmen from this specific area.
Measurement:
3.25'' D x 4.5'' H (style saw)
3'' D x 4.5'' H (style wave)
Materials: 
Zelkova Wood (this product comes with its own box)
Care Instructions:
Wash before first use with water or warm water, then dry immediately with a soft cloth or paper towel. Do not use in dishwasher, oven, microwave. Be aware that any chemical cleaning product may discolor this product and oil from hands or from the environment may also discolor this product, but the changing of color in natural wood is normal. Appreciate that wood will change in appearance (color, added shine etc) over time. Never soak in water for a long time. After using, wash as soon as possible and wipe with dry towel. Never leave in direct sunlight directly or in high humidity. This to avoid the risk of transformation (wood can expand and contract, change size, based on environmental moisture changing how this container opens and closes), discoloration and mold.
Returns must be made within 2 weeks in original, unused condition with all packaging for either 1. Store credit for the full amount or 2. Refund - minus a 20% restocking fee.
Tortoise does not cover the cost of return shipping or the cost of re-shipping an exchange
, and the cost of shipping for returns and exchanges is the responsibility of the customer. 
Share