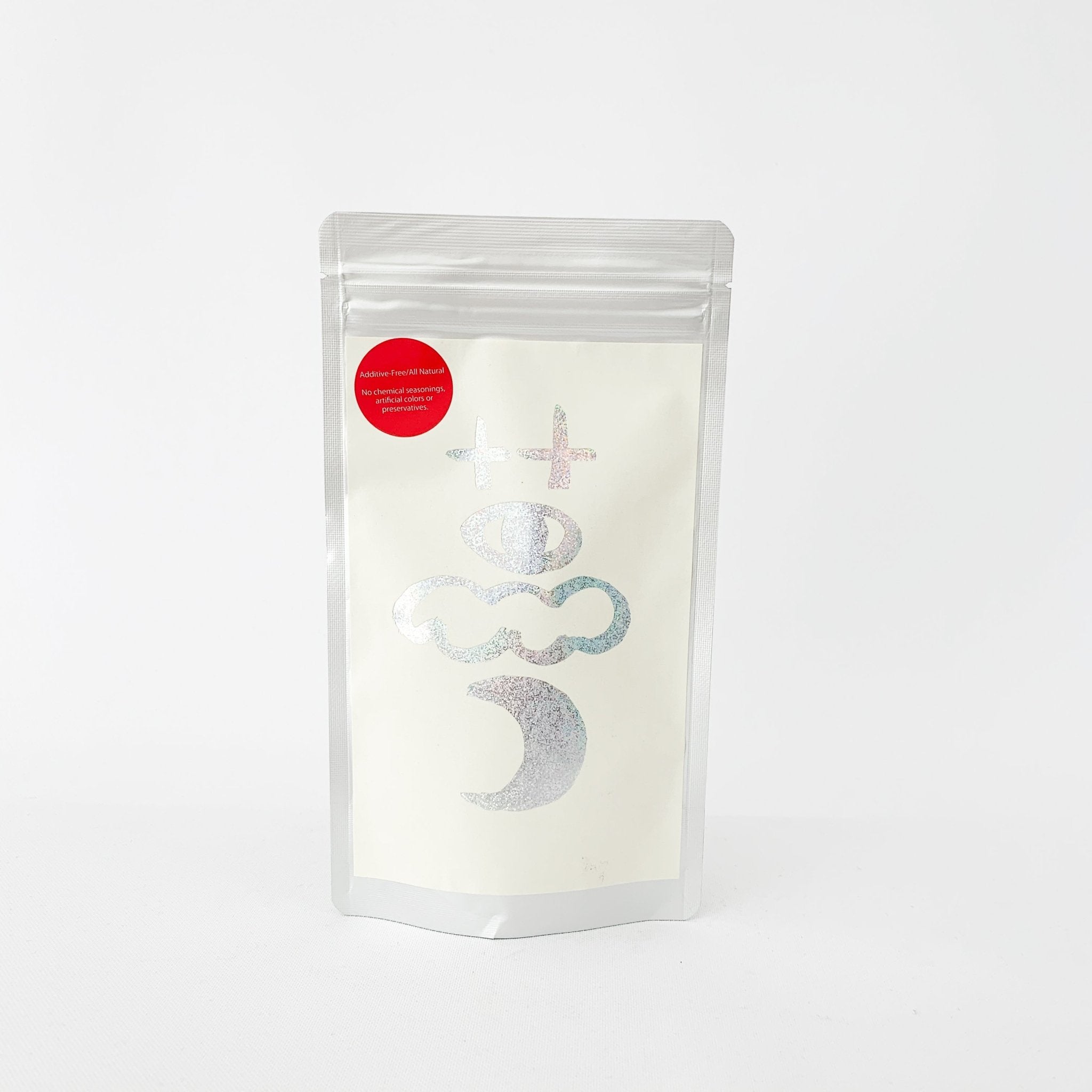 "Ozoni (Japanese New Year Mochi Soup) is one of the most important dishes of the traditional Japanese New Year. Preparation varies by region and household, but all versions have a dashi-based broth. Dashi adds an umami rich flavor to any dish, from its combination of vegetables, kelp and fish as its base. The New Year Mochi Soup symbolizes longevity, sticking together as a family, good health and continued prosperity."
Description:
Dashi is the foundation for may Japanese traditional dishes as it is the soup stock powder that flavors miso soup and a range of other dishes.  DASHI Dream is a special blend of carefully hand-picked ingredients from the sea, mixed with Yame Gyokura green tea from the city of Yame in Fukuoka, Japan.  The inclusion of Yame Gyokuro in this special dashi helps reveal the mild umami flavor to create delicious, wholesome and satisfying dashi broth.  All ingredients are additive-free and natural.  No chemical seasoning, artificial colors or preservatives are used.
Variation:
This product contains wheat and soy, and manufactured in a facility that uses dairy, wheat, buckwheat, shrimp and crab.

History:
Studio Cue is based in the hills of Topanga Canyon, and started by a husband and wife team from Japan, Keiko and Tsugu.  Golda is an all-natural line of atmosphere sprays and soaps created by Studio Cue that also includes environmentally friendly products like their GOOD WRAP and wellness food products like 'Dream Dashi'.

Measurement:
Each DASHI Dream holds individual loose bags of powdered dashi.  The large bag contains 24 bags of dashi, while the small bag contains 10 bags of dashi.
2.8 oz (net weight of 10 bags)
6.7 oz (net weight of 24 bags)
Ingredients:
Salt, Bonito, Round Herring, Mackerel, Flying Fish, Shiitake Mushroom, Kelp (Konbu), Sugar, Yeast Extract, Starch Hydrolysate, Green Tea (Yame Gyokuro), Powdered Soy Sauce (Soybeans, Wheat, Salt).  
*This product contains wheat and soy, and manufactured in a facility that uses dairy, wheat, buckwheat, shrimp and crab.
Care Instructions:
To make "basic dashi", add 1 bag of DASHI Dream to 20 oz of water.  Bring to a boil.  Remove the bag after 2 minutes of boiling and stirring the dashi bag around the pot so the contents spread.  To have a stronger dashi taste, simply follow these steps using less water.  After the dashi has cooled, add the dashi to any of your recipes.  You can also store and keep the dashi in the refrigerator for a couple of days if needed.  After opening the packet of dashi, be sure to close the bag tightly to prevent humidity.  
Return Policy / Shipping Policy:
Dashi is final sale.
Share