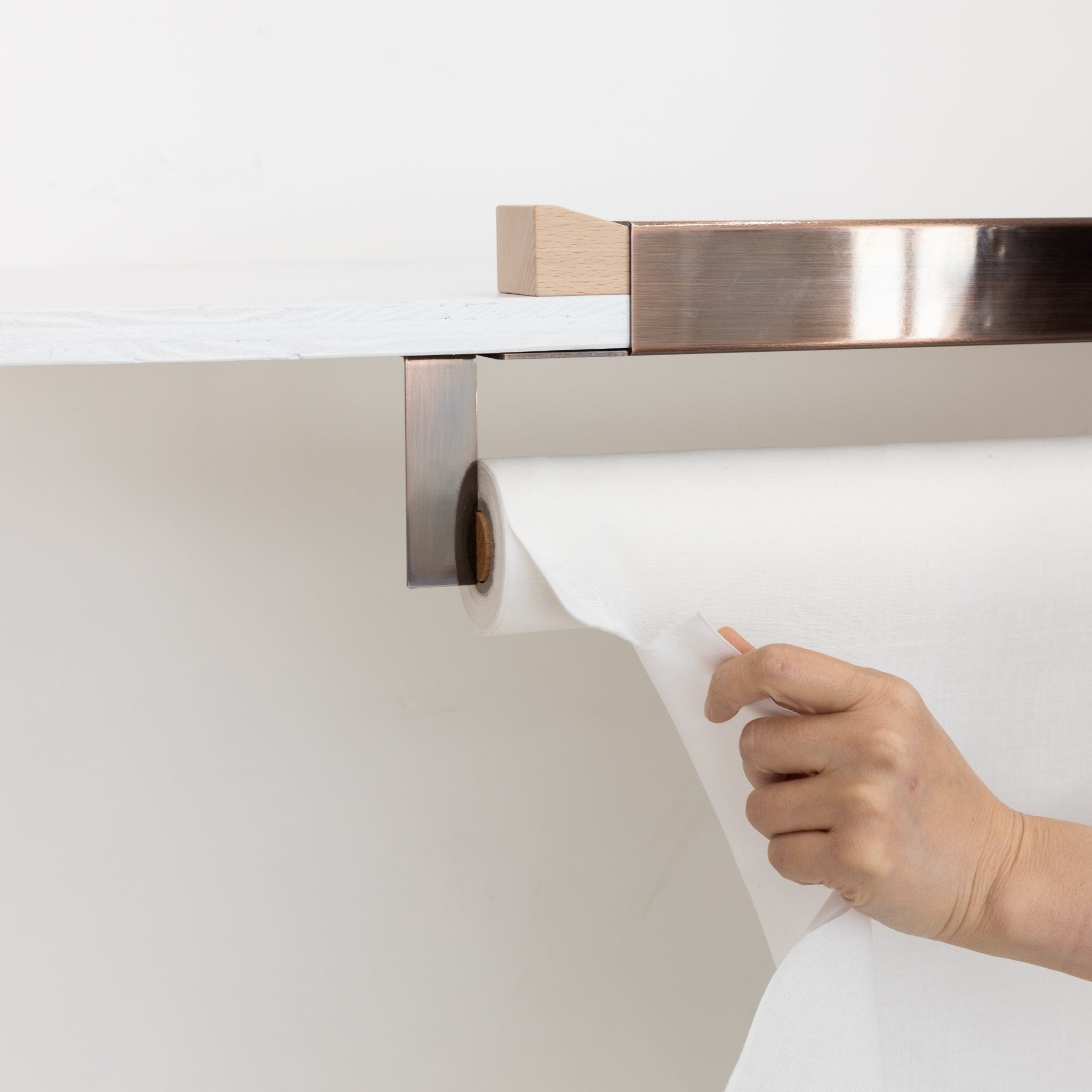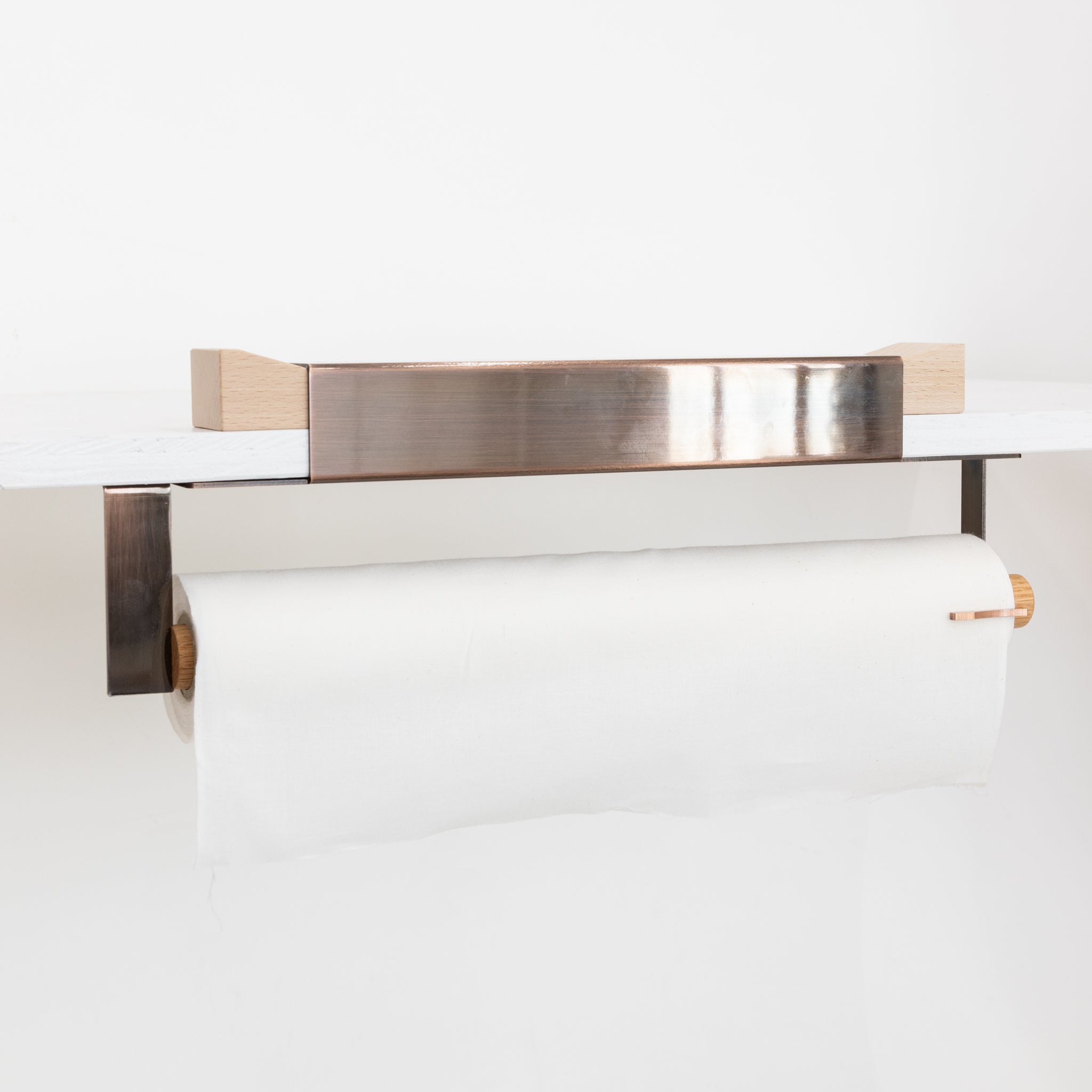 SA SA SA Sarashi Roll Holder
Description:
Winner of the internationally recognized iF design award in 2022,
S
A SA SA
is an environmentally friendly and sustainable aid for cleaning, washing and other household chores.  The term
'sa-sa-sa'
is a figure of speech 
an
 onomatopoeia
 in Japanese that means 'quickly and with ease'.  Developed, designed and made in Osaka Japan, this
S
A SA SA
Sarashi Roll holder can be fixed onto a shelf in your kitchen, bathroom or wherever you may find convenient with some light assembly.  Each holder comes with a single 100% cotton roll, and the rolls are perforated so individual sheets can be pulled off with care, similar to a disposable paper towel.  Each sheet can be used like a normal dish towel, and by washing lightly with soap and water after each use, you can clean and maintain the cloth.  Depending on the conditions of use, you should be able to use each sheet approximately 30 times.  
Measurements:
Holder - 1'36'' L x 4.8'' W x 1.9'' H

Suitable for shelfs with .6'' to 1.4'' thickness
History: 
Takeda Sarashi Kogyo was founded in 1911.  Since its founding, they have specialized in the traditional method of scouring cotton also known as
wasarashi
.  Conventional cotton processing is an intense and quick process where harvested cotton is put under great heat and pressure to remove any natural impurities and make it a more absorbent material.  The
wasarashi
method of cotton processing takes 4 days, and applies gradual and focused heat on cotton inside a cauldron without pressure that may damage the fiber.  This method ensures that the texture and 'bounce' of cotton is preserved while still removing any impurities.  The result is a cotton gauze that is able to absorb water better and dry faster, and is soft and gentle on delicate skin.  
Materials:
Oak, stainless steel with bronze plating
(each holder comes with 1 sarashi perforated roll)
Variation: 
The black grains found in the cotton fabric are the remnants of cotton leaves and seed skins, which are natural and not a sign of defect.  Over time the bronze will patina to a dark-greenish brown color, which is natural and desirable.
Care Instructions:
Not suitable as a holder for holding a standard paper towels.  Use both hands when tearing off each sheet and be careful not to use hard force, or it may cause the holder to dislodge from the shelf.  To wash and reuse cloth, you can easily hand-wash the sheet under warm water with mild detergent and hang dry.  Depending on the condition of use, each sheet should be re-usable up to 30 times.
Returns must be made within 2 weeks in original, unused condition with all packaging for either 1. Store credit for the full amount or 2. Refund - minus a 20% restocking fee.
Tortoise does not cover the cost of return shipping or the cost of re-shipping an exchange
, and the cost of shipping for returns and exchanges is the responsibility of the customer. 
Share