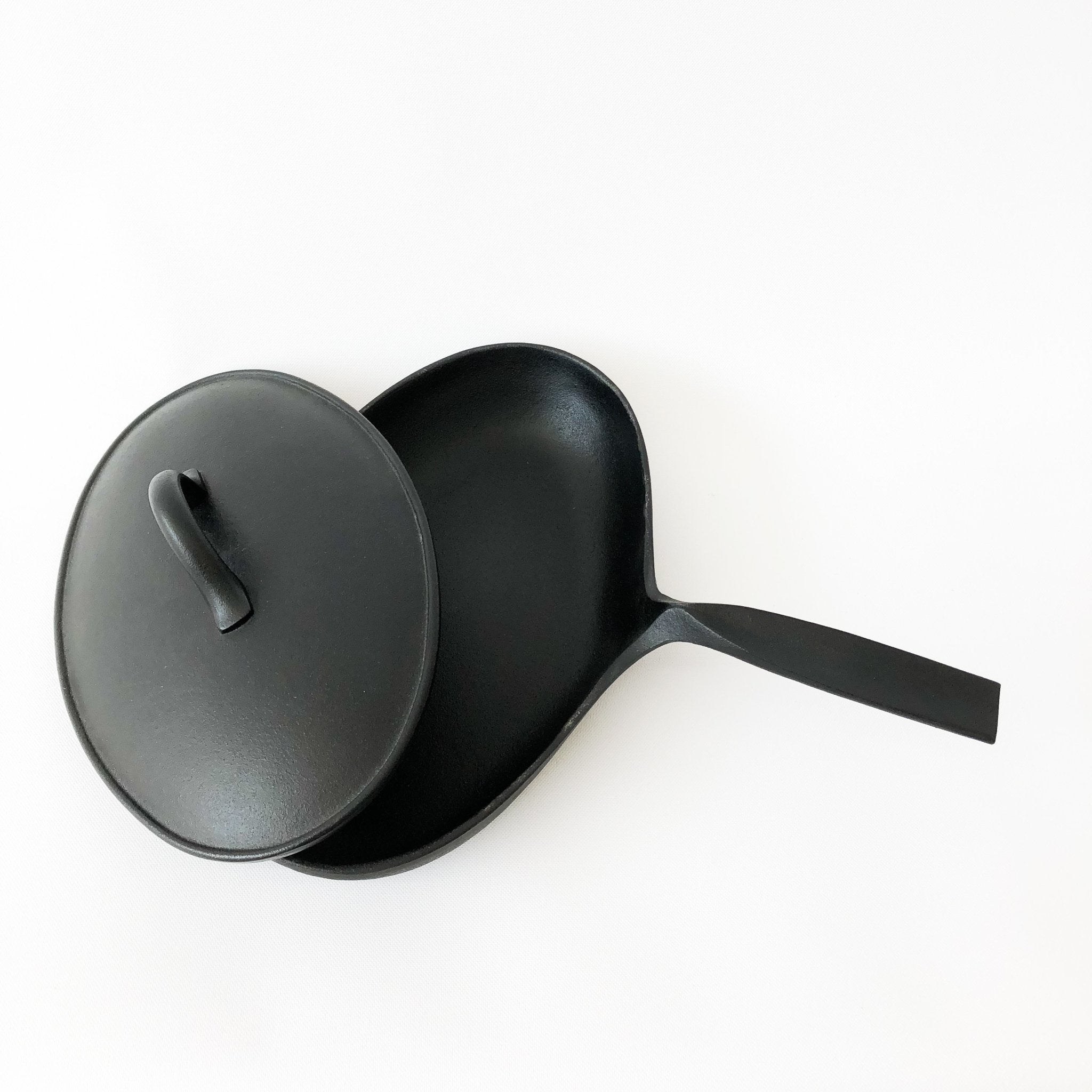 Cast Iron Fish Pan with Lid
Description:
This fish pan is a masterpiece designed by caster, Rikucho Ogasawara (1929-2012). As the name suggests, it is ideal for cooking fish, but also works well when cooking meats, vegetables and other dishes. Nambu Tekki refers to traditional craft of Japanese cast iron. This thick and heavy cast iron pan is able to absorb heat evenly, perfect for stir-frying, braising, cooking soups, sauces, stews and deep frying.  Please read the seasoning instructions on the second tab for proper, long term care!
Variation:
Each fish pan is hand-cast in molds so variation may exist. There is a preliminary coating of cashew nut shell burned onto the surface to prevent rust, but the pan will require additional seasoning and oil as you use it to prevent rust. As you use the iron fish pan, you will see it age, and depending on level of care, you may see it rust. This is a pan meant to be passed on from generation to generation so
please read the care instructions on the second tab to learn proper seasoning and daily care
.
History: 
Nambu Tekki cast iron is one of the officially certified traditional crafts of Japan. It is made by pouring molten iron into molds. This fish pan was designed in 1999 by master iron craftsman, Rikucho Ogasawara. Until his passing in 2012, Rikuchou Ogasawara worked for over 60 years, designing and producing a range of household accessories at his workshop in Iwate Prefecture.
Measurement:
12" (L) x 7 1/4" (W) x 2" (H)
Materials: 
Cast Iron (fish pan)
Care Instructions:
Hand-wash only. Not safe for microwave, dishwasher, metallic scrubber, drying in direct sunlight or rapid cooling.
Before First Use (seasoning):
1. Rinse the inside of the pan with lukewarm water
2. Wipe dry with cloth
3. Place the pot over high heat to remove any remaining water. As soon as the pot is dry, turn off the heat (leaving an empty pot on heat is dangerous)
4. Add one tablespoon of olive oil to the pot and turn the heat back on at medium
5. Place some vegetable scraps inside the pot, and cook until they soften, blending the oil evenly inside the pot
6. When the pot is cool enough to touch, discard the vegetable scrap and wash the pot with a tawashi (palm fiber brush) or a similar scrubbing (NOT a metallic scrubber) without detergent. Dry with towel again, and place the pot over high heat to remove the remaining water.
Daily Care:
1. After cooking, be sure to wait until the pot has cooled down. Then wash the pot with a tawashi or another non-abrasive scrubber without using detergent. Rinse with water.
2. Dry the pot with a cloth and place over high heat. Leave for about 30 seconds to remove any remaining water.
Troubleshooting - Red spots (Rust):
1. Scrub the red spots with a non-abrasive scrubber or tawashi without using detergent, and rinse with water. Wipe with a cloth and place over high heat for 30 seconds to remove any remaining water.
2. Add one tablespoon of olive oil to the pot, turn the heat on medium heat and cook vegetable scraps. Repeat the process 1-2 times until the spots disappear. If there are any stubborn red spots, please know that rust is not harmful to the body.
Returns must be made within 2 weeks in original, unused condition with all packaging for either 1. Store credit for the full amount or 2. Refund - minus a 20% restocking fee.
Tortoise does not cover the cost of return shipping or the cost of re-shipping an exchange
, and the cost of shipping for returns and exchanges is the responsibility of the customer. 
Share