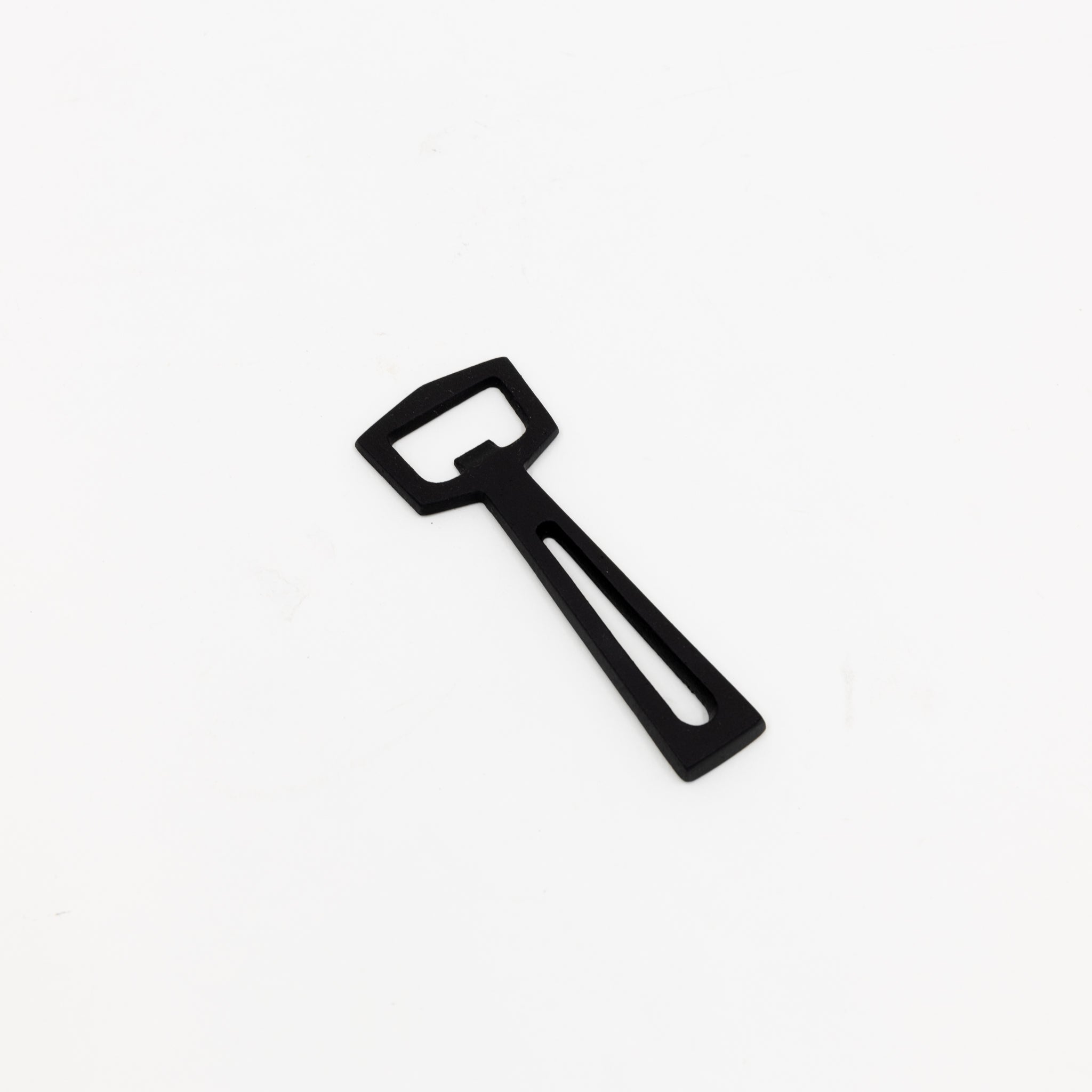 Kamasada Iron Bottle Opener
Description:
These minimalist bottle openers were designed by Nobuho Miya, an expert nambu tekki (cast iron) craftsman. The modern silhouettes designed by Miya is a charming mimicry of the kokeshi doll craft that is prevalent in Iwate prefecture where these openers are also made. Each cast iron opener is finished with an urushi (Japanese lacquer) coat for a rich black that helps the iron stay resistant to rust.  Over time however, you may see the urushi wear off to reveal a silver-brown patina underneath, which is part of its natural beauty.
Variation:
The lacquer coating may be uneven in parts to reveal a silver-brown patina underneath.  This is part of its natural beauty.

History: 
Nobuho Miya has dedicated his life to the Japanese cast iron craft. After graduating from the Kanazawa College of Arts and Crafts in 1975, he began developing his own designs to critical acclaim, winning Jugent Gestaltet Prize, Mayor Prize, and the Iwate Art Prize. His work reflects both his mastery of nambu tetsu, and keen sensibilities in modern design. Each piece is produced in the Kamasada iron casting studio, a studio in Morioka City that has been operated by the same family for three generations.
Measurement:
Square Head (TS036) - 4" L x 1 1/2" W
Round Head (TS037) - 3.25" L x 1.5" W

Materials: 
Cast iron
Lacquer (urushi) finish

Care Instructions:
Store in a dry area.  Wash with soap and water, and dry immediately. Abrasive scrubbers and chemicals can remove the urushi faster.    
Chipping and wearing off of the urushi may occur naturally with use.  If moisture makes contact with these areas, you may see rust.  Rust is not harmful, and is best avoided by keeping away from moisture.  

Return/Shipping Policy:
Returns must be made within 2 weeks in original, unused condition with all packaging for either 1. Store credit for the full amount or 2. Refund - minus a 20% restocking fee.  Tortoise does not cover the cost of return shipping or the cost of re-shipping an exchange, and the cost of shipping for returns and exchanges is the responsibility of the customer. 
Share