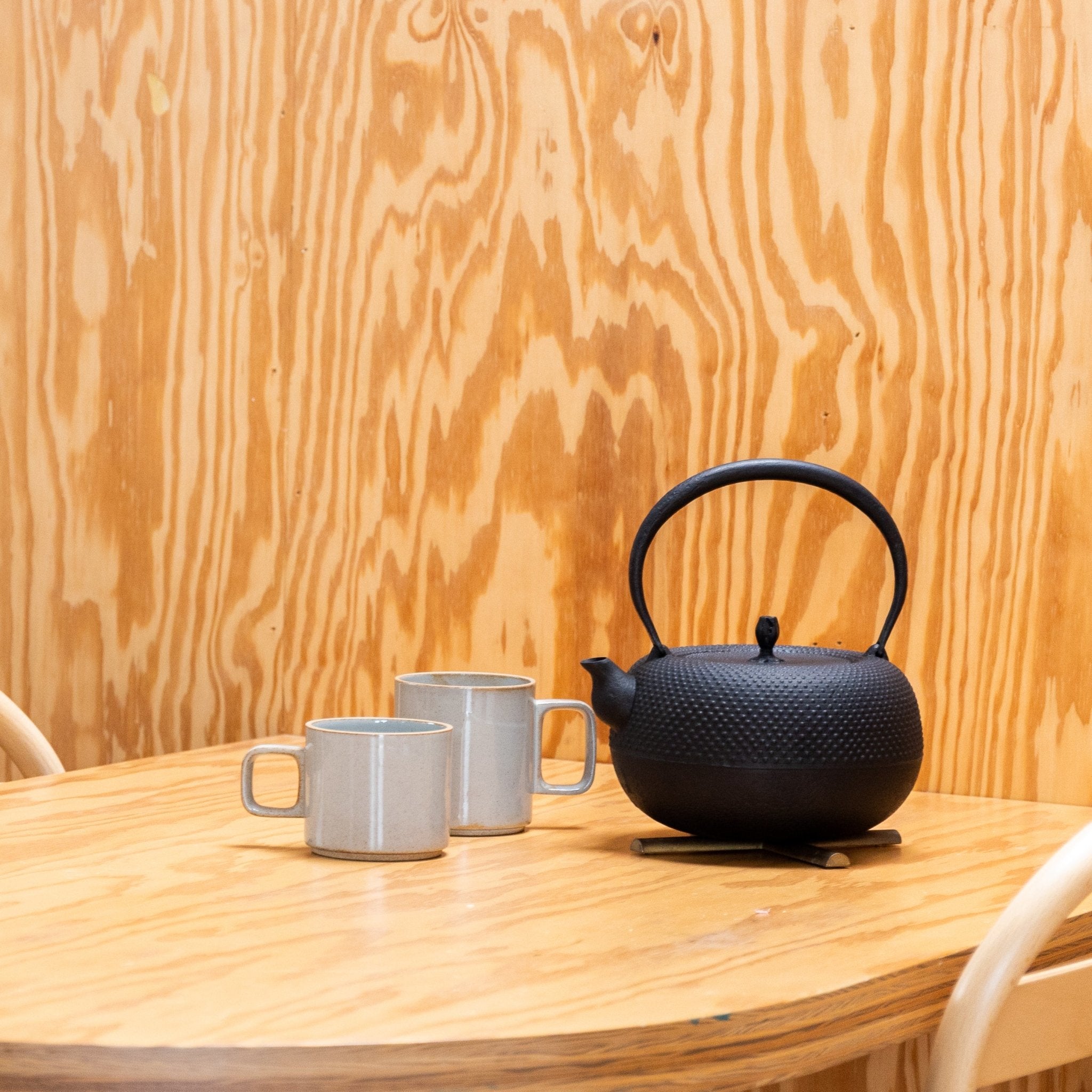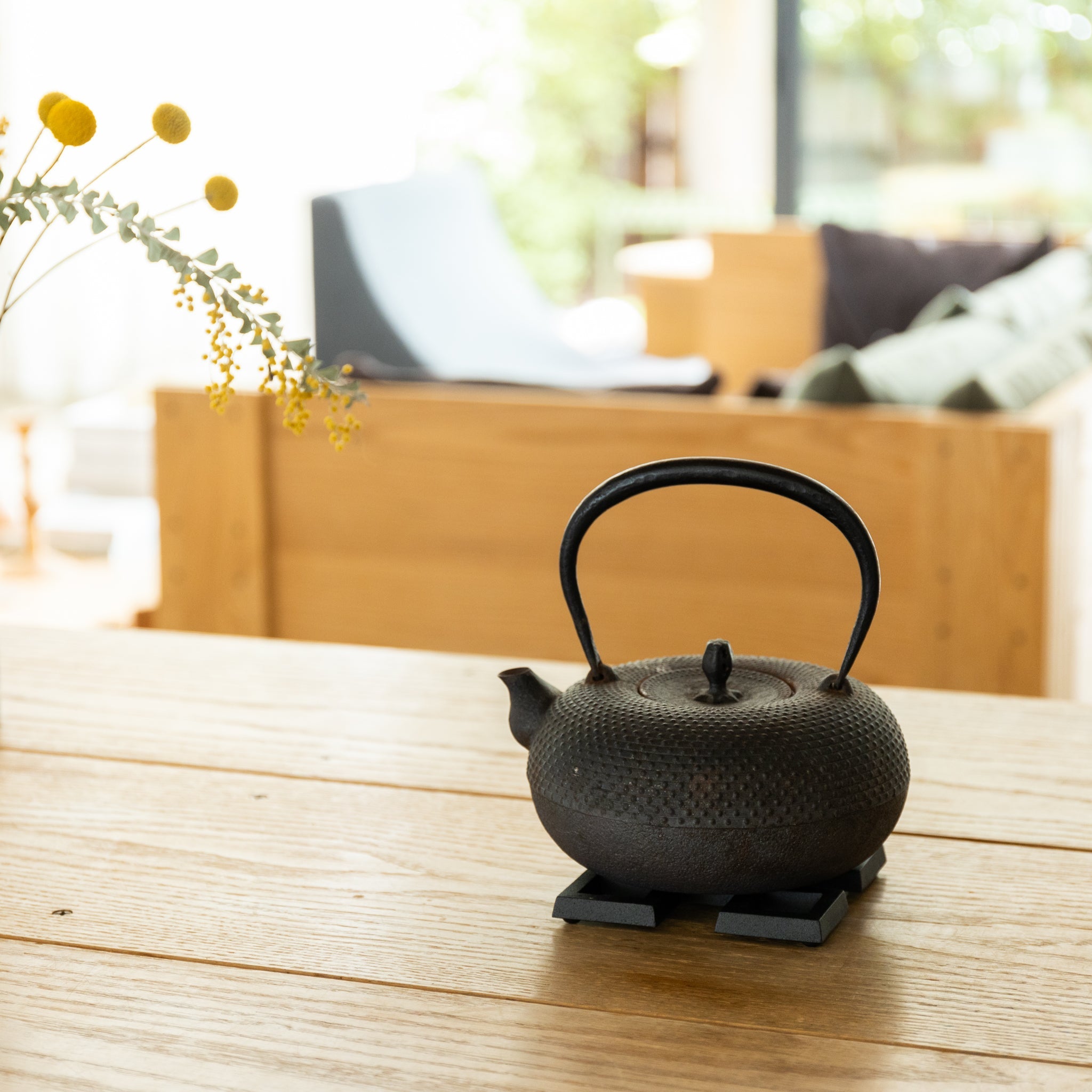 Description:
For centuries, the cast iron kettle has been central to the traditional Japanese household. Made strictly for boiling water and not for steeping tea, the 
tetsubin
 (as the Japanese kettle is called), is made entirely by hand using traditional methods where heavy molten iron is poured into a single use mold - a time consuming method reserved for high end 
tetsubins
 to achieve a detailed and decorative surface.  The interior of the kettle is kept raw (uncoated) so that the kettle's iron infuses naturally into the boiled water, which provides an added health benefit.  Meant to be used over an open flame (but suitable for induction), this kettle will achieve its best function after a two week tempering phase which is described below.  Please read over the care instructions to learn more!
Measurements:
Kettle #1: 8.75" H x 8" W x 7.25" D
Kettle #2: 8.5" H x 8" W x 7" D
Kettle #3: 8.25" H x 8.25" W x 7" D
Kettle #4: 8.75" H x 7.5" W x 6.5" D
Kettle #5: Sold out
Kettle #6: 8" H x 8" W x 7" D
Kettle #7: 9" H x 7.5" W x 6.25" D
Kettle #8: 9" H x 7.5" W x 6.25" D

Weight: 3.5 lbs
Capacity: Around 1 L

Width is from spout to edge of kettle
Height includes handle
Diameter is the bottom diameter of kettle
History: 
Nobuho Miya has dedicated his life to the Japanese cast iron craft. After graduating from the Kanazawa College of Arts and Crafts in 1975, he began developing his own designs to critical acclaim, winning Jugent Gestaltet Prize, Mayor Prize, and the Iwate Art Prize. His work reflects both his mastery of nambu tetsu, and keen sensibilities in modern design. Each piece is produced in the Kamasada iron casting studio, a studio in Morioka City that has been operated by the same family for three generations.
Materials:
Iron, lacquer
Variation: 
Due to its handmade nature, there are natural imperfections to each teapot. 
Care Instructions:
Before USE:
1. Lightly rinse the inside of the kettle with water or lukewarm water.
2. Fill the kettle with water.  Place over medium heat and bring to a boil.
3. Discard the water.  You can do once or twice.
Daily CARE:
The full seasoning process takes happens over the course of 10-14 days with regular use.  You should regard this time as an 'adaptation period' where you are trying to build up film of mineral deposits on the inside of your kettle.  
1st  day  - a dark film appears
4th day - brown spots and running lines appear
7th day - the spots start to run and color fades
10th day - a faint white film appears especially on spout and ridge
15th day - a powdery fur begins to appear on brown and gray parts of the kettle

After this period of tempering, your kettle will be fully broken in.  A new kettle should be used every day during this period.  After you boil water, be sure to pour out any water you don't drink - and the wetness inside will dry out naturally as the kettle is still very hot.  Be sure to take off the lid when drying out - and place on a surface upside down so the bottom of the lid is facing up and drying naturally as well.  Do not leave an empty kettle over a heat source as overheating can cause the mineral deposits (the inner film) to flake off.  Do not leave water sitting in the kettle and do not touch the inside of the kettle with your hands.  

The best way to dry off the kettle is by emptying it out while the kettle is still very hot.  There will be enough residual heat to cause rapid evaporation. 

While USING:
The kettle itself will get very hot when boiling water so please be careful when handling.

Do not use with microwave, dishwasher, metallic scrubber.  Do not dry in direct sunlight and do not do any rapid cooling.  Do not use any soap to wash - the kettle does not require cleaning.   Using tea, detergent - or any material that is not water - with damage the kettle.  If boiled water starts to appear cloud, you may need to do the tempering process again.  

All Kamasada Iron Kettles are final sale.
Share