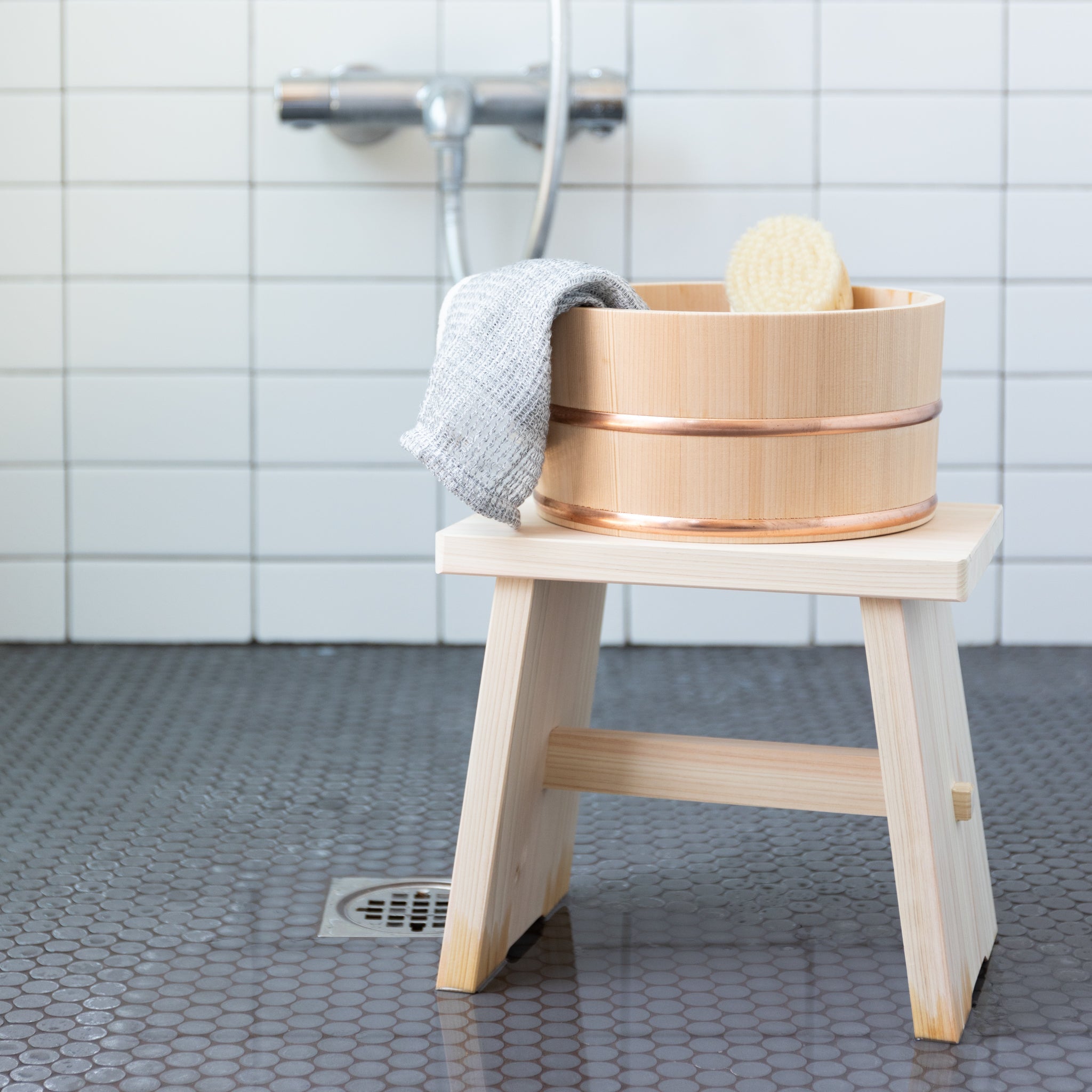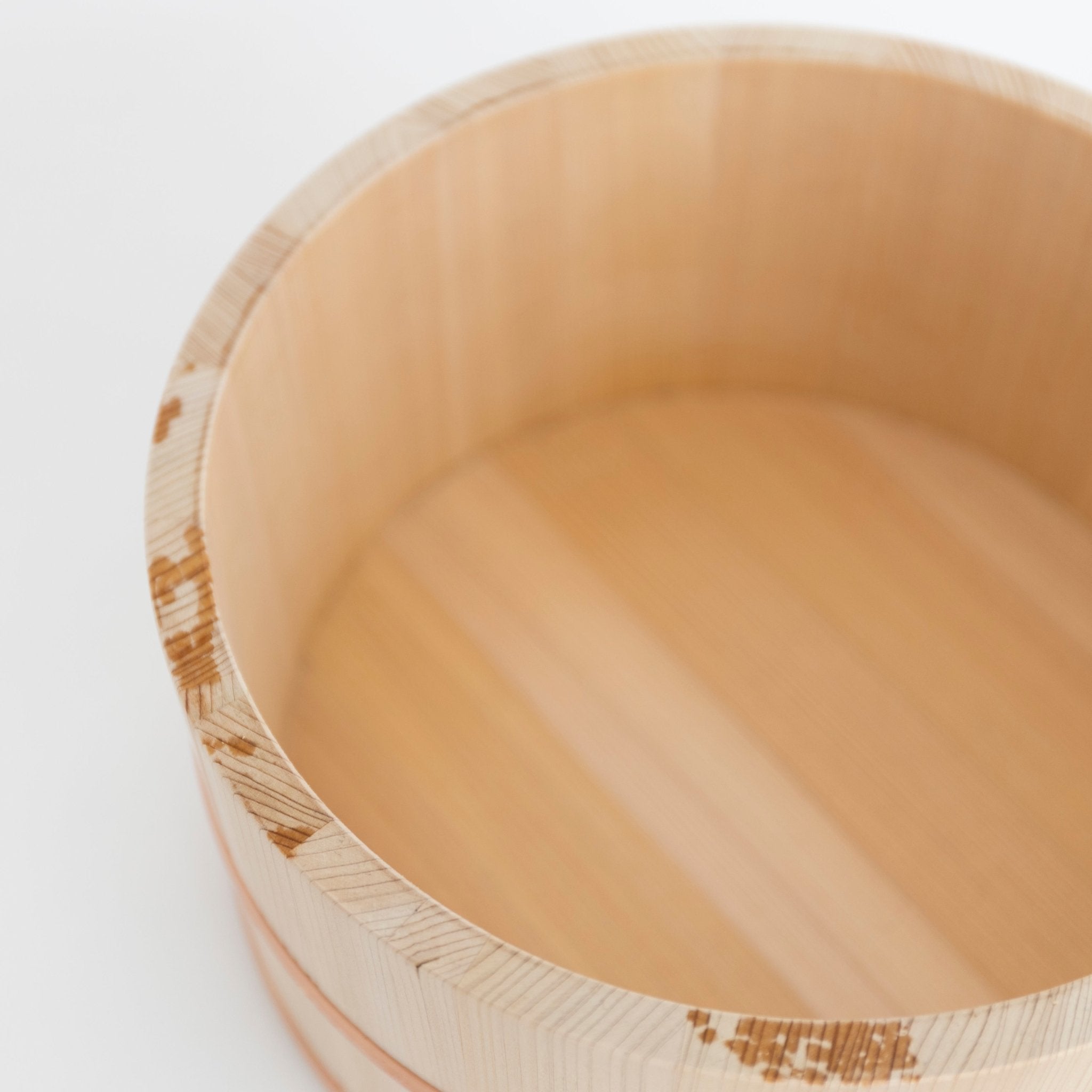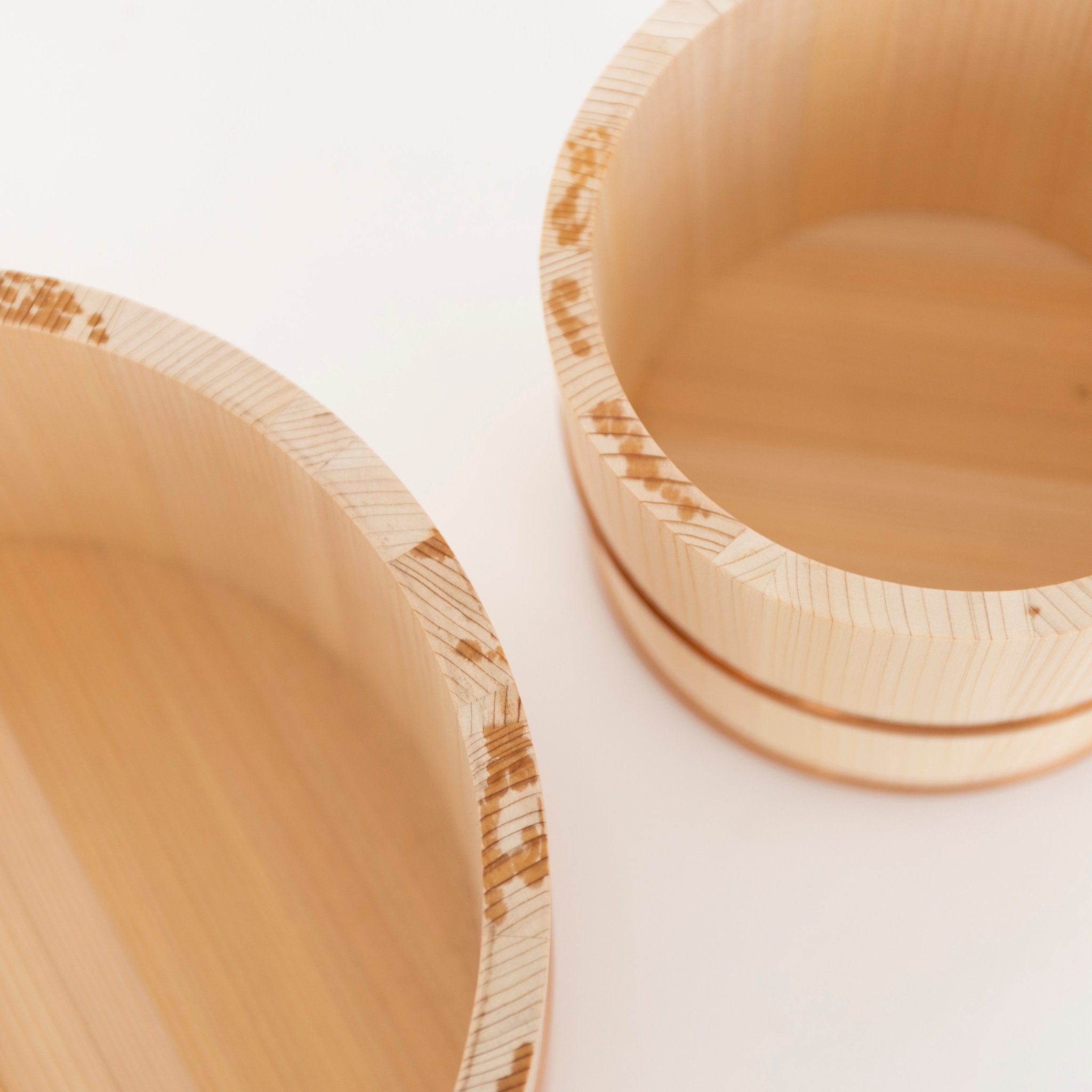 Description:
Hinoki bath buckets are used to scoop hot water and pour it over the body to wash away soap before soaking in a warm bath. Hinoki (Japanese cypress) is resistant to mold from water, and its refreshing aroma when wet is sure to enhance your daily bath routine.  All bath buckets will have visible resin (oil) on the rim.  Please read our care instructions below to learn more!
Measurements:
Umezawa bucket: 9.1'' D x 4'' H
History: 
Made in Nagano, Japan by Kiso Lifestyle Labo. Kiso Hinoki is made from cypress grown in the Kiso Valley and is a premium building material for constructing temples and shrines, and is considered one of the three most beautiful woods of Japan.
Materials:
Hinoki (Japanese Cypress)

Copper rings
Variation: 
Wood is a living material so there is always variation in the grain, tone and texture of each piece.  Wood will also naturally change color and texture with use, and expand and contract depending on the moisture in the air.  The expanding and contracting of the wood may cause the copper rings to loosen if the bucket becomes too dry.  This is natural and not a sign of defect, and you may need to leave the bucket in a slightly more humid area to cause the rings to adhere again.  
Care Instructions:
Resin is a natural oil that gets secreted from the wood, particularly on exposed edges of the grain. Every bucket will have a dark resin stains and this is natural and normal.  Resin is what gives hinoki its lovely smell, and also what makes the wood water resistant and mold resistant.  If the stickiness of the resin bothers you, you can wipe it away with a towel and warm water or take a very small amount of rubbing alcohol to wipe sections of it off.  Even with some cleaning, the appearance of the resin may still be the same, but that might become less of an issue as you use the bucket, since the color and appearance of the wood will also naturally change over time.  To clean the bucket, you can u
se a sponge to clean away any dirt or wash with soap, but wash and dry thoroughly.  Avoid leaving water inside the bucket after use, and stand the bucket against a wall or upside down to allow better circulation and drainage after each use.  Do not leave the bucket sitting in water, or wet for long periods of time.  Be sure to a
void direct exposure sunlight or it may cause the wood to crack.  
Returns must be made within 2 weeks in original, unused condition with all packaging for either 1. Store credit for the full amount or 2. Refund - minus a 20% restocking fee.
Tortoise does not cover the cost of return shipping or the cost of re-shipping an exchange
, and the cost of shipping for returns and exchanges is the responsibility of the customer. 
Share