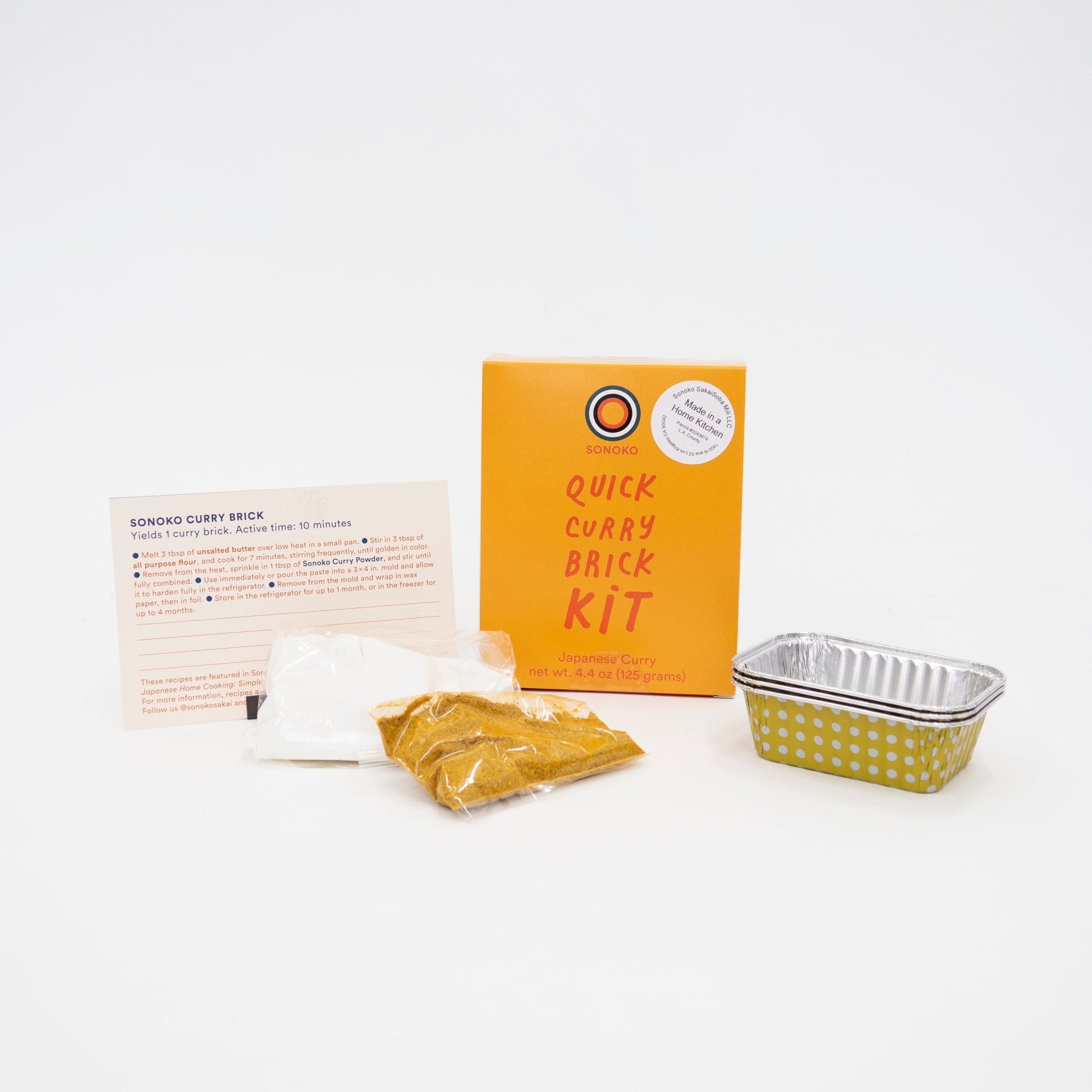 Sonoko Quick Curry Brick Kit
Description:
Featured in
Food & Wine
magazine, this Japanese curry brick kit is derived from the mind and kitchen of Sonoko Saikai, an acclaimed Japanese-American home cook and Tortoise General Store friend. Avoiding chemical additives and palm oil, each simple, healthy and environmentally conscious kit comes with pre-measured spices, three mini loaf pans, and a recipe to make a curry roux from scratch that you can store away until you're ready to drop a brick into your favorite broth to create flavorful soups and stews, akin to how most Japanese cooks prep theirs. Though you can customize depending on your spice level and allergies, each yield will have all the attributes of a perfectly balanced Japanese curry - warmth, umami, heat, and a subtle hint of sweetness.
Measurements:
4.4 oz.

History: 
Sonoko Saikai is a Japanese-American chef, cooking teacher and food writer with several cookbooks to her name including, The Poetical Pursuit of Food: Japanese Recipes for American Cooks, Rice Craft, and the award-winning Japanese Home Cooking: Simple Meals, Authentic Flavors. When she couldn't find any pre-packaged Japanese products in the market that were simply, healthy and environmentally conscious, Sonoko created her own line of home kits starting with her own curry spice. With a name that means "garden," Sonoko believes the cycle of cooking begins and ends in the garden and teaches with a philosophy based on freshness, seasonality, simplicity, beauty, and economy.

Materials:
Each kit comes with:
3 tablespoons of
Sonoko Curry Powder
(tumeric, coriander, ginger, cumin, mustard, fennel, cinnamon, black pepper, paprika, cayenne, cloves, bay leaf, cardamom, allspice, kombu seaweed, dried shiitake mushroom)
9 tablespoons of sweet rice flour
3 mini loaf pans
1 Chicken Curry recipe card
Variation:
NA
Care Instructions:
Follow instructions on the box


Share