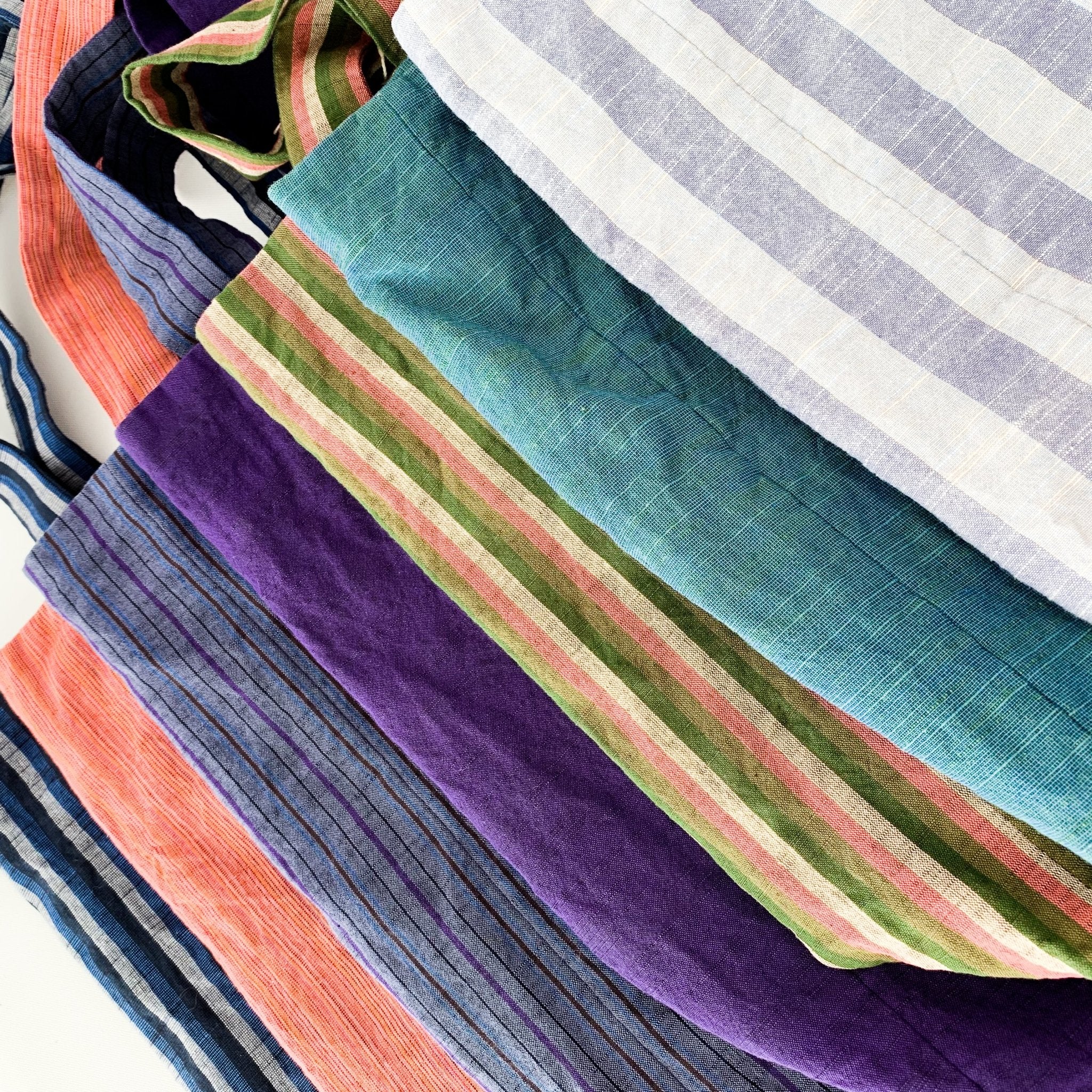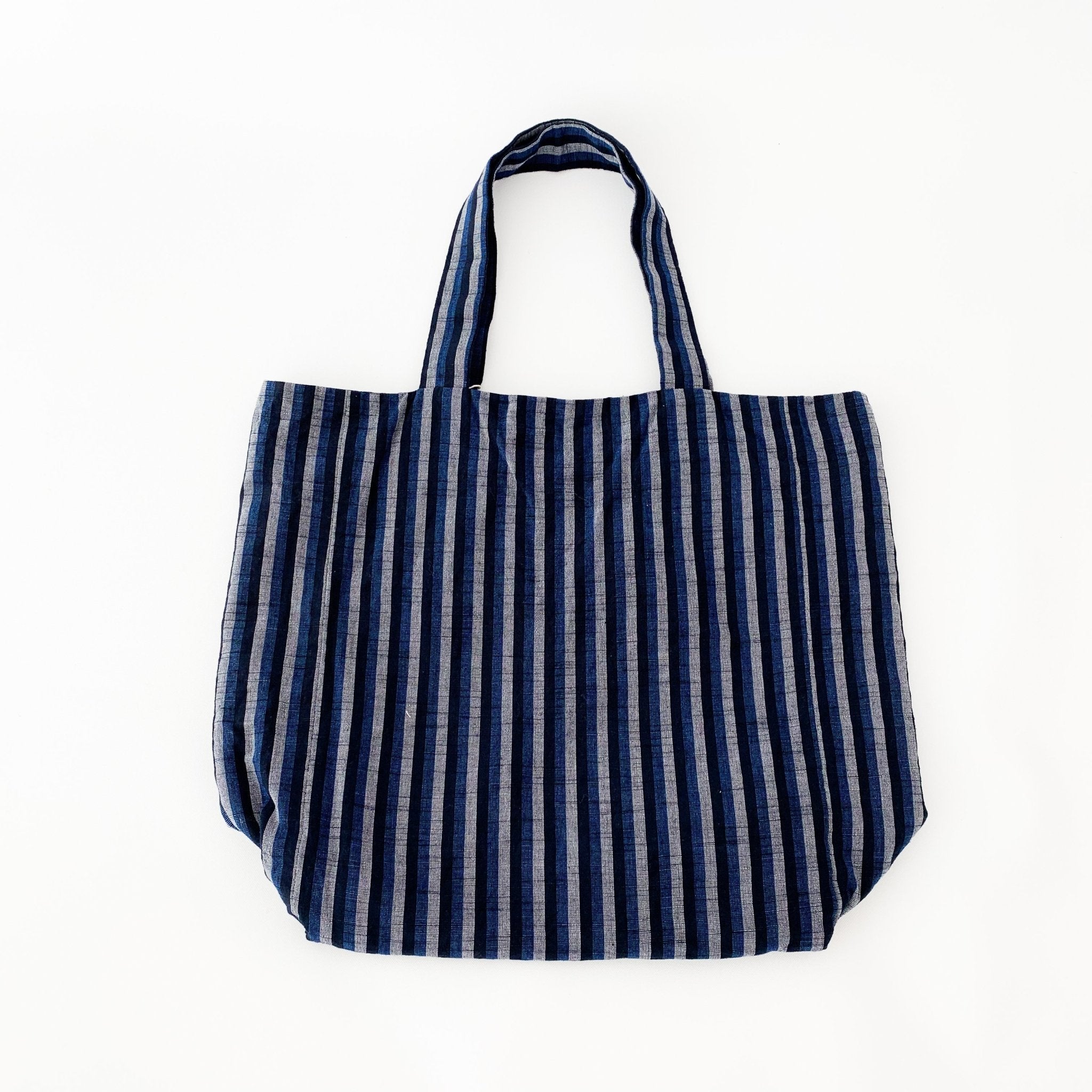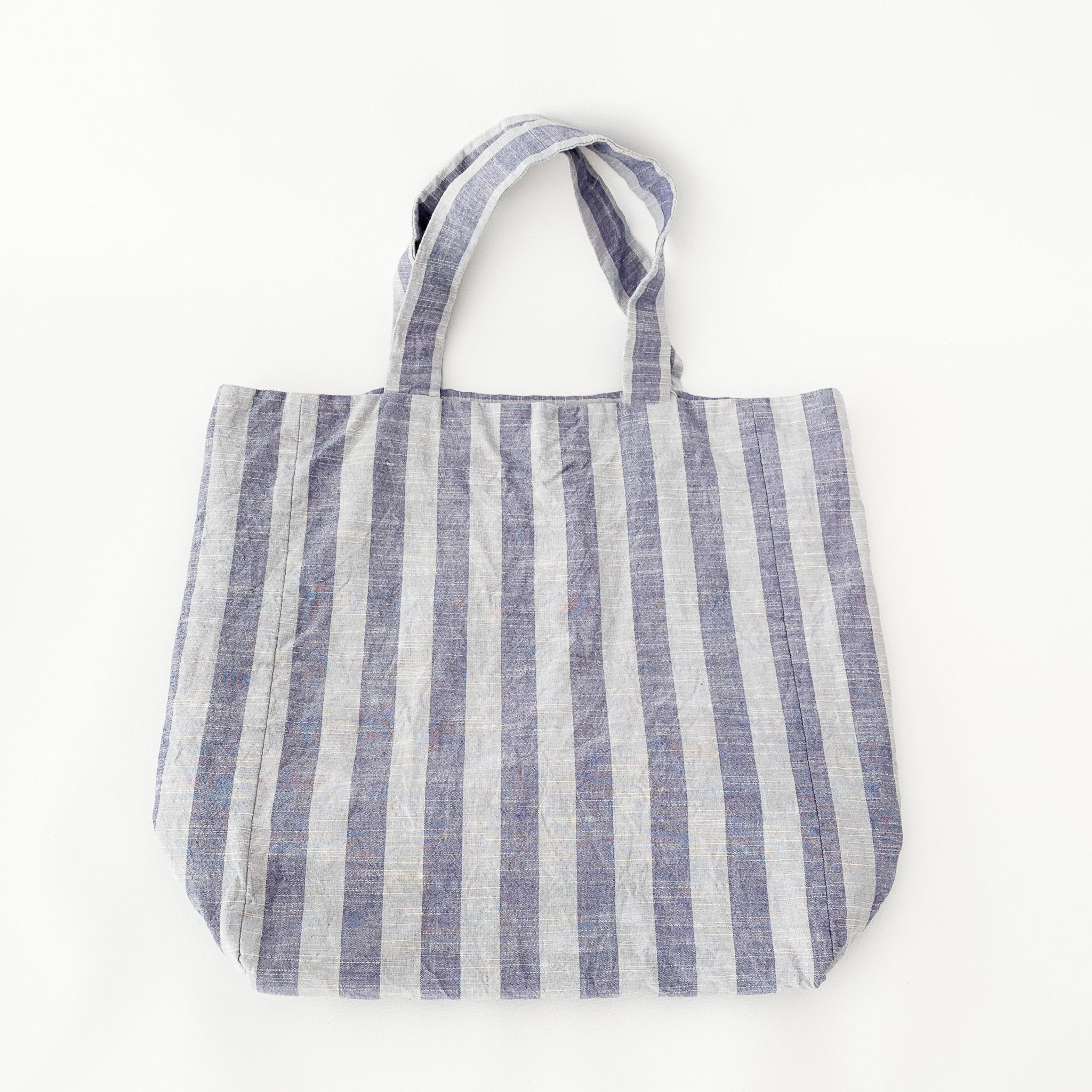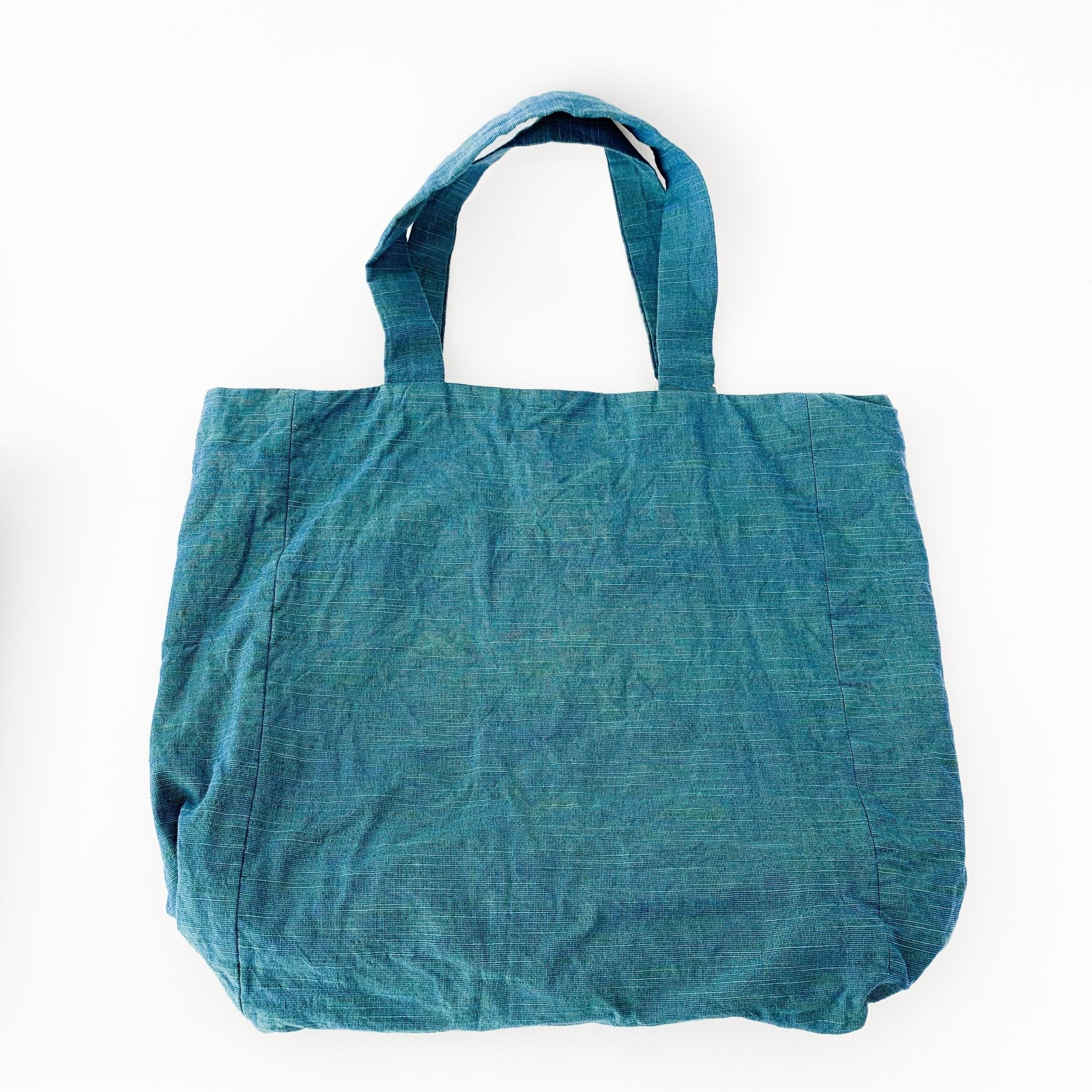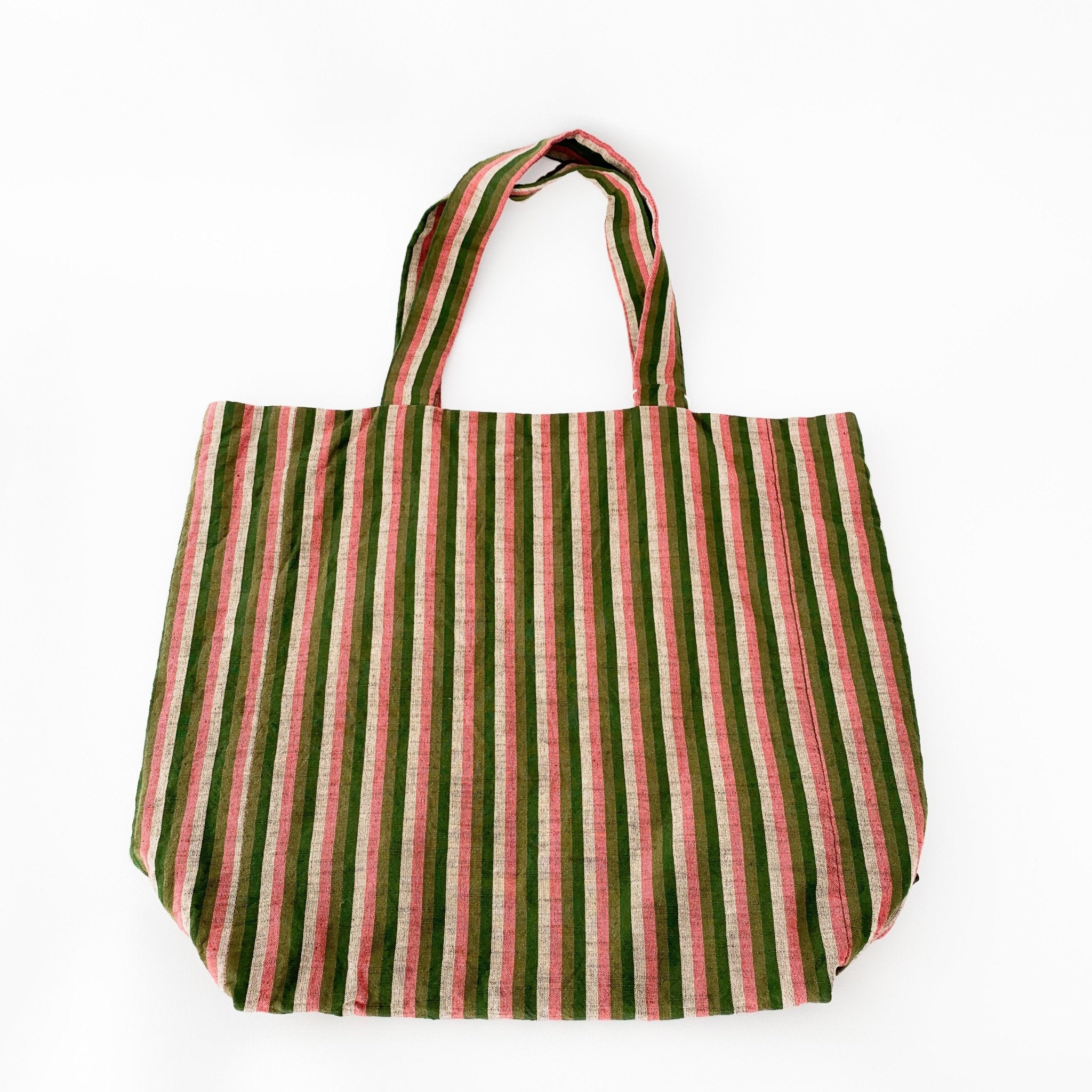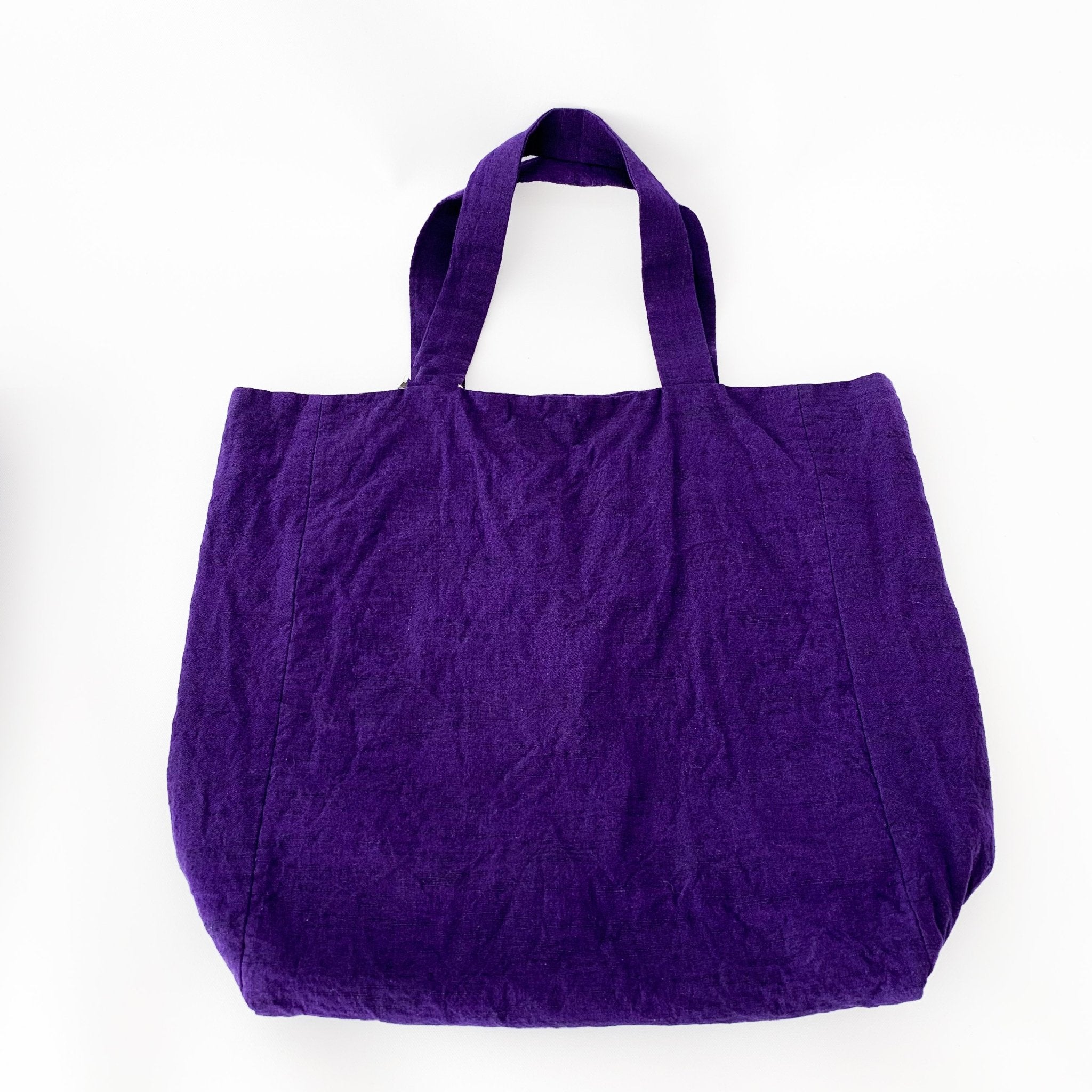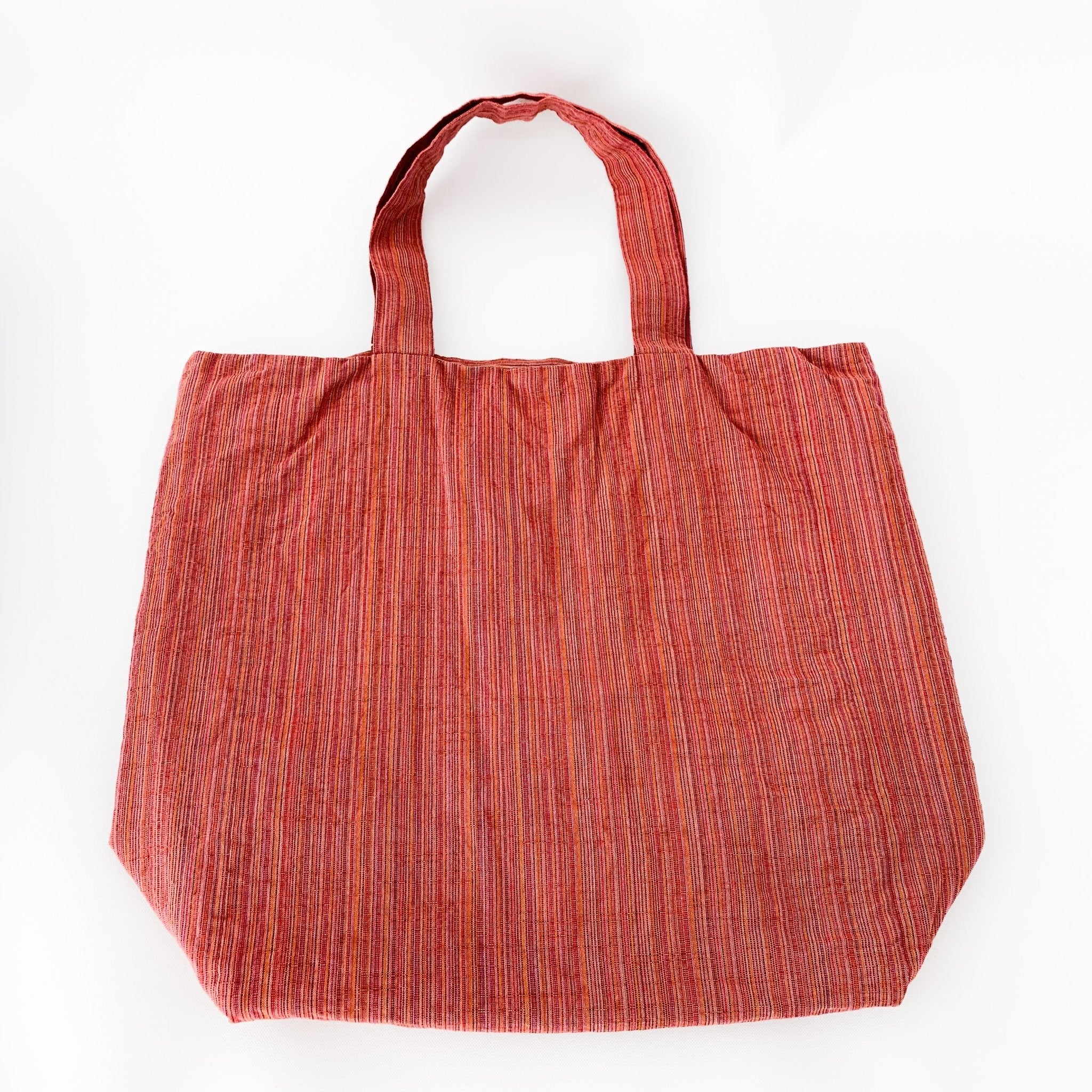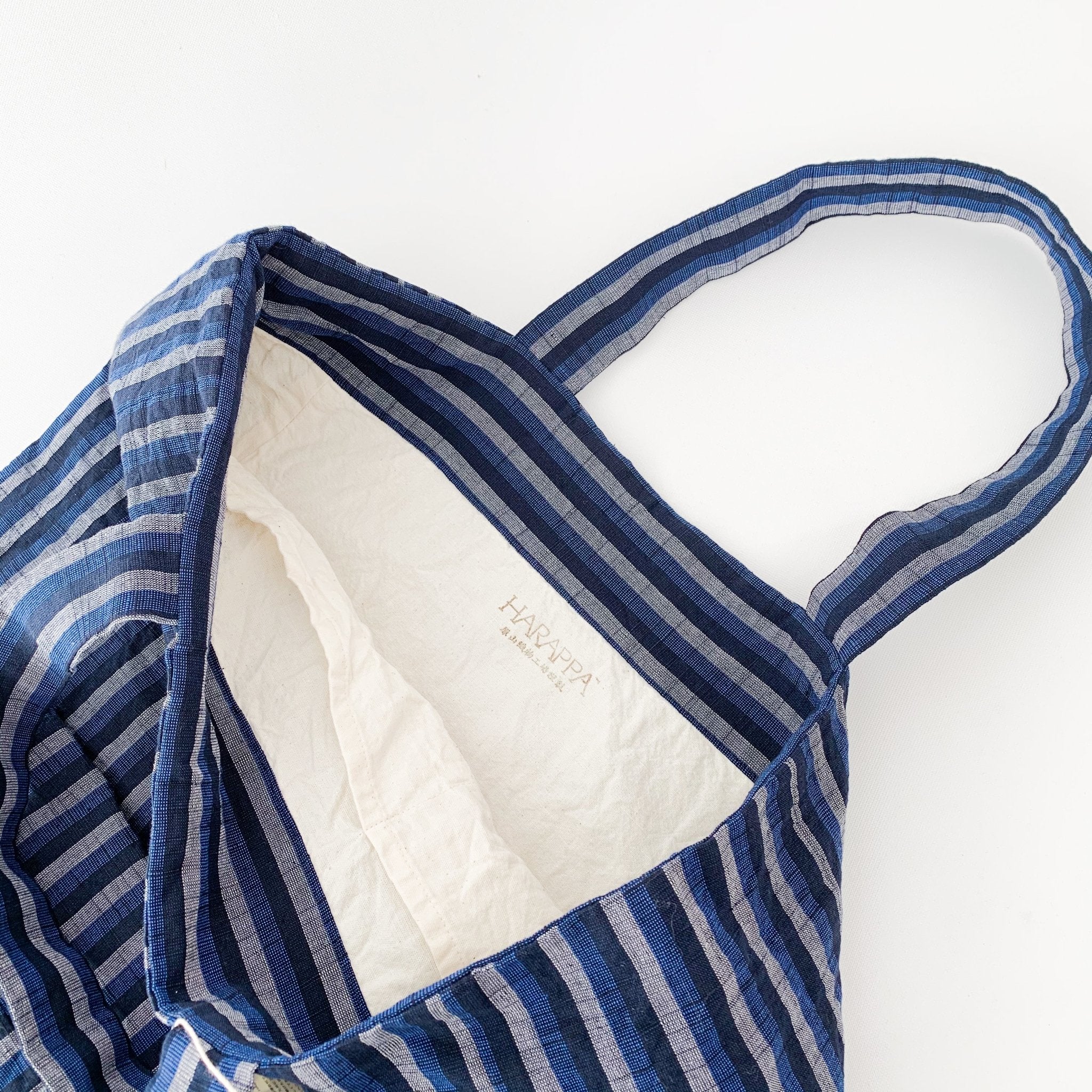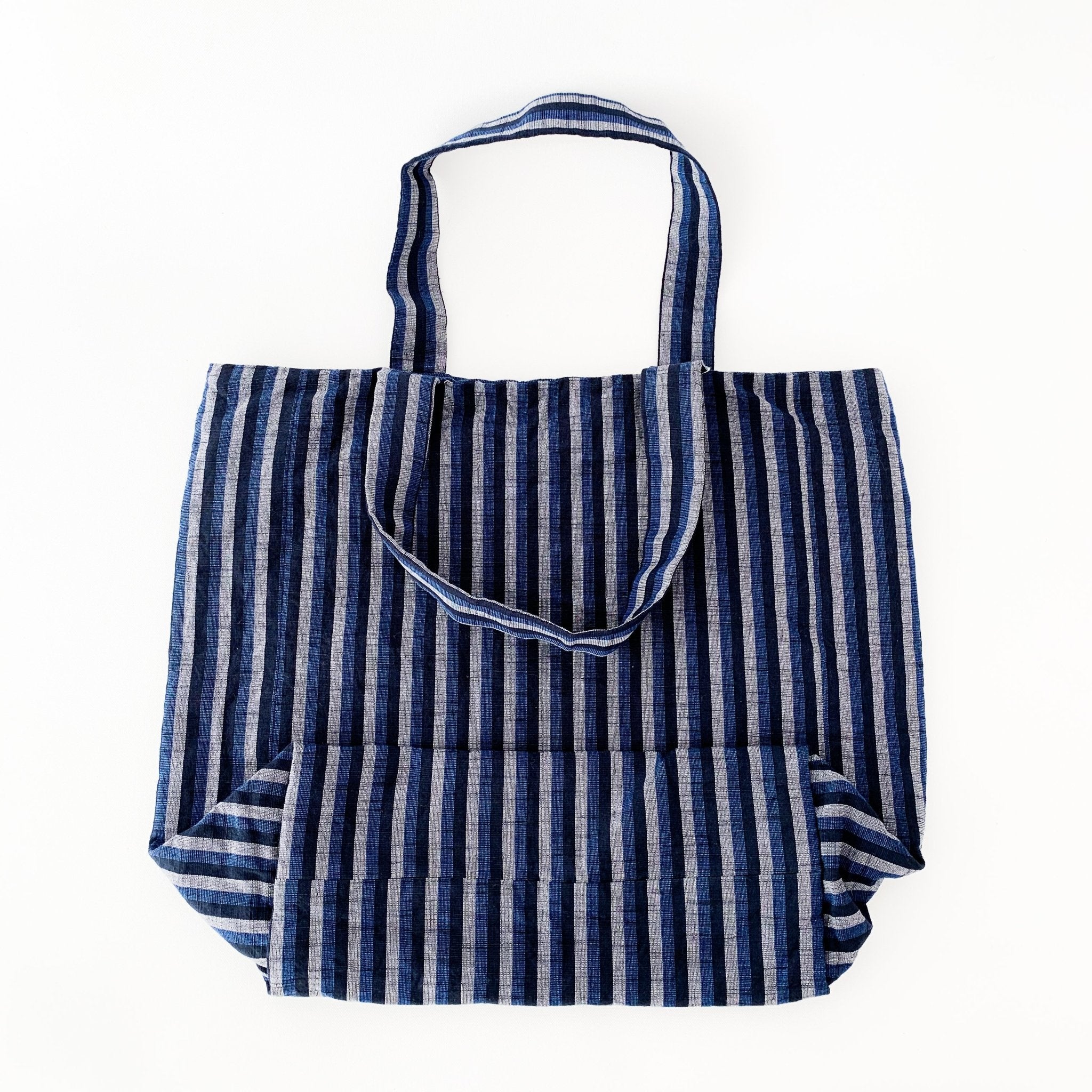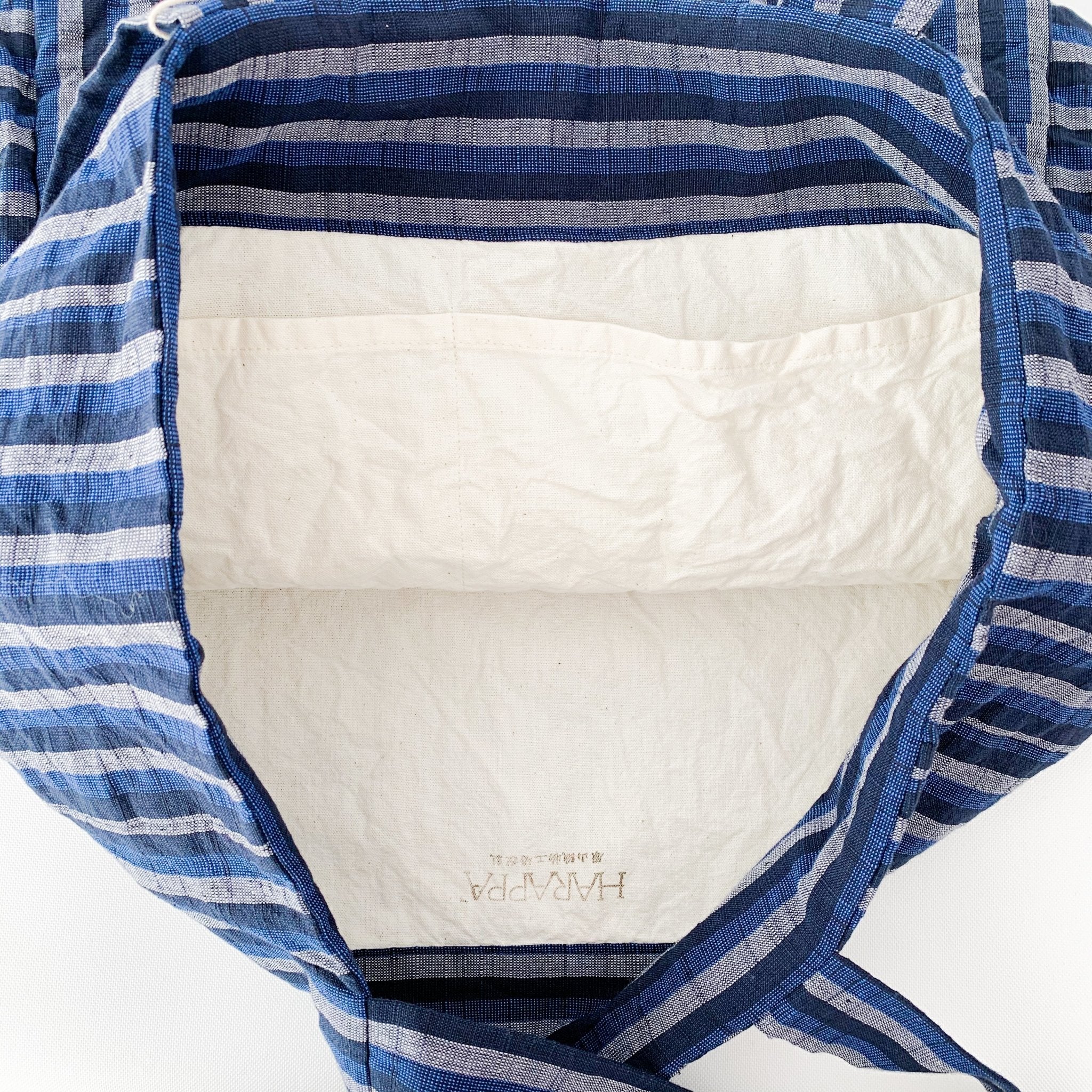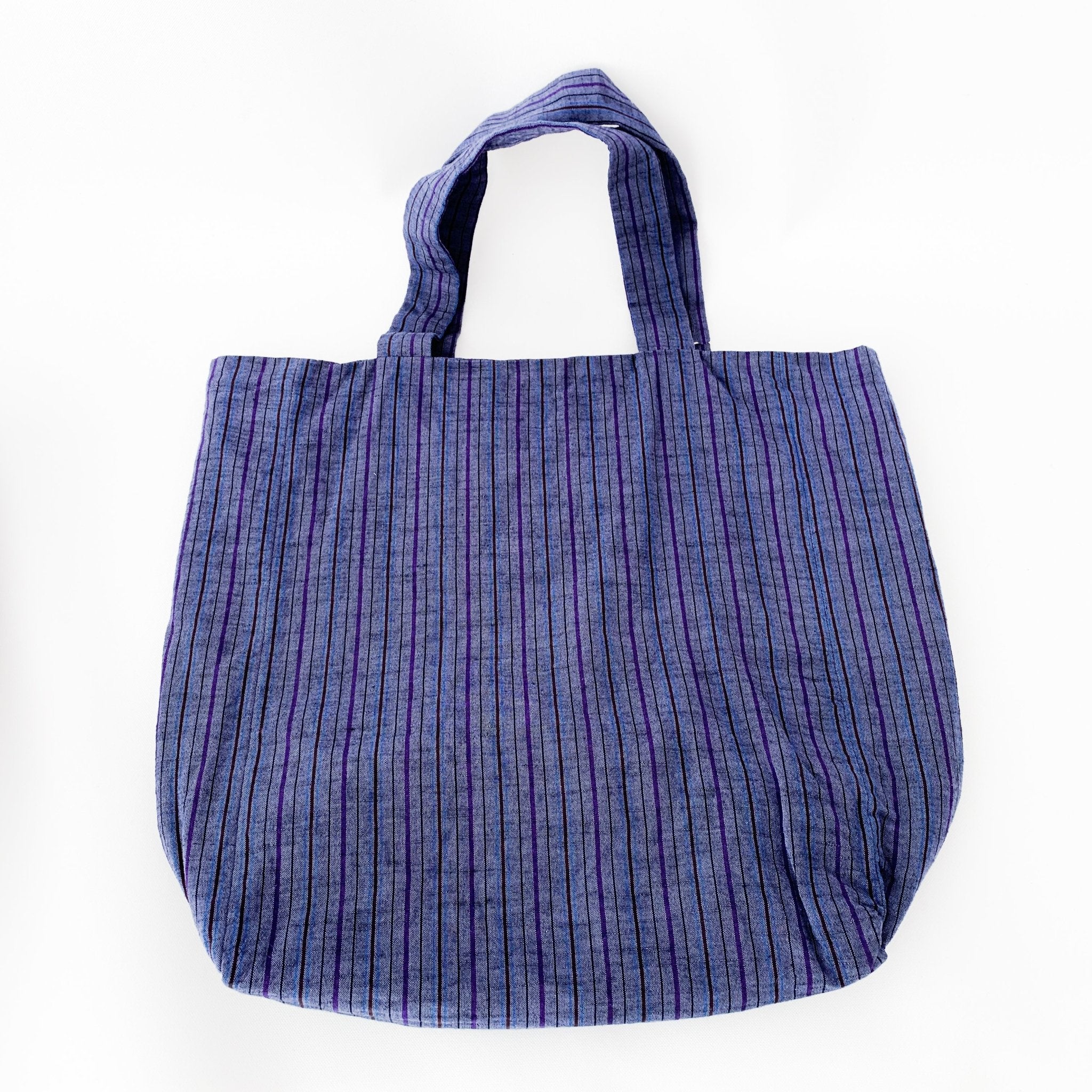 Description:
These beautiful, sturdy cotton tote bags are hand-dyed and hand-woven by the master craftspeople of Harayama Textile who take 3-4 months to make and deliver these bags.  Each bags is made from a rare cotton called 'Aizu Momen' or 'Aizu Cotton', with a legacy centuries old.  Sought after for its high durability and slightly 'plump' texture and feel, the fabric's durability and texture is due to the style of weaving.  The stripes on the Harappa bag are the traditional patterns found in Aizu Cotton style clothing and accessories, passed down from folk clothing worn hundreds of years ago.  The thread for these bags is dyed prior to the weaving, and not the other way around, so closer inspection of each bag will reveal an almost hazy and static like appearance to the fabric, showing a mosaic of different colors and irregularity.  Each bag is lined on the inside with neutral un-dyed fabric along with 2 small pockets to store little items.
Variation:
Each bag is handmade so there is variation throughout the bag.  The cotton will soften with washing and with use.  

History:
The origin of Aizu Cotton dates back 400 years ago, from Japan's Tensho period.  This type of cotton remained popular across Japan until the Showa period (1920's onward) when it almost completely died out, and now just Harayama Textile and 1 other company in Japan shoulder the responsibility and tradition of producing Aizu cotton.  Aizu fabric is plain woven cotton, which means that the thread is woven at right angles so it's highly resistant to shrinkage.  For this characteristic, it's been used for work clothing and bags for centuries.   Harayama was established in 2015 to keep the tradition of Aizu cotton alive, and they are now the only company in Japan that handles both the dyeing and weaving of Aizu cotton from start to finish.  

Measurement:
19'' L x 16'' H x 5'' D
10'' H - Height of strap 

Materials: 
100% Aizu Cotton
Care Instructions:
Machine wash on delicate/ cold.  Wash alone or with like colors in the beginning in case there is color bleed.  Hang dry only.
Return Policy / Shipping Policy: 
Returns must be made within 2 weeks in original, unused condition with all packaging for either 1. Store credit for the full amount or 2. Refund - minus a 20% restocking fee.  Tortoise does not cover the cost of return shipping or the cost of re-shipping an exchange, and the cost of shipping for returns and exchanges is the responsibility of the customer. 

Share