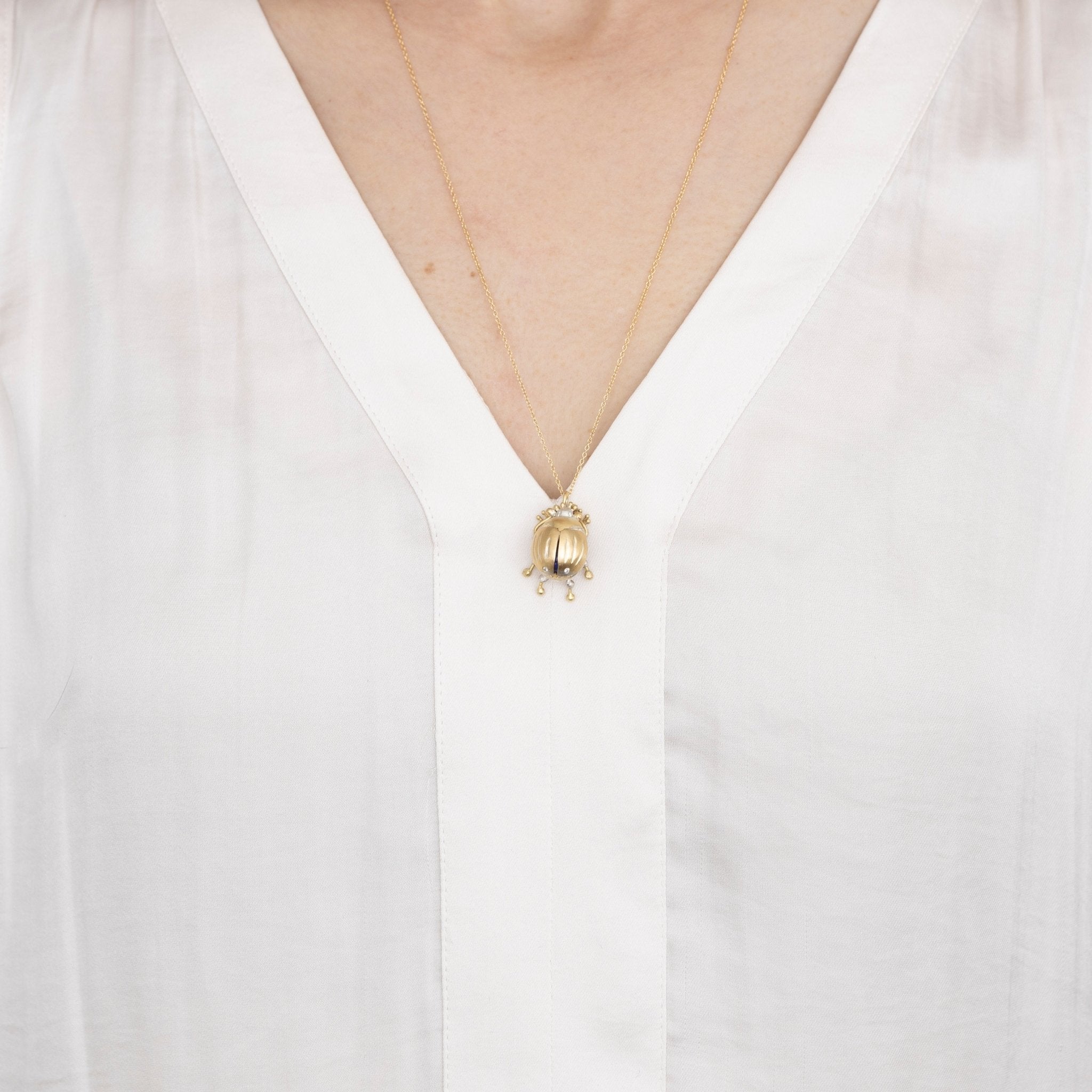 Black Barc Shin No. 4 Necklace
Description:
This double-sided pendant necklace is inspired by the Egyptian scarab beetle.  With an Australian opal from ancient17 set in a 18k yellow gold and sterling silver mokumegane wings, this 3-D beetle charm has wings that can open and close together.  Mokumegane is a traditional blacksmith technique which fuses sheets of metal together to create an organic wave design, and is one of the Black Barc signature styles
.
 Opals represent justice and harmony and is protective stone in dangerous places.  Opal also represents love and passion, and is a highly emotional stone that releases inhibitions and intensifies feelings of love.
Measurements:
Chain length: 17.5"
21.56mm x 15.85mm x 12.81 mm (beetle-hand to toe x side toe to toe x thickness)
History: 
Rather than relying on molds, Mizuki Tsurutaka, the designer behind Black Barc, handcrafts all of her work using traditional Japanese blacksmithing techniques. Tsurutaka is based in Los Angeles. She shares her studio with her husband Yusuke Muramatsu, designer of Prospective Flow.
Materials:
Stones: Australian opal from ancients17, two little diamonds in wings
Band: 18k yellow gold and sterling silver mokumegane wings, body part sterling silver
Variation: 
Made by hand, each necklace is one of a kind.
Care Instructions:
Each pendant necklace is very delicate. Treat with care. Keep away from children.
All jewelry is final sale
Share