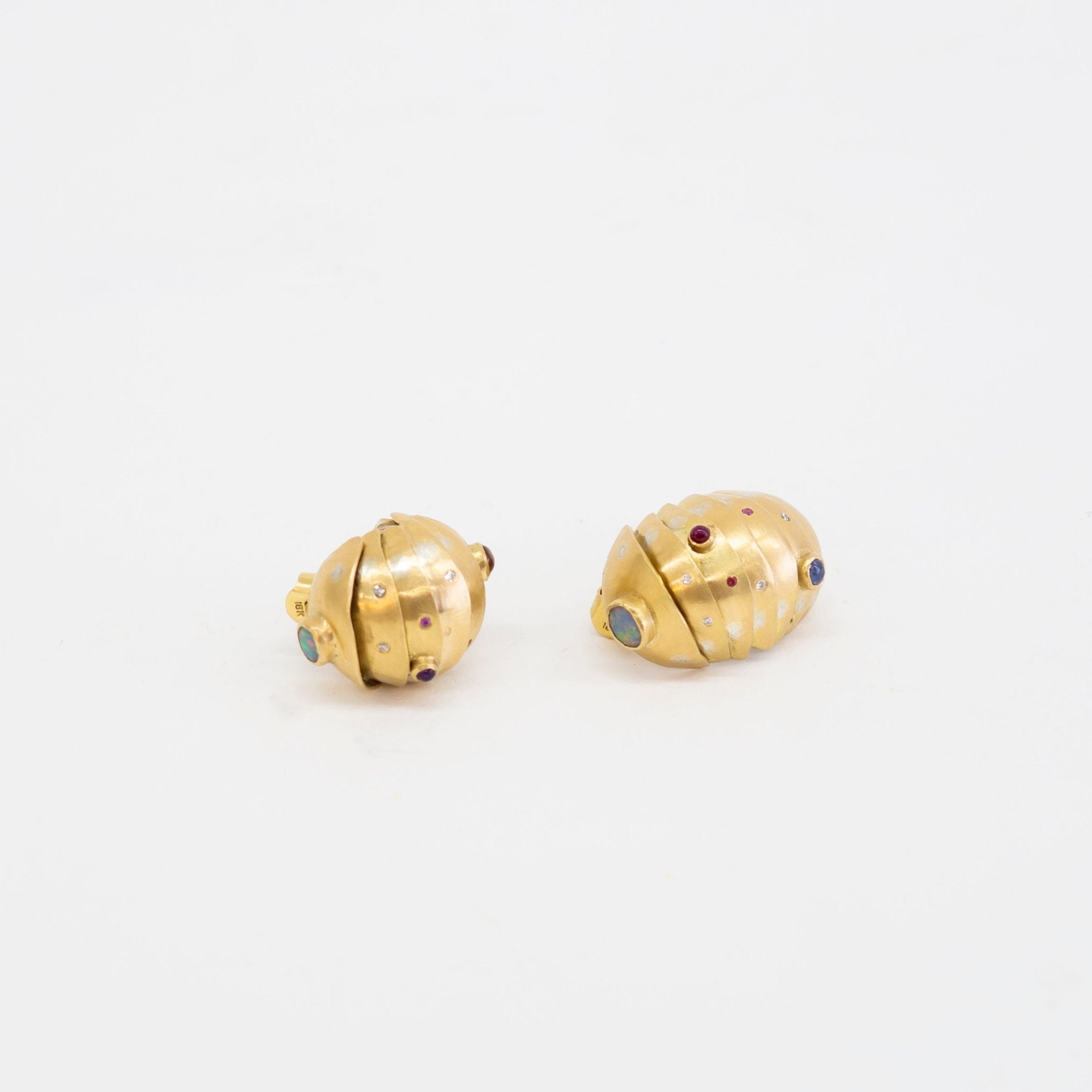 Black Barc 'Roly-Poly' Earrings No. 2 & No 3. (sold as a pair)
Description:
Mixing her incredible craftsmanship with her inspiration from nature, designer Mizuki Tsurutaka created a pair of earrings that are as whimsical as they are stunning. These playful, interactive Roly Poly earrings can worn open or rolled-up depending on your mood. Each separate earring is unique and both feature an "inner thorax" made of sterling silver and an 18K gold "outer thorax" that is speckled with various vibrant precious gems, accentuated by a luminescent Australian Opal eye on each head. 

Measurements:
Unrolled: 1.1" H X 0.65" W
Rolled: 0.65" H x 0.65" W

History: 
Rather than relying on molds, Mizuki Tsurutaka, the designer behind Black Barc, handcrafts all of her work using traditional Japanese blacksmithing techniques. Tsurutaka is based in Los Angeles. She shares her studio with her husband Yusuke Muramatsu, designer of Prospective Flow.

Materials:
Earring No.2: "Outer thorax": 18K gold with 1 Australian opal, 1 amethyst, 1 hessonite garnet, 2 small sapphires and 5 small diamonds
Earring No.3: 1 Australian Opal, 1 Tanzanite, 1 Ruby, 2 small sapphires and 5 small diamonds
"Inner thorax": Sterling silver
Backing: 18K gold
Variation:
Made by hand, each necklace is one of a kind.
Care Instructions:
Each earring is delicate. Treat with care. Keep away from children.
All jewelry is final sale
Share