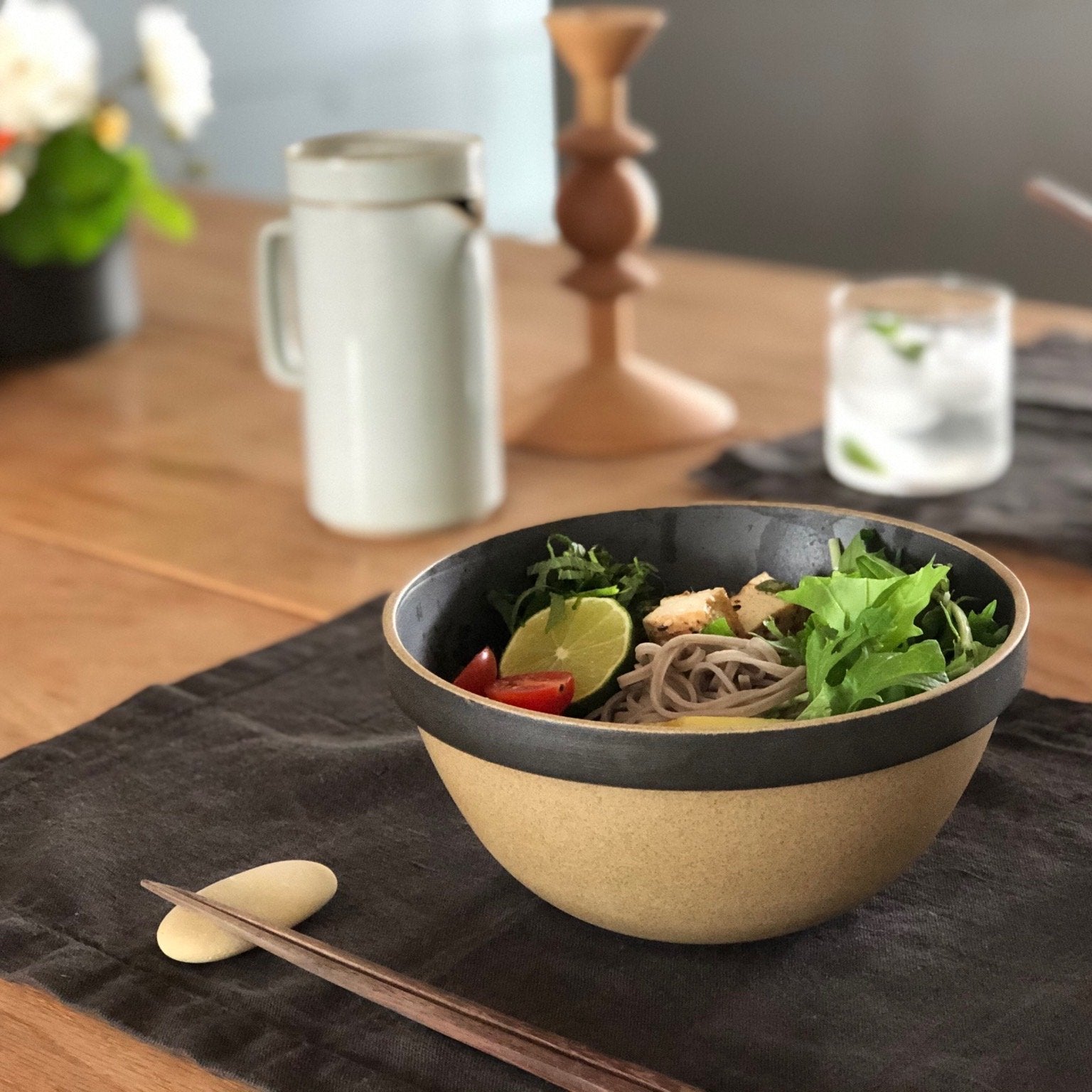 HPM047 - Deep Round Bowl Gloss Gray ø 7.3/8"
Description:
HASAMI PORCELAIN is a stackable, modular ceramics line made in Hasami, Japan, but designed in Venice Beach, California by Tortoise General Store owner, Taku Shinomoto in 2010. HASAMI PORCELAIN's deep round bowl is made from a proprietary mixture of crushed stone from Amakusa that has created some of the most beautiful pottery in the world, as pieces cherished for their individuality. This bowl is stackable with other 7.3/8" diameter pieces.
Measurements:
ø 7.3/8" x 3.1/2"
History:
HASAMI PORCELAIN is made in the historic town of Hasami, located in Nagasaki prefecture, Japan. Taku Shinomoto lives in Venice Beach, California but originally moved to the United States from Tokyo, Japan where he worked as a furniture designer for a Japanese design company called Idee. Since then he has designed HASAMI PORCELAIN, a brass line called S/N, as well as other products in Japan. Currently, he continues to design furniture in Los Angeles - most recently couches, side tables, book cases and dining table sets.
Materials:
Clay and porcelain mixture made of crushed stone.
Variation:
No two pieces are exactly alike. Due to the organic nature of this type of porcelainware, there are unavoidable variations, color unevenness, and what Hasami craftspeople call "staining" in the appearance of all HASAMI PORCELAIN products. These variations are the result of uncontrollable chemical reactions between the glaze and the raw materials during the extreme firing process when producing HASAMI PORCELAIN. Difference in color and texture is not considered second quality, nor is it considered defective or avoidable amongst the Hasami craftsmen community. Before purchasing, please read and look at photographs showing the unique traits of HASAMI PORCELAIN by jumping to:
Every Piece Unique - Common Variations and Recommended Care Instructions for HASAMI PORCELAIN
Care Instructions:
Dishwasher safe. Microwave safe (except for the strainer). Not oven safe. Not safe to place over a flame. When you stack your pieces, please be mindful of not crashing pieces together to cause fractures. Staining and changing of color will naturally occur over time as ceramic is a natural material. This type of aging and patina is to be cherished, and does not mean that the piece is dirty or unsafe.
Returns must be made within 2 weeks in original, unused condition with all packaging for either 1. Store credit for the full amount or 2. Refund - minus a 20% restocking fee.
Tortoise does not cover the cost of return shipping or the cost of re-shipping an exchange,
and the cost of shipping for returns and exchanges is the responsibility of the customer.
Share