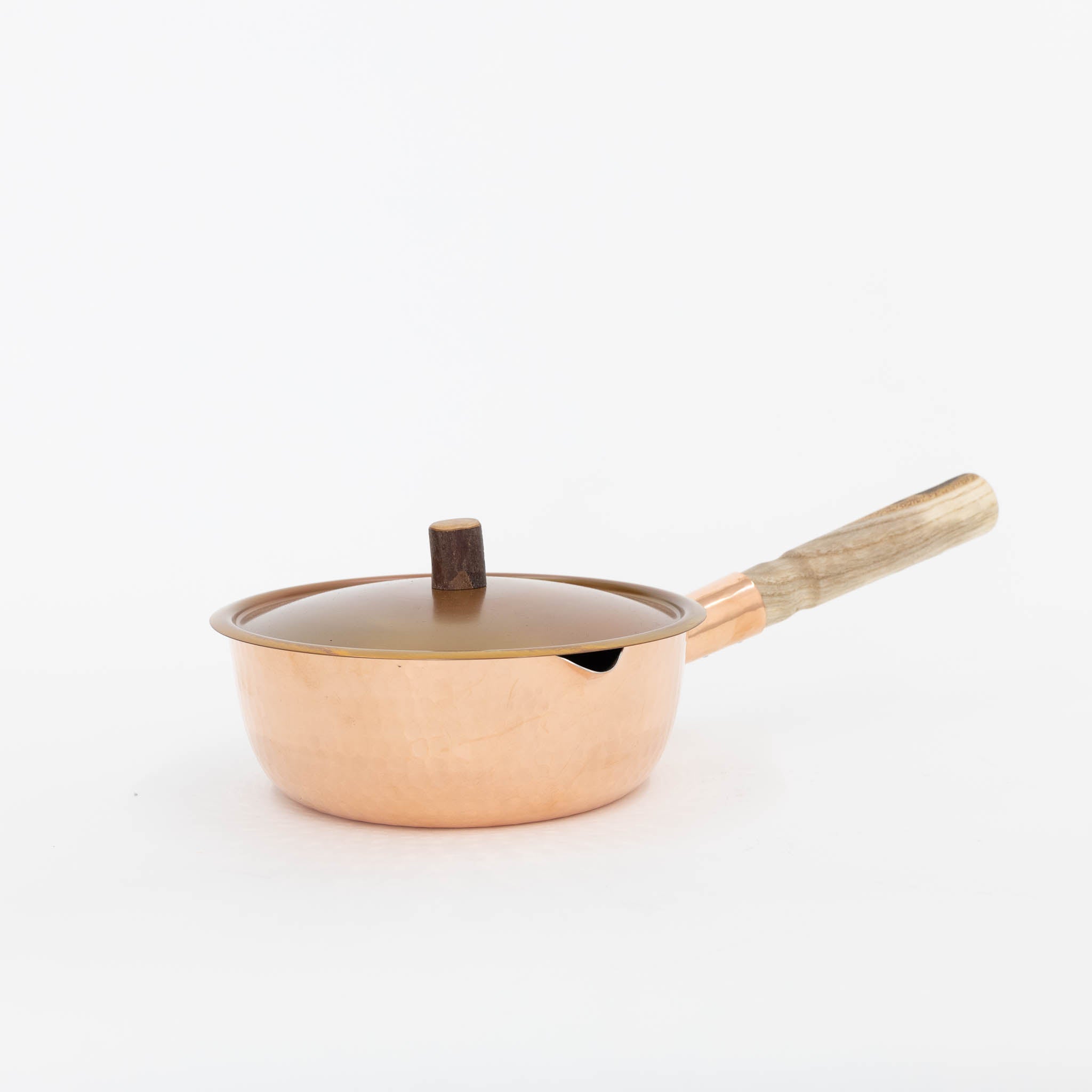 F/style Copper Yukihira- Nabe with Lid
Description:
Lightweight and versatile, the Japanese "yukihira nabe" is one of Japan's most beloved culinary tools, and yet F/style's modern and elegant reimagining gives this kitchen staple new life!  Made in copper with a tin lining, the thermal conductivity of this pot is much higher than aluminum and stainless steel pots.  Designed to equally distribute heat, so users can quickly make miso soups for 2 to 3 people, or boil water for pasta.  The natural wooden handle and organic lid handle makes it so you don't have to worry about burning your hand when cooking.  Sure to be an essential and heirloom piece for your family!  Please be aware of the pot's care instructions before purchasing–found on the next tab.

Measurements:
7.5'' D x 2.5'' H (Handle length 7.25'')

History: 
Emi Igarashi and Wakano Hoshino, both born in Niigata Japan, co-founded the brand 'F/style' in 2001. By focusing on the art of making things, or "monozukuri" in Japanese, F/style's mission is to re-popularize ancient Japanese craft by applying them to new and contemporary designs that fit within a wide-range of aesthetics.

Materials:
Copper (exterior), tin (interior), wood (handle)
Variation:
Copper will patina quickly.  Contact with natural oils, acid, and even oxygen will change the color and this is part of its natural beauty.  Change in color, spotting and tarnishing will not make the pitcher harmful to the body and is not a sign of damage.
Care Instructions:
Not dishwasher safe.  Not microwave safe.  Not meant for induction stove.  Not oven safe.  Do not put on heat without liquid inside (not suitable for dry heating).  Copper is well known as a high performance metal for cooking.   Tin will start to melt at very high heat (240 C), so compared to other metals it is more sensitive to heating so do not do any dry heating - you must always cook with liquid inside.  Dry heating example is putting oil inside pot and cooking minced garlic.  Only cook with liquid inside!



Before cooking - seasoning process:

Put water in pot and bring to a boil.  The water will pull out residue from the pot and it will float on top of the water.  Toss the water after you've drawn it this residue.



When cooking:

  Be ready for faster cooking times and be sure to have your ingredients ready to go when cooking!  Use Med-Hi heat as a maximum.  The tin lining of copper cookware is a soft, so avoid scratching the tin cooking surface with steel utensils, and opt for wooden or silicone instead. 



To clean after use:

Fill with a water, adding a little dish soap, and leave it to simmer is often enough to free any stuck-on bits, which can then be wiped away easily. Avoid any strong abrasive scrubbers like steel wool and sponge scrubber pads.  Tin as well as the copper will naturally darken and change color with heat exposure, which cannot be washed away.  If you do dribble food and worry about irregular spotting, make sure to wipe or wash it off before it has a chance to singe on.



Troubleshoot:

If you see any green and blue stains, these are normal and not harmful to the body - but you can try and remove with a vinegar and salt mixture that you apply it with a soft cloth and remove with water and dish soap.  



To maintain:

If you notice the wood handle starting to dry out, you can apply oil (egoma oil, olive oil, salad oil).



Returns must be made within 2 weeks in original, unused condition with all packaging for either 1. Store credit for the full amount or 2. Refund - minus a 20% restocking fee.
Tortoise does not cover the cost of return shipping or the cost of re-shipping an exchange
, and the cost of shipping for returns and exchanges is the responsibility of the customer. 
Share