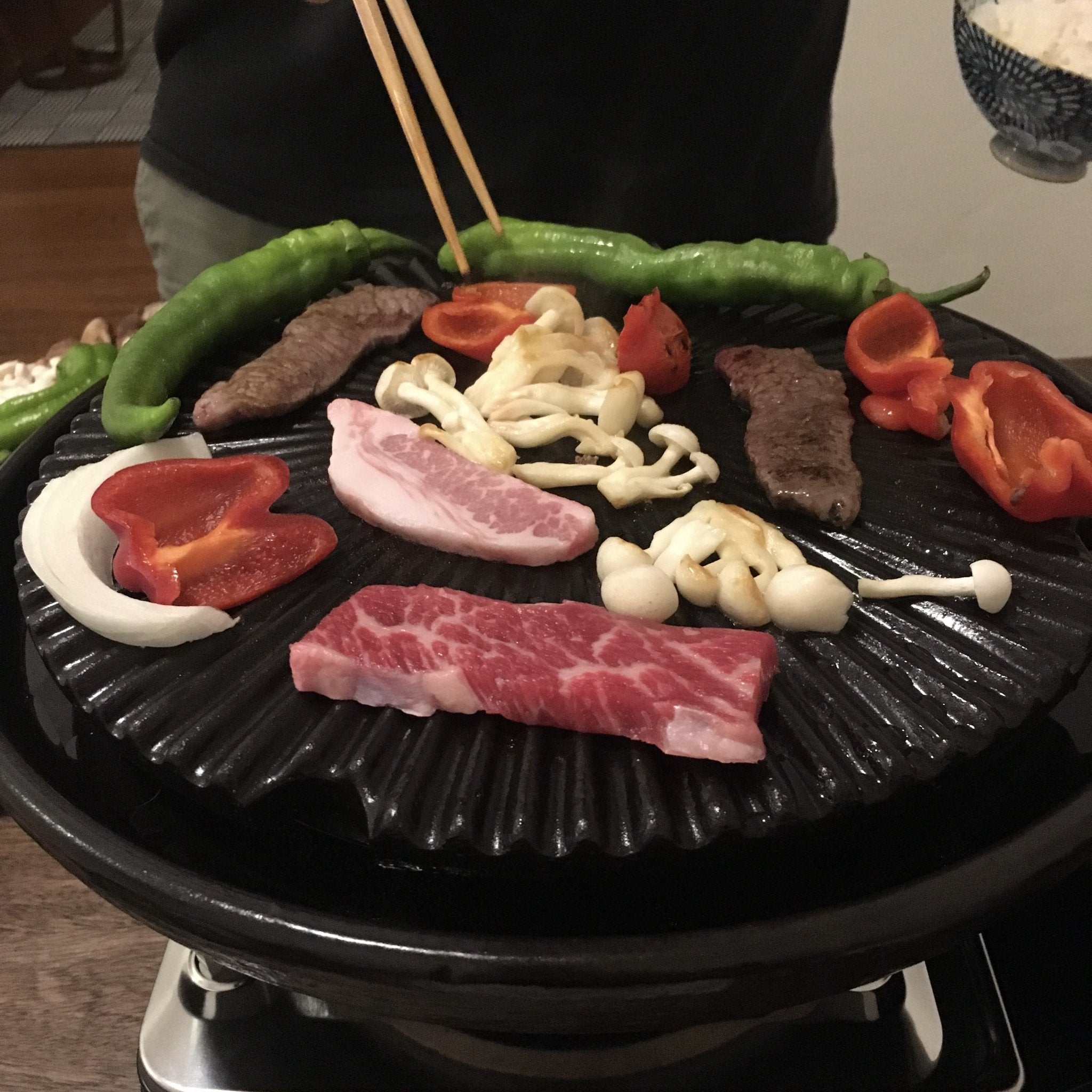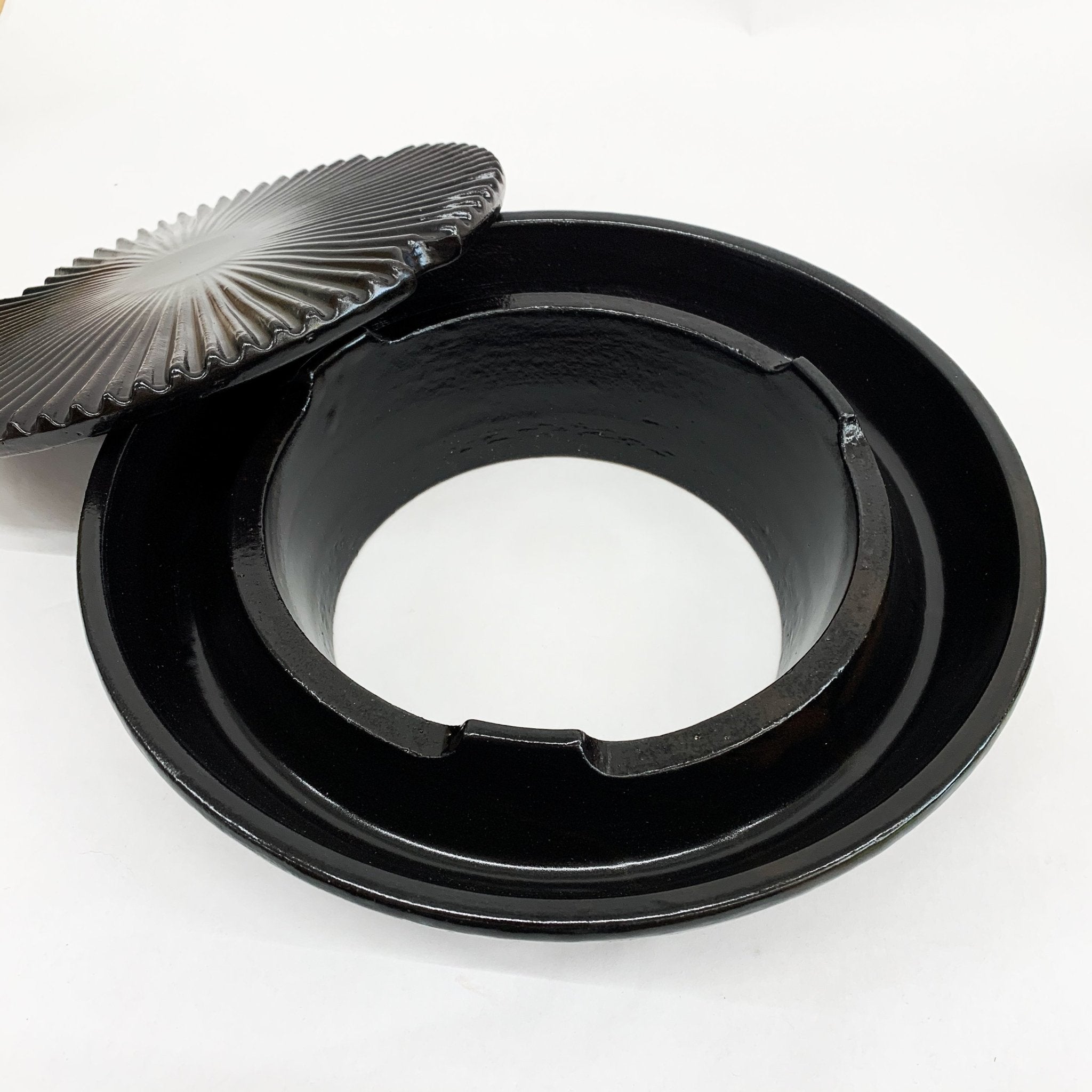 Smokeless Yaki Yaki San - Donabe Grill
An authentic Japanese grill, crafted in small batches, that is a kitchen essential for health-conscious chefs. Powered by Far Infrared Rays, it replicates the cooking experience of a charcoal grill, complete with those satisfying grill marks, but over a gas stove. Fill the outer reservoir with water and any excess fats from your choice of meat, whether it's lamb, steaks, or any other, elegantly collect to the sides, functioning as an efficient drip pan.
Description:
The Yaki Yaki San performs like a charcoal grill while being suitable for gas stoves indoors. Crafted from porous clay, it excels at retaining heat, ensuring uniform cooking even as you add new ingredients. This versatile grill set comprises two essential components:
1. An angled corrugated plate that directs excess fats and oils away from your ingredients, promoting a healthier cooking process.
2. An outer round reservoir, designed to be filled with water, that doubles as a practical drip pan. This unique water reservoir plays a crucial role in moderating the grill's temperature, maintaining an optimal cooking environment that minimizes smoke production, thus earning its well-deserved moniker, the 'smokeless' Yaki Yaki San.
Variation:
rafted meticulously by skilled artisans, every donabe is a labor of love, requiring approximately two weeks for production. Because each pot is lovingly handmade and crafted from organic materials, you can expect a touch of individuality in every piece, enhancing their inherent beauty. With each use, you'll notice subtle staining and gradual changes in appearance – a natural and captivating aging process that further enriches the pot's charm.
History: 
This exquisite donabe is meticulously crafted by Nagatani-en, a distinguished manufacturer of authentic Iga-yaki pottery since 1832. Rooted in tradition, Iga-yaki pottery traces its origins to Iga, Mie Prefecture, dating back to the late 7th century. It relies on a porous prehistoric clay sourced from Japan's largest and oldest lake, Lake Biwa. Within this clay lie thousands of microscopic prehistoric fossils, which become fused with the clay during the firing process inside the kiln. This unique feature creates minuscule pores within the clay pot, serving as heat-retaining pockets, surpassing the heat retention capabilities of other cooking vessels.
Measurement:
12.6" D x 4.1" H, weight - 10LB
Materials: 
Clay (Grill Plate and Reservoir)
Care Instructions:
Hand-wash only and thoroughly dried right after. Gas stove required. Does not work on electric or induction stove. Not microwave safe.  Some donabes requires you to follow a simple seasoning process, however the Yaki Yaki does not require seasoning. Do not store wet or damp or it will cause molding and sometimes cracks. Do not put on the stove when wet or damp or it will cause the clay to crack.
Returns must be made within 2 weeks in original, unused condition with all packaging for either 1. Store credit for the full amount or 2. Refund - minus a 20% restocking fee.
Tortoise does not cover the cost of return shipping or the cost of re-shipping an exchange
, and the cost of shipping for returns and exchanges is the responsibility of the customer. 
Share