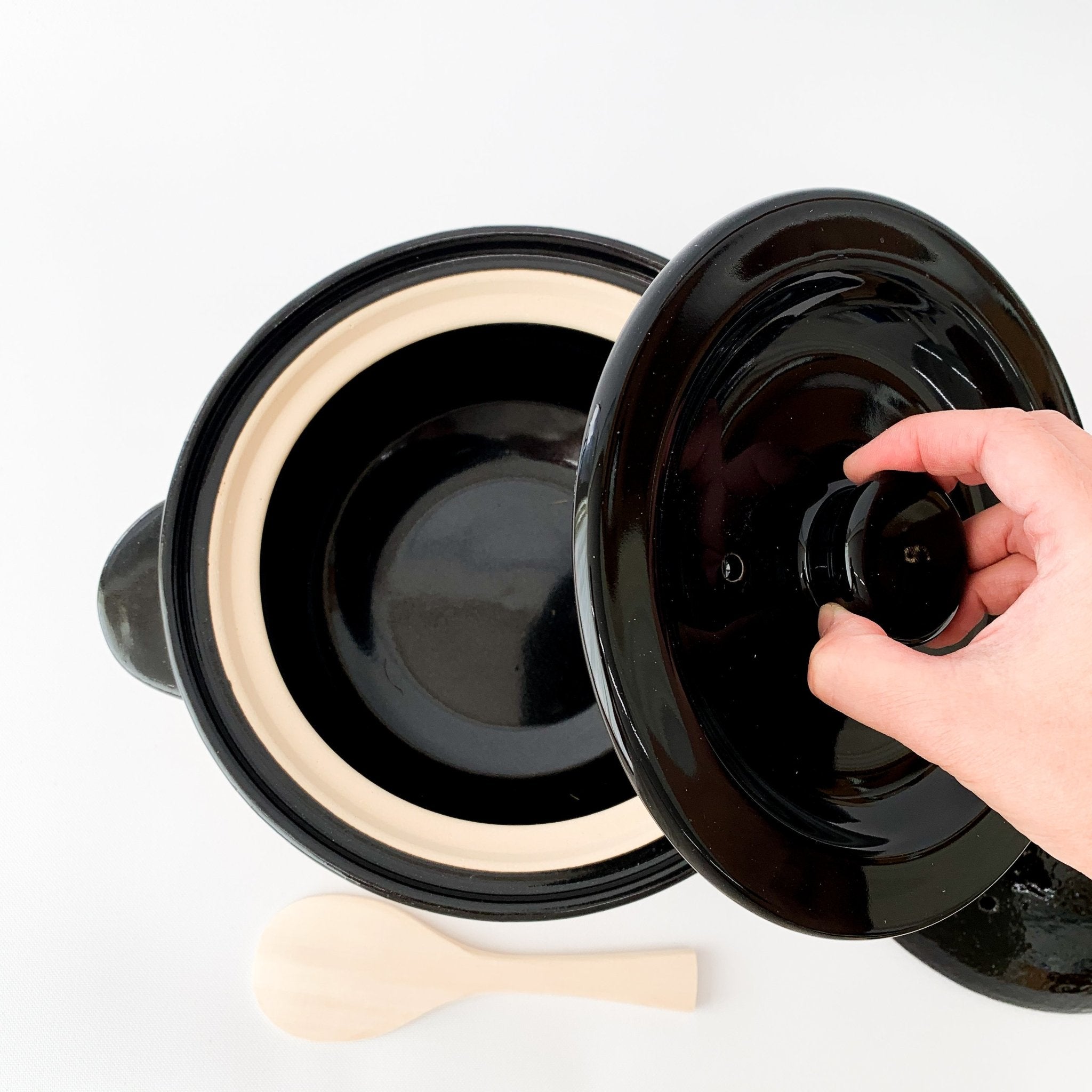 Kamado-san Rice Cooker Donabe - 3 Go
When you set the stove-top heat to medium-high, there's no need for further adjustments. Just wait until you see steam, then let it cook another 30 seconds, and turn off the gas. Because of its remarkable heat-retention capacity, kamado-san steam-cooks your rice even after the heat is turned off, resulting in fluffy, shiny rice that is delicious even the next day! When you cook with the kamado-san, the smell of rice cooking makes your mouth water!
Description:  
Unlock the art of achieving perfectly fluffy white or brown rice over an open gas flame with this exceptional Iga-ware clay pot. The key to its rice-cooking prowess lies in the unique properties of porous Iga clay, which swiftly permeates each grain, resulting in flawlessly cooked rice. Enhanced by the pot's natural glaze and Far Infrared capabilities, your rice emerges with a delightful fluffiness and a glossy finish. The thickly-cast bottom ensures optimal heat conduction, while its impressive heat-retaining qualities keep your rice warm even after removing it from the heat source. The double-layered lid doubles as a pressure cooker, preventing any potential water spillage. 
Variation: 

Crafted meticulously by skilled artisans, every donabe is a labor of love, requiring approximately two weeks for production. Because each pot is lovingly handmade and crafted from organic materials, you can expect a touch of individuality in every piece, enhancing their inherent beauty. With each use, you'll notice subtle staining and gradual changes in appearance – a natural and captivating aging process that further enriches the pot's charm.  

History:  
This exquisite donabe is meticulously crafted by Nagatani-en, a distinguished manufacturer of authentic Iga-yaki pottery since 1832. Rooted in tradition, Iga-yaki pottery traces its origins to Iga, Mie Prefecture, dating back to the late 7th century. It relies on a porous prehistoric clay sourced from Japan's largest and oldest lake, Lake Biwa. Within this clay lie thousands of microscopic prehistoric fossils, which become fused with the clay during the firing process inside the kiln. This unique feature creates minuscule pores within the clay pot, serving as heat-retaining pockets, surpassing the heat retention capabilities of other cooking vessels.   
Measurement:  
3-GO DONABE KAMADOSAN
Cooks up to 3 cups of rice (about 2 ¼ US cups =540 ml) 
9.5'' diameter x 7'' tall with lid on
Holds 1.5 qt
Materials:
Clay (Pot, lid, inner lid and trivet), Wood (rice paddle), 
Care Instructions:
Hand-wash only.  Seasoning by making a rice porridge is required before first use.  Gas stove required as it does not work on electric or induction stove.  Oven-safe (up to 500℉/ 250℃), but not microwave safe.  Donabe pots are hand-wash only, and should be dried thoroughly right after use with an absorbent cloth.  Do not store wet or even damp or it may cause molding and cracks.  Cooking while the bottom or sides are wet will cause the pot to crack.  Do not soak or leave liquid inside for long periods of time.

Return Policy / Shipping Policy:
Returns must be made within 2 weeks in original, unused condition with all packaging for either 1. Store credit for the full amount or 2. Refund - minus a 20% restocking fee.  Tortoise does not cover the cost of return shipping or the cost of re-shipping an exchange, and the cost of shipping for returns and exchanges is the responsibility of the customer.  
Share